Meredith couple brings doughnuts to White House
Take part in Trump's 'Made in America' event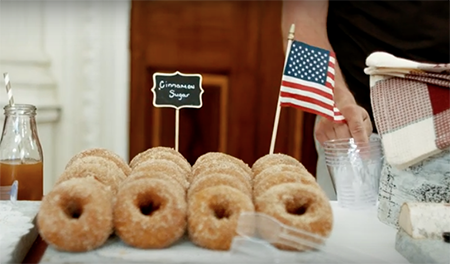 When Rob and Jessica Stevens were notified last Friday that their Meredith-based Cider Bellies Doughnuts would represent New Hampshire as part of a "Made In America" event Monday at the White House, they were honored not though not necessarily thrilled by its occupant.
Not that Rob wasn't excited to be standing behind President Trump during the photo opportunity, but he understood that any association with the controversial figure "could go both ways," he said, while driving back to Meredith with his wife after spending the day making hot fresh doughnuts out of the White House kitchen
"I don't agree with a lot of things Trump stands for," added Jessica. "But take the politics out of it. We need to respect what employers do every day and to try to keep things in America. If you don't want to buy a doughnut because we went to White House, that's your prerogative, but this was just about celebrating business."
The couple have had a lot of business to celebrate since they launched the firm at Moulton Farms on one hot Labor Day weekend in 2011. Now they employ 13 people at that site and two others – Bellies and Butts, a collaboration with a barbecue restaurant in Center Harbor, and another at the Hooksett Welcome Center.
The couple didn't seek to represent New Hampshire either. That honor came via a last-minute call from Jeanie Forrester, a Meredith booster who happens to chair the state Republican Party. But Rob suspects that the invitation might have had more to do with previous invitations to D.C. from Democratic U.S. Sen. Jeanne Shaheen to show off the state home made wares from a number of companies around the Granite State at her "Experience New Hampshire" event.
"We did pretty well in that, so I'm guessing that word got around," Rob said.
The White House, however, was under the impression that Stevens would be bringing premade doughnuts. While the company does distribute some doughnuts in stores, the vast majority of customers like them hot and fresh at the three locations where they're made. So the White House staff quickly accommodated, led them down to the kitchen and helped them deliver the doughnuts to their booth, alongside such businesses as Dubies Family Maple Syrup from Vermont, Campbell's soups from New Jersey, Chick-Fil-A from Georgia, Kola Rum Co. of Hawaii and Greater Omaha Packing from Nebraska. Not all the of the businesses at the event specialized in food. St. Pierre Manufacturing Corp. in Massachusetts makes horseshoes. Sikorsky Helicopters represented Connecticut and Hinckley Yachts was the choice for Maine.