Meet your Democratic gubernatorial candidates
Connolly, Marchand and Van Ostern demonstrate knowledge of business operations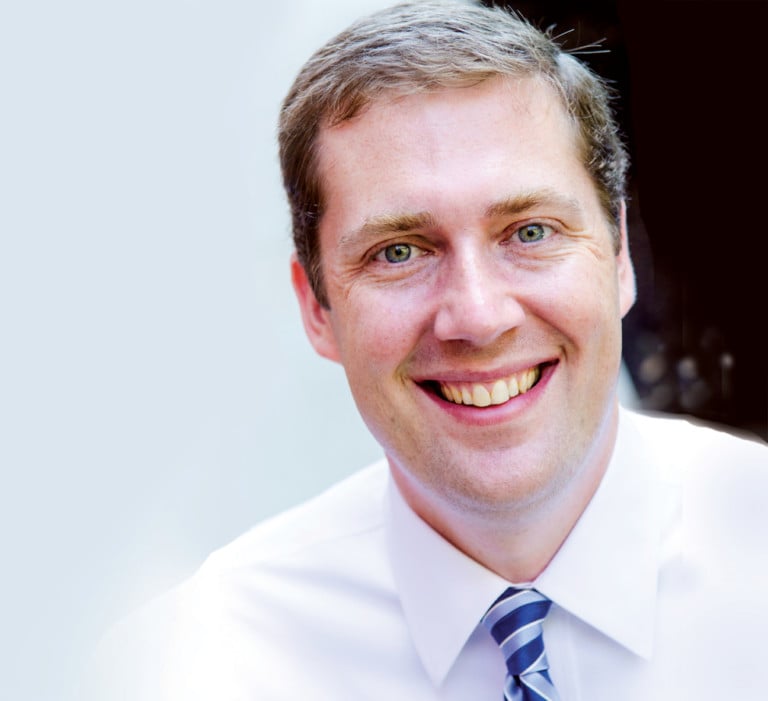 A lot of people running for government talk about small businesses, but rarely do you have a race where all the major candidates running in both parties' primaries – seven in all – have extensive business experience. Here is a chance to compare the candidates' history in business, their record dealing with business and their positions on business. (Editor's note: We'll tackle the four Repub­licans next issue. This issue we will focus on the three running for the Democratic nomi­nation: Mark Connolly, Steve March and and Colin Van Ostern.)
Related: Meet the Republican gubernatorial candidates
---
Mark Connolly
Connolly's Position

• Invest in education, transportation (particularly rail) and renewable energy
• Extend renewable energy initiative goal from 25 percent by 2025 to 50 percent by 2050
• Consolidate various STEM programs and include school building aid as part of educational funding formula
• Convene a panel to determine 10-year economic plan
Mark Connolly has more than two decades of private business experience, though perhaps the most narrowly focused: securities analysis and fi­nancial regulations.
The former Securities Bureau director, Connol­ly now heads New Castle Investment Advisors, where he manages about $12 million in assets.
But his entry into the world of finance began years before he got his MBA at Northwestern University's Kellogg School of Management in Chicago. A Dartmouth graduate (and already dip­ping his toe in the state legislature as a Republican), Connolly got his start as a credit strategy officer in corporate banking at First Chicago Bank in 1984.
"He was one of our top analysts and experts," recalled Rantch Isquith, now the bank examiner at the federal the Comptroller of the Currency. "He was a good guy to work with and got things done."
Connolly wanted to get back to New Hampshire, so he landed a job with Chubb Life where he was promoted to corporate vice president and managed corporate accounts. Connolly then went on to Fleet Bank where he did similar work for three years before working with Wellington Management Company out of Boston, where he mainly man­aged various public and pension funds.
In 2002, New Hampshire Secretary of State Bill Gardner, whom Connolly served with in the state legislature dur­ing his college days, appointed him to head the department's Bureau of Secu­rities.
It was during the time of several na­tional financial scandals, like Tyco, then based in Exeter. Regulators in New York state went after L. Dennis Kozlowski for looting the company. Connolly went after the Tyco board for letting him do so, pres­suring the entire board to resign, and setting up a $5 million fund for investor education.
And there was the $3.8 million settle­ment with Ameriprise Financial Inc. over al­legations that its Ports­mouth agents forged clients' signatures to cut corners.
Not all businesses liked Connolly's zeal, especially the targets of his investigations, like Ameriprise's Larry Post, whose alleged "cavalier attitude about forgery" resulted in a five-year ban from en­gaging in securities ac­tivities in the state.
Post, who now runs a real estate company in Boston, said that it was the company that uncovered the forg­ers, but Connolly "was not interested in the truth, he just wanted headlines and a big paycheck." Amerprise had told him he had no choice but to go along because "Connolly was judge, jury and execu­tioner."
Connolly said that Ameriprise could have contested the charges, and the fact that it didn't shows that the allegations had merit. "We don't pursue it if the claims are un­founded," he said, "but when someone brings you evidence of fraud, as regula­tors you have to do your job."
It isn't good for business when "bad actors" violate "the rules of the road," he said. On the other hand, Connolly tried to make those rules a bit more friendly, by increasing exemptions so fewer peo­ple had to file, and to target inspections based on risk of fraud, decreasing the burden on most businesses, while in­creasing the department's efficiency.
"He was trying to streamline things," said Jeffrey Sohl, director of the Center for Venture Research at UNH. "It made it a little easier for securities to be sold."
Connolly was perhaps best known for his last actions following the collapse of Financial Resources Mortgage, a Mer­edith company that the state Banking Department forced into bankruptcy in 2009.
In the state's largest Ponzi scheme in history, FRM principals convinced hun­dreds of investors to part with millions of dollars to invest in commercial real es­tate mortgages. But their money wasn't held in escrow, instead getting pooled together, which led the Banking Depart­ment – eager to pull in others to share the blame for missing numerous warn­ing signs – to contend that these were securities. That contention would have put FRM partially under the purview of the Securities Bureau, but it would also mean that the investors' loans were not secured, hurting them in bankruptcy court.
Connolly, charging a cover-up, met with the investors and pushed for the re­lease of all the documents involved and eventually resigned in protest, earning him the lasting admiration of many of the FRM victims.
"His willingness to do the right thing in that situation, even at his own sacri­fice…he had that kind of courage," said Al McIlvene, who became a spokesman of those hurt by the FRM debacle at the time.
---
Steve Marchand
Marchand's Position
• Supports paid family leave
• Completely opposes Northern Pass
• Build on effort to connect business to the education system
• Change tax system by cutting Business Enterprise Tax to help startups and use R&D tax credit to offset BET, not just the Business Profits Tax
Marchand is a data or audit man, whether as a consultant for such organi­zations as the National Football League, as Portsmouth's mayor, or as director of Corporate Relations at University of New Hampshire. With a master's from Syracuse University in public adminis­tration, he started out working for An­dersen Consulting (now Accenture) and Maximus.
He soon started his own consulting firm Pembroke Strategies, and ended up working with and for various organi­zations and candidates. One group, he said, was a coalition of New Hampshire-based manufacturers, aiming to improve the industry's image and attract more young people toward the profession. He was the northeast regional director for the Concord Coalition for a year in 2001, and spent a little longer as the as­sociate state director of the of the Amer­ican Association of Retired Persons in 2006 and the state director of No La­bels from 2014 to 2016. By that time he switched his consulting organization to SRM Consulting LLC and the Marchand Group, and was mainly involved in politi­cal campaigns.
Marchand served in the city council and became mayor of Portsmouth in 2006. He says he was able to increase city efficiencies and keep taxes down.
"He gets business which is unusual for politicians," said Michael Kane, a Sea­coast relator and a registered Republi­can. "He does an excellent job in finding a middle ground and keeping people fo­cused, which allowed the city manager to do his job better."
But perhaps Marchand most direct contact with the private business world was when he worked for UNH for two and a half years, starting in January 2012. Corporate relations was new po­sition, focused on raising more money from the private sector, but Marchand saw it as an opportunity to build "mu­tually beneficial relationships." Instead of only asking what the university could get, he focused on "what assets might be of value to the private sector. What are your barriers and how can we mesh UNH's assets to your needs."
One of those assets was instrumenta­tion, so he tried to facilitate renting out space and equipment to small business­es that could not go out and buy their own capital equipment. The other was labor. There was a need for software en­gineers, so Marchand worked with mid­dle schools and community colleges to start a smart phone app tech camp, "to help build pipeline."
Bid2Win Software was one of the busi­nesses that participated in the camp. "Steve, he worked to get us involved, so he could feed us new talent," said David Todaro, Bid2Win's former vice president and now the chief operating officer of Ascendle, an app development firm. Bid2Win never ended up hiring anyone, but at that time its needs were limited. "Honestly, that was more on us," Todaro said.
Although, Marchand's record would seem to indicate more of a centrist, he did run the campaign of Mark Fernald, who strongly supported a state income tax.
---
Colin Van Ostern
Van Ostern's Position

• Supports passenger rail, and led funding efforts for NH Capitol Corridor Rail and Transit Study
• Cast deciding vote on Executive Council to expand Medicaid coverage
• Supports investing in solar and renewable energy projects
• Arrange the public university and community college system to work closer with business
Before Colin Van Ostern was an execu­tive councilor, he worked at Stonyfield Farm and Southern New Hampshire University. A graduate of George Wash­ington University in 2000, he got his MBA at the Tuck School of Business at Dartmouth in 2009 only after he started working there in 2006. Before that he was the owner of Washington Street Consulting, where he worked did pub­lic relations, mostly for nonprofits such as Canterbury Shaker Village. He also worked for various campaigns, including Jeanne Shaheen's first (and failed) run for the U.S. Senate in 2002.
At Tuck, however, Van Ostern did a differ­ent kind of public relations, arranging ex­ecutive education for the national business press, and working with a former dean to visit global employers, business leaders and Tuck's alumni in India and Europe.
His first real business job was with Stony­field, from 2011 to 2003, as a brand man­ager brought in for his marketing skills, but he really was more than that, recalled then CEO Gary Hirshberg.
"He was the business manager for our kid division, our fastest growing division," Hirsh­berg said. "He was more of a team leader."
His biggest project with the division – which already had about $100 million in sales – was the $5 million launch of a new product: refrigerated pouches. This had been done in Europe, but not in the United States. Hirsh­berg picked up the idea in Europe, "but there was a big gap between an idea and its execu­tion." For one, the team had to get the ap­proval of Danone, a French company, which owned most of Stonyfield, "and they have very high standards. That was all on Colin to get that through and he did."
Then he had to get the product launched with a very narrow window, "and the ten­sion ran high. If you miss the deadline, you may not be able to come back with it for years, because retailers are not very forgiv­ing," said Hirshberg.
Van Ostern also had to launch the product with a limited advertising budget, "which is like going to the coliseum with one hand behind your back." That's one reason Hirschberg supports Van Ostern in his gu­bernatorial run, "because it is pretty much the same thing. The state has very limited funding."
At SNHU, Van Ostern helped launch Col­lege for America, a division distinct from its brick and mortar campus in Manchester and its massive online university. CFA works directly with businesses.
"He was really more of a strategist for us," said SNHU President Paul LeBlanc. "He was a critical member of the management team. Colin gave us the blue print, which we still use."
In 2013, Van Ostern was elected to the Ex­ecutive Council, which he called the "state board of directors." He says his major ac­complishments there were getting funding for a study on passenger rail (but the leg­islature declined to move forward on that), casting the deciding vote to expand Medic­aid coverage and championing solar energy projects.
Those are issues he continues to support. While they don't differentiate himself from other candidates, "I'm the only candidate that is part of the process that we are mak­ing," says Van Ostern. He also says he is "di­rectly informed by what I learned at Stony­field and SHNU."