Manchester thrift store fills an important need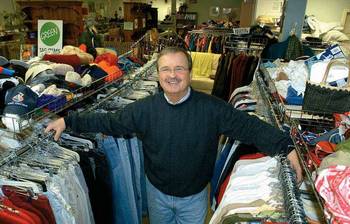 It may have seemed like an unusual career move when insurance broker Ray Rioux recently left the Draper Agency in Goffstown to become the full-time manager of a store on the east side of Manchester. But Rioux, 60, has run stores before, having owned a pair of convenience store franchises in Reading, Mass., before entering the insurance business some 30 years ago.
But the Nashua native is in a different kind of retail business now, one designed not to make a profit. As manager of the St. Vincent de Paul Thrift Store on Wilson Street, his goal is to "take care of anybody in need and still make enough in sales to maintain the store and pay the mortgage and the heat and lights and everything."
The store is a part of the mission of the St. Marie Conference of the Society of St. Vincent de Paul, an international organization of Catholic laypersons dedicated to serving the poor and unfortunate. Rioux served as president of the conference for the past seven years and was much involved in moving the Manchester store from its former location in the heart of the city's downtown business district.
"We were on Manchester Street, just off Elm. That was losing its allure," he said. "Elm Street's changing. You can't get parking access to the store."
The new store, a 3,800-square-foot, one-story structure, is in a residential neighborhood on a wide street with plenty of available, unmetered parking. "We're surrounded by two- and three-story tenement buildings," Rioux said, noting the store's mission to help the poor is the same at any location. "Basically, the people we serve are hard-working individuals who are barely getting by from paycheck to paycheck."
Changing population
The store is filled with used merchandise in good repair, with everything from racks of clothes to living room and kitchen furniture to stereos and TV sets. On any given day, a thrifty shopper might find a two-piece sofa set for $150 and easy chairs for $50 apiece, a winter coat for $6 or a TV set for $20.
Selling donated goods may help control overhead, but it makes inventory management a bit of an adventure.
"We only know from week to week, and sometimes from day to day, what's coming in the door," said Rioux. Pricing also is flexible, depending on whether a customer is in desperate financial straits or a middle-class shopper looking for a bargain.
"If someone walks in the door who can't afford to pay, we'll take what we can get," said Rioux "If they can pay $150, $200 for a nice bedroom set, it helps maintain the store."
Since the Salvation Army closed its Manchester thrift store last fall and the nearest Goodwill store is in Hooksett, the St. Vincent de Paul store serves a larger and more diverse base of clients and customers than it did when its doors first opened in Manchester nearly half a century ago.
Back then, the city did not have the influx of refugees from foreign lands that it has today. Ann Sanderson, director of the International Institute of New Hampshire calls the store often.
"When we know a family is going to arrive and how many people are in the family, they collect what we need in terms of beds, dishes, living room furniture, kitchen tables and chairs," Sanderson said. "They already know what we're looking for and they kind of put it together."
The help is critical, Sanderson said, to the work of IINH, a nonprofit agency that helps find homes for some 130 to 150 people a year under the U.S. Refugee Resettlement Program. Finding and furnishing apartments for the new arrivals is a part of the agency's work.
"I don't have a truck for pickups and deliveries," she said. "Every once in a while someone calls with an offer of a living room set, and I ask them if they can deliver it directly to the (refugees') apartment, since I have no storage here. If they can't, I refer them to St. Vincent de Paul."
The agency also is able to stretch taxpayer dollars by purchasing clothing at the store for the new arrivals, including many large families who arrive with little more than the clothes on their backs.
Leaving downtown
Recent immigrants aren't the only ones who benefit from the store's supply of used and usable furniture or clothing. "People come to us from all walks of life," Rioux said. "People who've just gotten out of prison, young families on welfare, people who have apartments but no furniture, people with nothing at all come to us."
A recovering alcoholic from Portland, Maine, came to the store one morning after having slept outdoors on the night of a recent snowstorm.
"He had no gloves and nothing on his feet but sneakers," Rioux said. He left with gloves, boots and a ticket reservation at the Manchester bus depot for a trip to Scranton, Pa. From there, he would try to hitchhike to his sister's home in Florida.
As the store's only full-time employee, Rioux directs the efforts of eight part-time workers, including two drivers, who pick up donated clothing and other items five days a week and deliver them either to the store or to residences as needed. Though potential donors sometimes call from other parts of the state, the drivers generally stay within the greater Manchester area to save time and fuel — unless there's a real bonanza to be had.
"We got a call once from someone who was offering a whole household of furniture," Rioux said. "We went out to Wolfeboro and cleaned out the whole house."
The store opened in 1959 and for decades it occupied the first floor of a four-story brick building on Manchester Street that was owned by the conference. For many years, the upper floors included furnished apartments.
"We'd rent out rooms to needy people," said Armand Soucy, who was a member of the conference for more than 20 years. "We put them up, and city welfare would pay us for it." It didn't always work out, he said. "A lot of times we'd rent to people and a few days later, we'd find they'd be gone, and so would a whole apartment of furniture."
After maintenance and repairs to the old structure proved too costly, the conference officials began looking for a permanent home. They found the Wilson Street site at around the same time a benefactor died, leaving the store with the ability to purchase the building. Not everyone, however, was eager to move the store out of downtown.
"I didn't think it was a good idea at the time," said Soucy, a Goffstown resident. "We had the store on Manchester Street for the walk-in needy. But on second thought, I guess there are just as many walk-in needy out there."