Lots of train, not much circus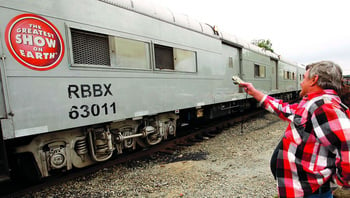 NASHUA – The Greatest Show on Earth was nothing more than an amusing distraction when it passed through the city Wednesday.
A Ringling Bros. Circus freight train carrying animals and all sorts of gear didn't cause the major rush-hour traffic disruption that police had anticipated.
Nor did the passing of the popular circus train provide a clear view of the horses, elephants and lions that will perform in Manchester the next four days. The nearly 100 adults and children who stood in the rain only smelled the animals as they rode by.
"I wanted to see clowns and fat ladies," Hudson resident Shirley Lafreniere said, after seeing a horse's nose but not much else through the small windows of the animals' train cars.
Most of the cars hauled trucks, forklifts and the other heavy equipment that will create the circus atmosphere at Verizon Center.
"We thought we'd be able to see the animals," Brittany Groover said while putting her 2-year-old son, Leo Reynolds, back into their truck. "But it was just a bunch of boxcars."
They weren't the only one wondering what all the fuss was about.
A police warning that the train's passage would considerably slow traffic missed the mark, as police later blamed the rail line for providing faulty information.
Nashua police on Tuesday issued a traffic advisory warning that a 60-car freight train would force the 45-minute closing of railroad gates on Crown and East Hollis streets, and possibly Bridge Street, at 7:30 a.m.
Police advised motorists to consider alternate routes because any closing of East Hollis and Bridge streets would back up traffic on the heavily traveled roads that connect Nashua and Hudson.
But not long after Nashua Police released its advisory, Pan Am Railways officials said the train wouldn't reach the city until 10 a.m. and that they wouldn't close the East Hollis Street railroad crossing.
Officials didn't comment on how Nashua police received its information. Hansen on Wednesday said a police captain with Boston and Maine Railroad – a subsidiary of Pan Am – told Nashua police the train would arrive at 7:30 a.m., and would close two to three crossings as the Ringling Bros. train conductor unloaded cars at a Crown Street rail yard.
In the end, the traffic jam never happened.
The train pulled into the far north end of the rail yard shortly before 10:30 a.m. Not long after, the locomotive engineer pulled six Ringling Bros. cars as far ahead as the edge of East Hollis Street, but then quickly pushed them back into the rail yard.
For more than an hour, traffic on all three roads flowed without delay as circus and rail workers transferred an unknown number of cars that won't be needed for the Verizon Center shows into a rail yard. The locomotive will collect them when returning south after Sunday's last performance.
When the diesel-electric engine finally passed through on its way to Manchester, it pulled 24 cars and the East Hollis Street railroad crossing closed for only three minutes.
Nearly 100 people had gathered along the train tracks waiting to see the train and the mobile circus. Many were railroad enthusiasts.
Jeff McClure had his camera ready to shoot photographs for his father's business. Mike McClure runs Railroad Supply Inc., a Nashua company that creates large-scale model steam and diesel locomotives. The son provides photographs of actual-size trains and the father works from there.
Nashua resident Rich Kittle said that whenever time allows, he finds a passing train. Railways provide him with a lens of the world and a view of the economic, historic and societal value of the communities in which trains travel through, he said.
Others wanted to see the stars of the show.
Tricia Koza told her Easter Seals guardian, Amanda Storey, that she wanted nothing more than to see the Ringling Bros. train.
Tina Coombs brought her 3-year-old son and 1-year-old daughter, Lacee, while her sister Melissa Coombs pushed the carriage of their 3-year-old nephew, Damien. The kids wanted to see monkeys.
But they didn't see one chimp. Most observers went home disappointed. The small windows on the cars didn't provide much of a view. Only a horse's white nose was clearly visible as it pressed against a window.
There was no denying the smell of animals, though.