Locally owned Optima Bank opens in Portsmouth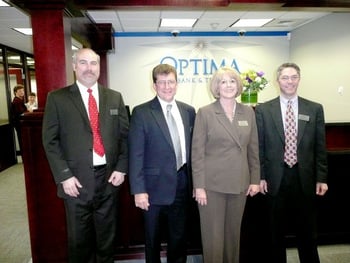 Optima Bank & Trust, the Seacoast's only locally-owned commercial bank, has opened its doors at Two Harbour Place on Portsmouth's waterfront.
Led by Daniel Morrison, president and CEO, the bank "will focus on providing extraordinary personal service, tailored to small-business owners, professionals and entrepreneurs," he said.
With over 20 years of banking experience, Morrison said he has long recognized the need for a bank in the Seacoast that will make all of its decisions locally.
"As more and more banks have been consolidated, decisions about local banking have moved farther and farther from home," he said. "When someone applies for a loan with Optima Bank & Trust, we will have the advantage of being familiar with the local climate and making decisions here based on that knowledge."
Optima's management team includes senior vice presidents Pamela Morrison, chief administrative officer, William Young, chief lending officer, and Edwin Garside, chief financial officer.
Optima will offer traditional banking products, such as checking and savings accounts, commercial loans, mortgages, IRAs and a 24-hour on-site secure ATM.
At the bank's March 27 grand opening event, Morrison thanked Optima's shareholders and board of trustees, as well as the members of the local business community who have supported the bank from its inception.
"Nearly all of the people who have invested in us and supported us are from the local community," he said.
Also at the event, Portsmouth Mayor Thomas Ferrini applauded Optima for doing its part to benefit the city's economy.
"What a great thing to be opening a bank in this so-called 'bad economy,'" Ferrini said. "It helps our community grow, and we are glad to have you here."
New Hampshire's deputy banking commissioner, Robert Fleury, also attended the ribbon-cutting at which more than 250 were present.