Local businessman considering purchase of church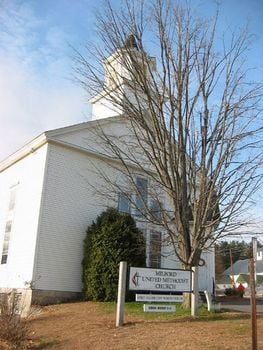 MILFORD – It's only a possibility at this point, but a local businessman is hoping that a 150-year-old church can become home to one of the area's dot-com survivors.
"It's a beautiful building. I'd love to preserve it," said Michael Jones, owner of JustStrings.com, of the United Methodist Church, just north of the Oval. "But it's very, very tentative right now."
The 300-person congregation is building a new church on North River Road, opposite the state fish hatchery, and plans to move out in about a year. It is looking to sell the church, which was moved to the corner of Amherst and Mont Vernon streets in the 19th century.
Since 1977, Jones and his wife, Elizabeth, have owned JustStrings.com, which he calls the world's biggest seller of musical-instrument strings. It started in the family's Mont Vernon home, and in 1998 moved to 522 Amherst St., Nashua, a retail building that is also home to Gold's Gym.
The company survived the dot-com bust, when plenty of other Web-based sales operations went under, because of the nature of his market, says Jones.
"Even in New York, the biggest music store can't stock all types of strings," said Jones, who plays guitar and piano. "I've heard from people who had given up hope finding (strings for an obscure Jones said JustStrings.com has an inventory of about 10,000 different types, sizes and brands of strings, for everything from autoharp to zither – not to mention cavaquinho, balalaika, ukelele and viola d'amore. It ships strings throughout the world, ranging in price from a few dollars to over $400 per set, and business keeps growing.
That growth means the company needs new space, and Jones has been looking for alternatives. Less expensive options exist in traditional business space, he says, but the United Methodist Church caught his eye, partly because he grew up in Groton, Mass., where a local church has been converted into a business with great success.
Jones said the church appears to suit his business, which has relatively few employees but needs a large open space for packing and wrapping shipments and holding inventory – exactly how churches are configured.
As is often the case with old buildings downtown, the biggest problem is parking. Lack of room for cars is one of the main reasons the congregation is moving: The church owns less than an acre of land, with just a few parking spaces between it and the post office.
That and a few other obstacles mean Jones' move is far from certain. But as he said before presenting the idea informally to the Planning Board on Tuesday, he has hopes.
"I just happen to like the building," he said.