Lawyers who set examples
Remember two who demonstrated their lifelong commitment to the practice of law and good citizenship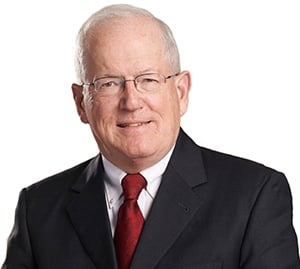 The last issue of this publication featured an interview with Attorney Jack Middleton on the occasion of his 60th anniversary practicing law in New Hampshire. Middleton, perhaps today's senior icon member of the Bar, reflected on changes in the practice of law and the state of New Hampshire since he began practicing in 1956. Then, as now, he was an important part of the McLane Law Firm, one which now features his name as McLane Middleton, an appropriate recognition of his contributions to that firm, his profession and the state.
On Sunday, Oct. 9, there were two obituaries in the NH Union Leader that highlighted the lives of significant contributors to the New Hampshire Bar as well.
The coincidence of their obituaries appearing at the same time pointed out their contributions to their profession and state and its people, as well as did the Middleton interview. The two whose obituaries appeared shared ethnic heritage, political party and characteristics as attorneys, and their passing marked a chapter turning in New Hampshire.
Clifford Ross, a longtime Manchester attorney, died at age 89. Born in Boston, the son of Greek immigrants named Xaros, he changed his name to Ross, which was more pronounceable. After graduating from Boston Latin School, Boston College and Boston College Law School, he served in World War II and the Korean conflict.
He moved to Manchester in 1952 and became an important part of the George Griffin Insurance Agency and served in various capacities in his community, married, had a family and proceeded to commute to Boston to attend law school at night.
If memory serves correctly, he often was joined on the trip to Boston by a young businessman from Nashua named Warren B. Rudman, also studying law at night while juggling business and family responsibilities at the same time.
After graduating from law school, Ross returned to the Queen City to represent regular New Hampshire citizens from any economic strata in their various needs. He was associated with various lawyers, for a while a name partner in the Eaton, Eaton, Ross, Moody and Solms firm, which many will remember. In addition to law practice, he took on additional civic roles, including president of the Manchester Jaycees, director of the Chamber of Commerce, president of Manchester Family Service Society, director of the Salvation Army, trustee of the Institute of Arts and Sciences and Democratic city chairman. He was an active participant in local and state politics, attending at least two national Democratic Conventions.
Ross left his wife, children and grandchildren and scores of clients whose families he served in a distinguished career as a lawyer for the people. At his memorial service, several grandchildren recounted his love of music, interest in and value placed on their education, and his pride in them all which they obviously repaid.
Also highlighted on that obituary page was the obituary of Charles V. Spanos, who spent most of his life in Sullivan County, a member of one of the leading families of that community.
Born in 1928, like Ross, he was the son of Greek immigrants. He graduated from Towle High School in Newport and served in the army during the Korean War. He graduated from UNH and, in 1960, earned his law degree at Boston University, after which he settled in Claremont and practiced law with his brother, Harry Spanos.
Harry Spanos, affectionately dubbed "Midnight Harry" during his tenure in public office, was vice president of the state Senate, Democratic candidate for governor and Sullivan County probate judge. Harry and Charlie were part of a Greek community in Sullivan County that included many others, including Sam and Jim Saggiotes, Newport businessmen, who as Republicans were leaders of their party as the Spanos brothers were leaders of the Democrats.
Charlie Spanos, like Cliff Ross, served the people of his community and region by taking on all manner of cases. Outside of the law, he served as a trustee of the University of New Hampshire as an appointee of Democratic and Republican governors, and was a leader in many civic organizations.
Spanos is survived by his children and seven grandchildren.
In Cliff Ross and Charlie Spanos, New Hampshire had lawyers who served the common people with their regular needs, served their communities and the not-for-profit and charitable interests and demonstrated through their life-long commitment to the practice of law and good citizenship, the contribution made by so many members of the New Hampshire Bar every day, every year and every decade.
Like Jack Middleton, who still provides these qualities and this example, Ross and Spanos were from a generation which set a great example for those who have come after them, in their community, their state, and their profession.
Brad Cook, a shareholder in the Manchester law firm of Sheehan Phinney Bass + Green, heads its government relations and estate planning groups.