Kinko's quality saves businesses time, money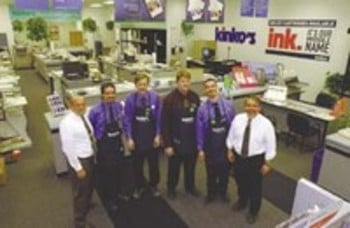 Today's business needs to be done better, faster and cost-effectively. Kinko's at 10 Fort Eddy Rd. in Concord fills all three needs, with business solutions and express service for customers who've come to expect nothing less from the full-service copy center.
And, as Store Manager Steve Olaskiewicz will tell you, the store's focus is just as much on service as it is to fill orders quickly.
"Our sales team members go beyond asking the customer what they want, they ask why," said Olaskiewicz.
Kinko's offers a wide variety of services aimed at saving businesses time and money. Kinko's offers free pickup and delivery of orders. You also can send documents to be copied over the Internet, selecting a variety of printing options, then choosing whether you want your order delivered back to you by FedEx or Kinko's courier, or pick up the order yourself.
You can even pay for your order on line. And Kinko's gives their "Best Price Promise" guaranteeing they'll beat any competitor's bid by 10 percent.
Another service offered by Olaskiewicz's store is digital color printing, which creates "copies" that are actually originals. Have a trade show or presentation coming up? Kinko's offers dry mounting services on FoamCore for lightweight stability. They can also copy oversized documents and images for your presentation and the CDs for the giveaway demos.
If your business takes you out of the country, Kinko's can help you there too with a passport photo service.
Kinko's is as committed to its employees as it is its customers. The average salary for Kinko's employees is nearly three times the minimum wage, and all full-time employees are eligible for medical, dental and retirement benefits.
For more information, call Kinko's at 226-0565 or visit www.kinkos.com.