Ice storm slams state; Nashua area recovers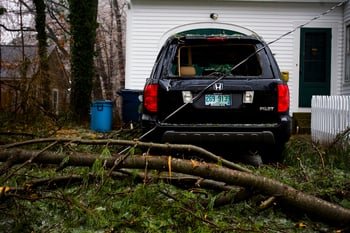 An ice storm slammed New Hampshire overnight, leaving as many 392,000 homes and businesses without power – and many people might not have their juice restored for days.
The Nashua area couldn't escape the potent mix of ice and freezing rain, with the Gate City and all of its surrounding towns suffering power outages – leaving thousands of residents without heat, light and other essentials.
New Hampshire Gov. John Lynch declared a state of emergency. Municipalities and aid agencies have started establishing shelters in Nashua, Amherst and Milford, and police have posted officers at many traffic intersections.
The storm knocked down trees and limbs, and even some utility lines and poles. Stress on the lines has Public Service of New Hampshire crews scrambling, but the utility company has offered a bleak assessment: some customers could be without power for several days.
PSNH says that 300,000 of the company's 500,000 customers are without electricity, and they could have no power for several days. Overall, as many as 392,000 people in the state had no power.
The outage has caused "the absolute, most significant power restoration effort we've ever had. There has not been a storm before that has affected more customers," PSNH spokesman Martin Murray said.
Nashua, Hudson, Merrimack and other regional towns sit in the dark this morning. While many sections of Nashua have pockets of power, officials in Merrimack estimate that 90 percent of the town has none.
In, Litchfield 100 percent of PSNH customers lacked power, according to Fire Chief Thomas Schofield.
Despite the storm, all area emergency responders said they haven't handled any serious emergency calls. There have been no serious motor vehicle accidents, as many people used caution and stayed off the roads overnight, dispatchers said.
But weather forecasters expect temperatures to drop to freezing later today, potentially causing trouble on roads already strewn with fallen tree limbs.
"I urge all New Hampshire citizens to take sensible precautions and heed all warnings from public officials," Gov. John Lynch said.
The outage has also affected publication of The Telegraph. Printing of the paper has been delayed with The Telegraph's Hudson facility in the dark. Friday's edition of the paper will be published later in the day, once power is restored.
School was canceled in Nashua, Milford, Hudson, Amherst, Mont Vernon, Litchfield, Merrimack, Wilton and Lyndeborough and in hundreds of other schools and communities in the state.
National Weather Service urges people without power to not light candles, but to rather use battery-powered flashlights and floodlights.
In Nashua, the Red Cross set up an emergency shelter Friday morning at Nashua High School South and the city's emergency operations center kicked into gear, Mayor Donnalee Lozeau said.
Area hotels also began filling up early Friday, besieged with calls from residents who had lost power in their homes.
The Holiday Inn on Northeastern Boulevard was out of rooms by 11 a.m., said Pam Lapierre, the front desk manager. Calls from people hoping to rent a room started coming in at 5 a.m., she said.
"It's definitely due to the power outage," Lapierre said.
There were scattered power outages throughout the city, including areas along West Hollis Street and many other areas west of the F.E. Everett Turnpike.
While emergency officials were hopeful that power would be restored soon, they were preparing for a "possible multi-day outage," Lozeau said. City Hall had power, as did most city buildings, although there were a few glitches, Lozeau said.
There was no power at Four Hills Landfill, and officials weren't sure if trash trucks could get to homes in Lancashire Heights in the Long Hill area near Bicentennial School.
Jim Mealey, the school district's chief operating officer, said the call was made around 4:30 a.m. to cancel school for the day. That decision was made after conversations with Scott Pollack, superintendent of streets, who told Mealey that the roads were fine, but that six schools were without power, Mealey said.
Superintendent Christopher Hottel was also involved the discussions, Mealey said.
"This was a fairly easy decision today," Mealey said.
Mealey said there were no reports of any damage or flooding at any schools. There was a brief discussion about the possibility of a delayed opening, but Mealey said there was no way of knowing whether power would be restored to the schools in time.
One collateral effect of the power outage: Long lines at Dunkin' Donuts and other coffee shops throughout the area, as residents who couldn't brew their morning Joe at home had to flock to anywhere open to get their caffeine fix.
For instance, in Merrimack, a Dunkin' Donuts by Zyla's discount store served 800 customers between 5 a.m. and 1 p.m. Most any other day, the chain store serves 800 people in an entire day, according to store manager Luiz Pereira.
Needless to say, but those 800 customers cleaned the Dunkin' Donuts out of doughnuts, muffins and bagels.
The Merrimack fire department has handled all of the imminent emergencies in the town. They are sending out four crews to canvas the entire town and take an assessment of power outages and other damages from the storm.
As of 11 a.m., at least two dozen streets are still closed but most are smaller streets and Daniel Webster Highway is completely open.
Amherst officials declared a town-wide emergency and are trying to establish a regional emergency shelter. Most phones lines and power are out throughout the town, including businesses and residences in the village.
Parts of Route 122 in Amherst are also closed due to downed trees.
In Hudson, Route 111 between Greely Rd and Sullivan Rd and Wason Rd between Trigate Rd and Pasture Rd. are closed due to downed trees and power lines.
There are multiple roads closed on the outskirts of Milford today.
Mason Road is closed due to downed trees as is 101 in Wilton.
Power on the west side of Milford is completely out. PSNH officials do not expect power to be restored for a few days. Please prepare for multiple days without power.
Milford Emergency Services met at 7 A.M. to plan emergency shelters for residents in need. As of ten o'clock this morning no requests for shelter were received. Residents in need of shelter should contact the Milford Fire Department.
In Nashua, school officials assessed the damage and planned how to move forward. Around 10 a.m., Mealey said he didn't know which schools were without power, but said he anticipated that there would be school on Monday.
Mealey said because there is power out in several schools, he called food services director Jeannette Kimbell to see what could be done to salvage food or move things from one school to another.
Mealey said there isn't any protocol for how many schools without power it takes to cancel school district wide, but said it made sense to close all schools, especially because of the situation across the city.
Most school buildings were empty Friday, with signs on the front door letting parents and students know that school had been cancelled.
Not far from Merrimack fire station, a two-story home on 7 Clay Street saw a large pine fall on its roof early Friday morning, causing enough damage to chase a young couple and their three children out.
The family wasn't home later in the morning, but neighbors described the loud crash that symbolized an unusual night.
"I feel bad for them," neighbor Derek Perry said.
Perry said the sirens of fire trucks and police cars awoke him from what was already a fitful night of sleep. His power on 10 Clay Street flickered and then knocked out for good around 1 a.m.
A tree scraped the siding of his home, but caused no significant damage as it fell. Another neighbor next door had a huge tree land on a propane tank.
— Telegraph staff