How widespread is Covid-19 in NH?
'The number of positives is probably a fraction of the true positives that exist'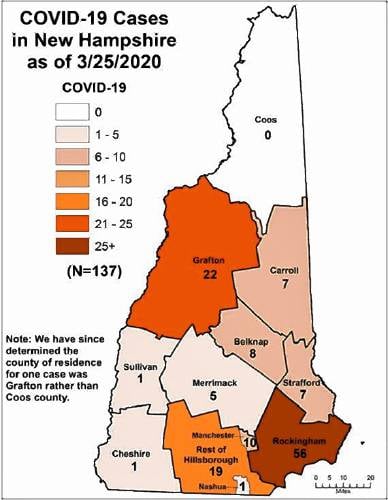 Almost daily, state public health officials have updated the total number of coronavirus cases identified in New Hampshire. On Monday, that number surpassed 100 – a grim milestone – and the numbers increase incrementally daily.
But the reality is that the number of people infected with the virus is far greater than the number of confirmed cases, for two reasons: the delay in getting test results, and the lack of tests and sterile equipment to take samples.
For example, as of Wednesday, more than 3,000 people in the state were waiting for their test results to tell whether they have the virus or not. And that cannot begin to account for all the people who haven't been tested but might be carrying the coronavirus, because there's only enough equipment and staff to do high-risk cases.
"In the United States the number of positives is probably a fraction of the true positives that exist out there," said Dr. Edward Merrens, chief clinical officer for Dartmouth-Hitchcock, in a call with reporters Monday.
In other words, we don't know how many people have Covid-19 in New Hampshire. And experts are increasingly saying we probably never will.
"You know, if we could be out there testing everybody, certainly we would do so. But that's not the reality of the situation that we're in right now," Dr. Benjamin Chan, state epidemiologist, said Monday on NH Public Radio's "The Exchange."
In New Hampshire, as across the nation, healthcare providers lack the personal protective gear and specialized swabs to conduct widespread testing. Partly for that reason, state officials recently advised state residents to not seek testing, unless they are very sick, came in contact with someone with Covid-19, or work as a first responder or in the health care field.
'Circulating in our communities'
Without widespread testing, trends in the reported case count could create misleading impressions. For instance, a sudden spike in the number of confirmed cases may only indicate that a new batch of testing supplies arrived in the state, not that there was a surge in the number of actual infections.
The limited testing in New Hampshire has been valuable in at least establishing the fact that the virus is here and spreading.
"We know that this is a virus that's circulating in our communities," said Chan, acknowledging the fact that many of the new cases being identified are not people who recently traveled or who were in close contact with a confirmed case of Covid-19.
Positive test results will also continue to be important in their specific and personal contexts: for doctors deciding on a treatment plan for a patient, or for public health officials looking to stop an outbreak at a sensitive site like a nursing home.
"We're trying to focus on testing in situations where we can make an intervention," said Merrens, "where we can protect a healthcare worker or we can make the right decision for how to care for an in-patient."
But for the wider public, other numbers will soon become more telling as to the overall state of the coronavirus outbreak in New Hampshire: How many people are being hospitalized due to Covid-19? How many people are dying because of it?
On Monday, New Hampshire began to keep count. After the state announced a Hillsborough County man had died of Covid-19, the public health department added a new row to the table of coronavirus data: "Deaths Attributed to Covid-19." – JASON MOON/NH PUBLIC RADIO
This story is being shared by partners in The Granite State News Collaborative. For more information visit collaborativenh.org.