House bill proposes change to business filings requirements
All entities would have to register with the state, even businesses operating under the owner's name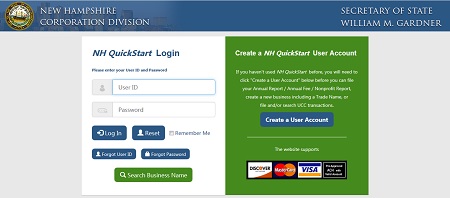 You don't have to register with the state to do business in New Hampshire, as long as you do it under your own name.
HB1434 would change that, at least for all businesses with employees or those that make more than $75,000 in annual gross income.
Many businesses register already, either as corporations, partnerships or as a sole proprietor when registering a business name. But some businesses ­– no one is quite sure how many – that operate under the owner's name and don't seek protection for their trade name are under no requirement to file according to current law.
(At deadline, the New Hampshire Secretary of State's website did say that all businesses must register but that "is not quite right", acknowledged assistant Secretary Dean Dexter, who said the department was trying to correct that as well as clarify other aspects of the law.)
Rep. Michael Cahill, D-Newmarket, thinks all business should file, for their own good and the good of their employees. A mandatory stop at the second floor in the statehouse is a good way for state's economic development arm to let a new business know what resources are available as well as for various agencies to let the business know of all the regulations they have to follow, like payroll deductions of unemployment insurance and worker's compensation.
The bill, said Cahill, was partly sparked by a bill passed last session to allow for biweekly pay without permission. Many new businesses didn't know that they needed that permission in New Hampshire, resulting in an unintentional violation. Usually the state Department of Labor used that as an opportunity to check for more important violations, such as not paying worker's compensation.
Universal business filing "would also be a way for someone to know how to get in touch, in case something happened," Cahill said.
The filer would have to list the business name, place of business, date organized and a brief description with the names and addresses of the principal parties, accompanied by a $25 fee, to be renewed every five years at the same cost.
That's the same fee for registering a nonprofit. To register a trade name costs twice as much, and a corporation costs $100 to file. About 6,000 new businesses file every year in New Hampshire, but it is hard to determine how many don't. There is no enforcement mechanism to ensure whether a business does file.
Mainly "this is self-correcting," said Dexter. That's because business want to protect their trade name. Many third parties – banks, other state agencies, insurers and professional associations – also require proof of filing, he said.