Hospitality entrepreneurs Alex Ray and Rusty McLear make an unlikely, but dynamic, team
Behind the partnership of The Common Man's founder and Meredith hospitality businessman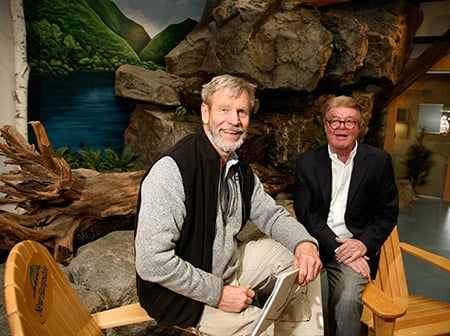 Their names are not indelibly linked in the public mind, like Ben and Jerry or Chase and Sanborn, but Alex Ray and Rusty McLear have had the kind of success in New Hampshire's hospitality industry that makes it hard to think of one without the other.
"We gave them a joint lifetime achievement award," said Mike Somers, president of the NH Lodging and Restaurant Association, recalling the 2015 presentation. "We'd never done a joint [award] before, but with the two of them, it's almost like they make each other better. The personalities and skills they bring to the table complement each other. They've been a real powerhouse in our industry for so many years."
Between their individual and joint projects, the two men have a combined experience of more than 90 years in the hospitality business. Ray opened his first The Common Man restaurant in a brick house in Ashland in 1971 and has since added so many others to what is called The Common Man family of restaurants that even he is not always sure of the number.
"Fifteen," he said in a telephone interview from The Common Man in Lincoln. "Or maybe it's 16." He paused for a moment at hearing another voice confirm the latter number. "I'm told it's 16," he said. All are in New Hampshire, stretching from Lincoln in the north to Windham in the south and as far west as Claremont. Ray has turned down invitations to bid on restaurants in Massachusetts, Maine and Vermont.
"It's all in New Hampshire and it's going to stay that way on my watch," he said.
A New Jersey native who has lived in New Hampshire since age 14, Ray said he believes extending the "family" of restaurants beyond the familiar boundaries of New Hampshire could "ruin a good thing. Don't screw up a good thing," he advised.
McLear, is founder and principal owner of The Inn at Mill Falls in Meredith, the centerpiece in a network of luxury accommodations in New Hampshire's heavily traveled Lakes Region. Other Meredith properties in McLear's inventory include Church Landing, Chase House, Bay Point and Mill Falls Marketplace.
Largest venture
McLear, a Meredith resident, and Ray, who lives in nearby Holderness, met sometime in the early '70s and worked together in opening a restaurant called Mame in Meredith. The personal friendship and working relationship that developed over several years led to a number of other joint ventures, including one in Claremont, where two of four abandoned mill buildings became home in 2009 to The Common Man Inn and Restaurant – a 35-room hotel, restaurant and function room.
Their largest, and most visible, venture to date has been the Welcome Centers that opened in 2015 on both the north and southbound sides of Interstate 93 in Hooksett. Where the previous rest stops had only the state liquor stores, rest rooms and information centers, the centers offer travelers a Common Man roadside restaurant and a '50's-style Hi-Way Diner with a 10,000-square-foot food court, a 24-hour country-style general store and a 20,000-square-foot NH Wine and Liquor outlet. Each center also features 300 parking spaces and 8 Irving fueling stations.
The public-private venture required $23 million in private money for construction and site work, with the state picking up the $8.4 million tab for the new liquor stores. Along with added revenues from the rooms and meals and gas tax, the state collected rent on the land to the tune of $774,000 in the last fiscal year.
"I thought this was a giant leap for us," McLear said, given the size and scope of the project. Unlike other highway rest stops across the country, the restaurants at the Hooksett sites offer no national brands. "We're working hard to do something a little different, " Ray said. "We had to learn how to do fast food."
Not a 'corporate person'
Doing something different has been a persistent theme in the life of Alex Ray, who was something of a maverick in his student days at Kennett High School in Conway.
"I skipped school, got kicked out of school, worked every day after school and at night. School didn't work out for me," he recalled. His after-school and nighttime jobs in the tourist-oriented economy pointed him in the direction of his future career in restaurants.
"When you work in the Conway area, you become a dishwasher or a cook," said Ray, who worked as both.
Between his junior and senior years, he spent summer working at the Poland Spring resort in Maine, living in the attic over the hotel. After graduating from Kennett, he studied for two years at the Culinary Institute of America in Hyde Park, N.Y.
Back in New Hampshire, he went to work for Canteen Corp., servicing cafeterias for Sanders Corp. (now BAE Systems) at its Nashua and Manchester locations, before deciding to go into business for himself.
"I wasn't a corporate person," he said. "I wasn't a good soldier. I wanted to do things my way and I left."
Mill vision
McLear also exhibited an independent streak in his youth, including his student days at the University of Notre Dame, where his penchant for rule-breaking did not go unnoticed.
"Notre Dame was a lot different then," he recalled. "Back then it was an all-male school with lots of rules and regulations. You couldn't have a car, you couldn't live off campus, there was a curfew. There were all kinds of reasons why it wasn't as much fun as I thought it could be. I thought it would be more fun than it was until I got kicked out."
The Albany, N.Y., native came back east, completing his education at Windham College in Vermont. He moved to New Hampshire, where his interest in scenic lands and old buildings led him into the real estate business, and to a certain mill building in Meredith that caught his fancy.
It was part of the old Amatex site, an empty and mostly deteriorated complex of old factory buildings overlooking Lake Winnipesaukee. But McLear saw potential in the original 1820s mill and the waterfall that powered it. He began writing to the Amatex president in Pennsylvania to inquire about buying the property.
"I wrote the owner a letter every month for six or seven years before he finally said, 'I'm sick of getting your letters, but I do want to sell it.'"
It was about that time that a well-to-do gentleman from Massachusetts arrived looking to purchase a large house on the lake. "I showed him a home on Meredith Neck that looked out at the village of Meredith. He liked the house, but didn't like the view of the factory. I told him, 'If you can afford to buy a house on the lake like that, I can change your view.'" The client was Ed Gardner, who would later join McLear in Hampshire Hospitality Holdings Inc.
As chairman of the town zoning board and a volunteer on the committee to develop the town's new master plan, McLear was well-situated to pursue his vision for the mill building. His suggestion that the Amatex site be included in the town's revitalization plans was adopted.
He bought the property, razed most of the buildings and renovated the old mill, turning it into a classic white, two-story New England inn, with the waterfall running alongside it. New buildings for shops and restaurants were added, creating the Mill Falls Marketplace. The Inn at Mill Falls had its formal opening on July 4, 1985.
Risks and rewards
Ray credits McLear with having long-range planning skills and a knack for attending to administrative details, while Ray sees himself as more preoccupied with day-to-day operations on the "front lines."
"I like the nuts and bolts," Ray said. "I still want to be in the kitchen, in the parking lot. … I enjoy sitting down with the guests and getting to know people."
He also noted a basic difference in their personalities: "He's calmer, he's more reserved. I'm frenetic, spontaneous."
"He is frenetic," McLear agreed. "Alex is always moving. He is a storm. He's exhausting to be around."
Their differences in style and temperament might suggest that they are in some respects a corporate "odd couple." ("We are both indubitably odd," McLear joked.) Yet they think alike to the point that, McLear said, "We often finish each other's sentences."
And both have experienced the risks and rewards of taking on large projects.
"The bigger you get, the more responsibilities you have, but you can't get into these things and be scared to death all the time," McLear said. "I've had failures, and so has Alex. Everything hasn't been a bed of roses. But if you get into something, plan it well and execute it well, there should be a positive outcome."