'Hospitalist' trend grows in N.H.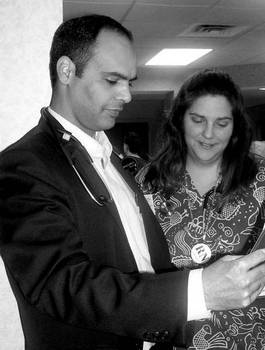 As the new year began, The Memorial Hospital in North Conway and Parkland Medical Center in Derry both joined a growing number of hospitals throughout the country that have introduced a new approach to patient care – the "hospitalist," an on-site physician who provides coordinated care to hospitalized patients. 
According to the hospitals, research is showing that use of hospitalists improves quality of care and enhances communications among providers, patients and families.
More than 40 percent of hospitals around the country – including several in New Hampshire – employ the hospitalist model, which was nearly unknown a decade ago. The movement toward hospitalist programs began in the early 1990s as a result of concerns about patient safety, quality and the continuity of care. As demands on primary care physicians to spend more time at their offices increased, the hospitalist program has developed as a successful model for coordinating the entire care of a hospitalized patient. The hospitalist serves as a liaison with the patient's primary care provider, and the person returns to their regular provider after discharge from the hospital.
Patients and their families have round-the-clock access to a hospitalist for questions or concerns that arise, said Maureen Smith, vice president at Parkland. They coordinate the patient's care including consultations with other specialists such as cardiologists or surgeons in the same manner their own physician would. Hospitalists also arrange for a patient's discharge plan and follow-up care to be coordinated and shared with the patient's primary care physician.
"The hospitalist always maintains communication with a patient's primary care physician. Even if a primary care physician is out of state, a patient should be assured there is consistent communication," said Parkland hospitalist Hiral Patel.
At Memorial, a hospitalist will make rounds twice daily, and work with the patient's primary care provider to assure up-to-date information and continuity of care. Upon discharge, patients will again see their regular provider and have access to all of the information from the hospitalization.
Hospitalists at Memorial will be local primary care physicians who rotate schedules and serve a week at a time in the hospital's medical unit. They will be responsible for the care of hospitalized adults, except for surgical and obstetric patients.
"The traditional system in hospitals calls for a patient's primary care doctor to admit the person and oversee the care during hospitalization," said the hospital's executive director, Gary Poquette. "However, improvements in medical technology have increased the amount of care provided in the medical office setting – and the demands on providers' time to be in their offices. At the same time, when patients are admitted to the hospital these days, they tend to be more acutely ill. These changes often mean that hospitalized patients and families have less access to their primary care physician at a time when they are most anxious to see them."
Paquette said the new service means a hospitalist is on-site, making rounds on patients twice a day. "They coordinate the patient's testing and procedures, consultations, medications, and the discharge process, while supporting the patient and family throughout the hospitalization."
"We see this as a real advance in the way we provide care for hospitalized patients," said Dr. Diane Snow, president of the medical staff. "Primary care providers will entrust their patient's care to another colleague for the duration of that person's hospital stay. The hospitalist physician can devote more time to the hospitalized patient, improving communication with families, working with the nursing staff, and being available to respond to a patient's changing conditions."