Hiring foreign physicians to ease NH's doctor shortages
Federal visa waiver program can help facilities in underserved areas fill positions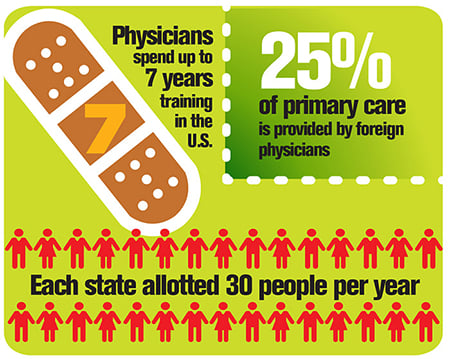 As U.S. populations continue to age, the primary care physician shortage across the nation continues to worsen.
For New Hampshire health care employers in medically underserved areas, there is a resource for hiring doctors: The Conrad 30 J-1 Visa Waiver program.
This federal initiative assists foreign doctors in pursuing a career in the U.S. The physicians must agree to provide services in a rural area for a three-year period in order to participate in the program. Each state is allotted 30 slots on an annual basis.
Health facilities typically try to fill positions with a U.S. citizen, but if they can't attract talent to their area, the Conrad 30 J-1 Visa Waiver program allows them to hire international medical graduates who want to serve. Approximately 25 percent of primary care in the U.S. is provided by foreign physicians.
Health care employers must apply to the NH Department of Health and Human Services to claim a slot for a foreign physician it seeks to hire, but each year, several of the 30 slots go unused. As of this writing, only two of New Hampshire's 30 slots have been claimed for this fiscal year.
Who qualifies?
How can health care facilities sponsor a foreign physician?
The sponsoring facilities must be located in a federally designated underserved area, such as a Healthcare Professional Shortage Area (HPSA) or Medically Underserved Area (MUA).
However, even facilities not located in these defined areas may petition for one of the slots if they can show that the physician will primarily provide services to underserved communities.
What types of physicians qualify for the program? The foreign physician must be highly accomplished. They must pass the Educational Commission for Foreign Medical Graduates Examination. (Fewer than half who sit for the test pass it.) If successful, the physicians must then match with a U.S. residency program and are conferred a J-1 Cultural Exchange Visa in order to enter the U.S. and attend the training program.
The doctors can spend up to seven years pursuing medical training in the field of their choice. At the end of their training, the terms of the J-1 visa require the physician to return to their home country or to their last country of permanent residence for at least a two-year period in order to share the training they have acquired in the U.S.
The Conrad 30 program allows the physicians to forgo this "return home requirement" in exchange for working in an underserved area.
Underused in New Hampshire
Each state may design its Conrad 30 program according to its own needs and prerogatives. The New Hampshire program focuses on addressing shortages in primary care and reserves most of its slots for primary care physicians, which includes family physicians, internal medicine physicians, hospitalists and obstetrician/gynecologists. Limited participation by subspecialists is allowed.
Up to 10 of the 30 slots can be utilized by facilities sponsoring foreign subspecialists if it can be shown that the specialist will be supporting the primary care mission of the facility.
In most states, all thirty Conrad slots are usually claimed each fiscal year. In New Hampshire, only a little more than half the slots were used last year. NH DHHS believes the lack of participation is partly because New Hampshire does not have as many employers utilizing the Conrad 30 program as some other larger states and partly because J-1 physicians are not necessarily seeking out positions in New Hampshire compared with some of the larger, more populated areas of the U.S.
How long does the hiring process take through this program?
The process for obtaining all of the approvals needed to secure participation of the foreign physician in the Conrad 30 Program can take several months and requires applications to several government agencies.
NH DHHS recommends the use of an immigration attorney. The foreign physician may not make a direct application for participation in the program. Rather, the physician must be sponsored through a qualifying facility.
After the three years of required service, the foreign physician may continue to work at the sponsoring facility; however, the work visa status, known as H-1B, is capped at six years. The facility may sponsor the physician for U.S. permanent residence, also known as a Green Card, via programs offered by the federal government. (NH DHHS has seen retention rates among foreign doctors upon completion of the 3 year term of service as high as 78 percent.)
New Hampshire health care employers can learn more about the Conrad 30 J-1 Visa Waiver program requirements by visiting the NH DHHS website or by contacting a business immigration law firm with expertise facilitating the Conrad 30 J-1 Visa Waiver process.
Michael Murray, a business immigration attorney and co-founder of FordMurray based in Portland, Maine, may be reached at michael@fordmurraylaw.com.