Heimlich maneuver saves choking sixth-grader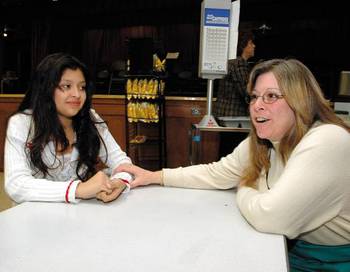 NASHUA – Kristela Hernandez is breathing easier these days, and she has Susan Williams to thank.
"I was sitting right there when it happened," said Kristela, a sixth-grader at Fairgrounds Middle School, pointing at a nearby table in the school cafeteria.
Nearly a month ago, Kristela was eating lunch with her friends when she realized something wasn't right. Suddenly, she couldn't breathe. She was choking. Within a matter of seconds, things were going black. The young girl was losing consciousness, gasping for air.
In a situation like this, seconds are invaluable, the reason why Kristela is thankful that Williams, a food-service employee at the school, was only footsteps away, ringing up students at the end of the lunch line.
It had been 20 years since Williams received her training in the Heimlich maneuver from the American Red Cross, but in the blink of an eye, she acted quickly, saving a life and putting the spotlight on ensuring her co-workers are prepared for similar situations.
"When I got (the training), I never thought I'd use it. But I saved a life," Williams said, still in a state of disbelief.
Ever since that day, the pair has had a unique bond. On Tuesday, they talked about what had happened, just steps away from where it occurred.
"I didn't know who to go to. I thought I was going to die," Kristela said.
A meatball had become lodged in Kristela's throat. One of her friends had run to get the school nurse, Suzanne Lyman, but Kristela needed immediate attention and approached Williams.
As it was happening, the incident nearly went unnoticed. But it didn't take long for word to get out about Williams' training and how much it paid off.
"We thought it was such an incredible story. We were thrilled to learn she was all right," said Cheryl McLarney, the executive director of the Greater Nashua and Souhegan Valley chapter of the Red Cross.
So did Odette Slosek, the food-service coordinator for the middle school. During her years on the job, Slosek said she had never seen anything like that happen.
But with hundreds of students eating in the cafeteria every day, she could not get past the thought of it happening again without someone nearby with the proper training.
Slosek, with the help of Lyman, contacted McLarney at the Red Cross and set up a five-hour training session in January for food-service employees at the school to learn lifesaving procedures.
The training would include the Heimlich maneuver and cardiopulmonary resuscitation, or CPR.
Mary Fitzgerald, an instructor for the local Red Cross chapter, said training would also include how to approach an emergency situation and how to treat victims in shock.
"This definitely sparked an interest in all the food-service employees getting certified. And the district was enthusiastic about it too," Fitzgerald said.
So far, Slosek said about eight Fairgrounds food-service employees have signed up. With the financial help of the food-service department, courses will be offered at other schools in the district.
"It's incredibly important," McLarney said of the training.
"It's not very common to need this sort of care, but it's essential to know it if it does arise."
Jeanette Kimbell, director of food services for the district, said that food services, a self-funded area of the district, would pay for the training. The final cost has not been determined and will be based on how many employees take advantage of it.
Kimbell said she is hoping to attract as many people as possible, including the food-service coordinators and cooks. For those who can't make it, the district offers a similar class by a licensed American Heart Association representative.
"Whenever an incident like this happens, it alerts you to more ways of getting the training out there," she said.
And for Williams, the good news keeps on coming. Because of her actions, McLarney said a community member has nominated Williams to be recognized with an award at the Red Cross' Heroes Breakfast in March. Regardless of whether she wins the award, Williams will be invited to the breakfast, McLarney said.
Kristela said her parents told her to make sure to thank God for what happened. And she has learned a few lessons, specifically to make sure she chews her meatballs completely.
"(My parents) told me not to play with my food as much," she said with a laugh.
Fortunately, Kristela and Williams can look back on the incident and laugh. But Kimbell wants to make sure the district and its food-service employees are just as prepared for the next time.
"Obviously, accidents happen," Kimbell said. "But if you're trained to handle them in the best way, you can possibly save someone's life."