Hands-free in the 603
What the hands-free law means for employers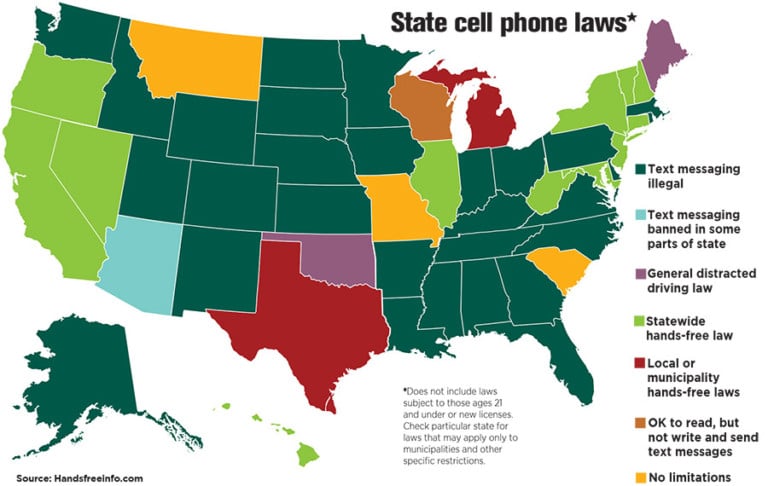 On July 1, New Hampshire's HB 1360 took effect. Commonly known as the hands-free law, it prohibits drivers from holding or manually imputing commands into electronic devices, such as cellphones, GPS units, mp3 players and tablets, while driving.
Under the law, drivers 18 or older can interact with their electronic devices via hands-free systems, like Bluetooth; drivers who are younger are prohibited from using electronic devices altogether, hands-free or not.
Penalties for violating the law range from a $100 fine for the first offense, a $250 fine for the second offense, and a $500 fine for any subsequent offense in a 24-month period. Minors, however, can have their licenses either suspended or revoked.
For most of us, the hands-free law will require slight adjustments to our everyday driving habits. I, for one, find myself conversing with Siri a bit too regularly now. (Me: "Siri, play the Allman Brothers." Siri: "Calling all your brothers.")
For many employers that use vehicles for their business and require employees to drive as a part of their jobs, transitioning to a hands-free world may require new technology and will require new vehicle safety policies.
Most businesses require their employees to obey all local, state and federal regulations while traveling on company business. Before the new law, this meant that an employee could dial into meetings, place equipment orders, answer emails at a stoplight and make sales calls, all while on the go.
But in the hands-free world, that same employee must use hands-free voice commands to accomplish those same tasks. This can create tension between employer policies and employer business needs, because the law may prevent an employee from performing his or her duties while on the road, especially without proper technology.
One approach to resolving this tension — and the approach we recommend — is for companies to purchase hands-free devices for their road-essential employees (employees, who by their job descriptions, are required to be both on the road and accessible).
If a company decides to purchase new technology, it should – as with all technology – create a register for the technology purchased and clearly explain, in writing, the conditions of use for that technology.
Whether a company purchases new technology or not, it will likely need to amend its vehicle safety policy and, if applicable, company car policy.
Every business, for example, should craft a provision requiring employees to use hands-free technology while traveling on the company's behalf. Employers should also prohibit employees who are unable to comply with the hands-free law from engaging in any company business while driving (whether during working hours or not). Businesses should also emphasize that if an employee uses a hands-free device, he or she should remain focused on safe driving, not the business task at hand.
Employers should also consider amending their job descriptions for road-essential positions. If a position is truly road-essential, the job description should reflect that requirement. Most fundamentally, the job description should emphasize that, as a basic qualification of employment, any applicant or employee must maintain a valid, non-suspended driver's license.
Finally, companies should touch base with their insurance provider regarding the new law or other traffic issues. Knowing what insurance covers — and, more importantly, what it does not cover — will help companies tailor their vehicle safety and technology policies to maximum insurance benefits and avoid surprises down the road.
Brian Bouchard, an associate in the Litigation Department at the law firm of Sheehan Phinney Bass+ Green, can be reached at 603-627-8118 or bbouchard@sheehan.com.