Growing an environmental commitment
A 200-square-foot garden not only upholds Wire Belt Company of America's values but also keeps its employees well-fed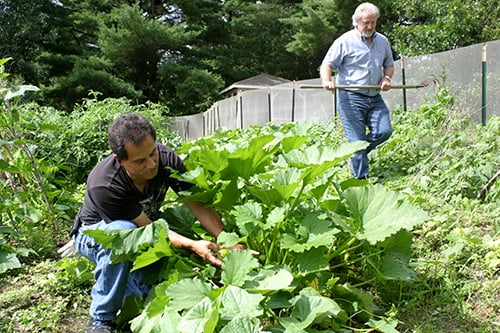 When employees of Londonderry-based Wire Belt Company of America expressed an interest in creating a garden at the facility, the company saw an opportunity to improve the workplace.
Wire Belt conditioned and fenced in a 200-square-foot plot behind the building and placed an easy-to-access garden there, available for all employees who want their own fresh produce.
The company recognized that locally grown, organic food can be too expensive or out of reach for the average employee, and adding this simple feature put free and accessible produce right in Wire Belt's backyard.
Wire Belt is a registered ISO 14001 firm, possessing certification that confirms the company's commitment to its ecologically aware environmental management system. The building even boasts a solar array that produces about 20 percent of the building's energy demands on average. Plans for an expansion in the array are already in the works.
According to Eliana McCarthy, human resources administrator at Wire Belt, adding yet another environmentally friendly practice was a natural progression and really served to boost morale in the workplace. So far, the project has been running smoothly.
The facilities department normally maintains the garden, utilizing compost that is produced from food collected within the Wire Belt building's kitchens and cafeteria to prepare the garden's soil every year.
Even though the garden is getting plenty of use, McCarthy said the Wire Belt employees are all able to share the garden fairly, with enough produce to go around for everyone. Some employees even bring their whole family to the building to pick vegetables.
Not only does the garden's presence encourage healthier eating by Wire Belt's employees, it provides a strong sense of ownership of the main values of the company, says McCarthy, adding that she is hopeful that even more of the staff will take advantage of the garden in future years.
"Any way we can boost morale in the company, that's worth it," she said.
The "Just One Thing" Campaign is an 18-month effort of New Hampshire Businesses for Social Responsibility. Its purpose is to challenge businesses to consider incorporating a sustainability initiative into their operations. Companies can celebrate their achievements and inspire others by sharing their stories on the campaign's webpage. To submit your story or read others, visit nhbsr.org/jot.