Great Bay Community College hosts SkillsUSA NH contest
Contest aims to prepare college students for their chosen career path with hands-on experience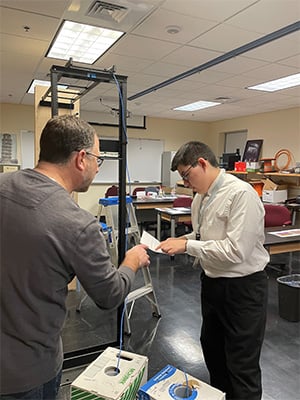 Great Bay Community College (GBCC) was one of 12 contest sites hosting students as part of the annual SkillsUSA NH competition happening throughout March.  SkillsUSA is a national nonprofit organization serving teachers, middle school, high school and college students who are preparing for careers in trade, technical and skilled service occupations. According to Jeffrey Stuart, executive director SkillsUSA NH, a total of 42 contests will take place statewide with students competing in various areas, including culinary, carpentry, leadership and electrical.  Winning students will have the opportunity to go to the SkillsUSA National Conference in Atlanta, Georgia.
For over 15 years, GBCC has been a partner in the program providing a facility, equipment and expertise from faculty who, in compliance with SkillsUSA standards, create contest challenges and help to judge.
Students who participated in the GBCC event were presented with contests in the areas of wiring, PC repair, networking and computer programming. Four schools from area Career and Technical Centers from around the state participated in the event. Examples of challenges included troubleshooting computer or networking equipment, design and  installing networking cables for a building, and timed events on website design and coding.
The Skills USA NH competition was brought to GBCC in 2013 by Mike Harrison, associate professor and program coordinator of the College's Information Technologies (IST) Program. He, along with fellow Professor and Program Coordinator Kevin Behnke and IST Department Chair Meg Prescott, act as judges and run competitions in networking and programming.
"For many, the day is a learning opportunity as to what skill level students need in their chosen career path to be successful against their peers at the national level. Leading an exercise using fiber optic cabling for example is showing them not only a new skill but also one that is very much needed, as network technicians use fiber optic cables on every street and in most buildings."
Winners of the competition held at Great Bay will be announced at the SkillsUSA NH awards ceremony on March 19th at Salem High School.