Gill's son ordered to cooperate in Mortgage Specialists bankruptcy
Judge requires examination of company's records by trustee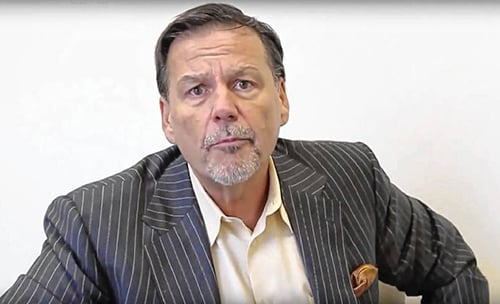 A bankruptcy court trustee, trying to collect a $275 million judgment again Michael Gill Sr., owner of a New Hampshire mortgage company who used electronic billboards to defame three prominent Manchester businessmen, is going after his son alleging that he might be continuing his father's business.
On Wednesday, the judge ordered that by the end of the week Michael Gill Jr. allow the trustee to take possession of the records of his father's business, The Mortgage Specialists Inc., located at the three offices where Gill Jr. operates a similar business, Nextgen Mortgage Inc. Gill Jr. said he planned to move to a new office on Trafalagar Square in Nashua on Oct. 1.
The judge also ordered Gill Sr. to explain why he should not be in contempt of court for ignoring the court's proceedings ever since his creditors filed for involuntary bankruptcy on June 27. The trustee alleges that Gill Sr. has either fled or is otherwise in hiding.
Those creditors – Dick Anagnost, Andy Crews and Bill Greiner – are the same businessmen who won a court suit in 2017 over images of them flashing repeatedly on an electronic billboard outside The Mortgage Specialists' offices on South Willow Street in Manchester, accompanied by the words, "drug dealer" and "extortion."
Gill Sr. appealed the defamation judgment to the New Hampshire Supreme Court in April 2018, insisting his allegations were true and that there was a conflict of interest and fraud in the case. But on Sept. 25, 2018, the high court affirmed the ruling, saying that a lot of the evidence submitted in appeal was not presented at trial.
A final judgment, issued by Superior Court in November 2018, amounted to $274.5 million plus prejudgment interest of $17.6 million, totaling $292 million.
Oct. 27 examination
The bankruptcy court appointed Michael S. Askenaizer as a Chapter 7 trustee on Aug. 13, 2019, after Gill Sr. refused to show up at two hearings, Askenaizer filed a request to question Gill Jr., not just to get The Mortgage Specialists records, but because Nextgen, "could be successors to the Debtor or are one and the same."
Nextgen, argues Askenaizer in a motion filed on Sept. 16, not only uses the Mortgage Specialists' physical address in Manchester, Plaistow and Nashua, but many of the same employees, and the same email address. The websites for both companies (The Mortgage Specialists' site is still up) are nearly identical, even including the same grammatical error, according to the filing.
When NH Business Review called the phone number listed on The Mortgage Specialists' website, the person answered the phone, "Nextgen."
But Gill Jr., unlike his father, did respond in court on Tuesday, objecting to both handing over the records and being subject to the trustee's examination. Although Gill Jr. worked for his father's business since he was a kid, from cleaning to being a branch broker and manager, he had as much to do with the billboard controversy as any of the other 24 employees.
In an effort to "separate himself from distraction," Gill Jr. "wanted to grow a business of his own and leave the Debtors [sic] history behind." He was in the process of setting up Nextgen before The Mortgage Specialists collapsed.
"Nextgen is completely separate from the Debtor," Gill Jr. asserts in a filing. It had different books, and software, and was funded via a loan from Gill Jar's personal savings. Nextgen, which started at the beginning of 2019, hiring the Mortgage Specialists' employees and working out of its office, and used the same web developer to save money, Gill Jr. states
"There are, of course, relationships that both companies share with web builders, mortgage underwriters and individuals. Those relationships make Nextgen no more connected to the Debtor than any other companies in the same industry," he said.
A New Hampshire Banking Department audit confirmed that Nextgen is a separate company, he said in the objection.
But the bankruptcy judge overruled Gill Jr., and ordered he show up at the trustee's office for examination on Oct. 22. Gill Jr.'s attorney, Dennis Hogan, said that his client will appear at the hearing and will allow access to The Mortgage Specialists' records.
"We will be cooperative, but these are separate companies," Hogan said.