Gilford facility to be NH's first multifamily Passive House
July completion expected for senior living facility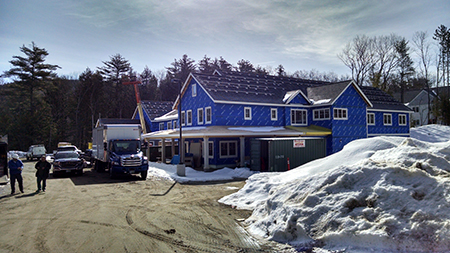 Gilford Village Knolls III, a senior living facility under construction in Gilford, is slated to become the state's first affordable housing project to meet the Passive House performance standard.
Construction of the 24-unit Lakes Region Community Developers affordable project is approximately 65 percent complete and scheduled to be finished in July. Martini Northern of Portsmouth is building the project.
To be certified as a Passive House, a building must be designed and built according to five principles:
• Continuous exterior insulation to avoid thermal bridging
• Nearly airtight construction to manage comfort and moisture
• Extremely high-performance windows and exterior doors
• Balanced energy-recovery ventilation and a finely-tuned heating and cooling system
• Attention to solar gain to take advantage of the sun's energy in the heating season but to minimize overheating in the cooling season.
Paul Eldrenkamp, a certified Passive House consultant who is supervising construction, said the Gilford Village Knolls III project "promises to be the first certified Passive House multi-family development in New Hampshire, which would be quite an achievement."
ReVision Energy is under contract to install a 344-panel solar array at the site this spring. The array is expected to generate 109,700 kilowatt hours of solar power each year, resulting in more than $600,000 in electricity cost savings over the life of the array, the company said.