Fulcrum breaks ground for new Primary Bank
State's newest bank expected to open in early spring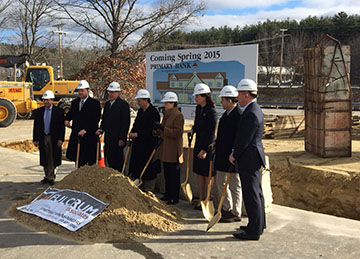 Fulcrum Associates Inc. of Amherst has broken ground for the 5,650-square-foot Primary Bank building at 143 Bedford Center Road in Bedford.
The building is located at the Harvest Market Plaza at the intersection of Route 101, Wallace Road and Bedford Center Road.
The newly formed Primary Bank is awaiting final regulatory approval, with an expected opening in the early spring.
The new multi-gabled two-story building is designed with a blend of shingle and clapboard siding with classic New England style trim detailing. The building will provide space for full banking services including teller line, drive–up window and 24-hour ATM services.
Dignard Architectural Services of Bedford provided design services and Keach Nordstom Associates of Bedford provided civil engineering services.
Subcontractor partners on the project include Gate City electric, Chestnut & Cape Inc. and On-line Plumbing and Heating.