From ironworker to murder defense
Attorney Mark Sisti reflects on his NH legal career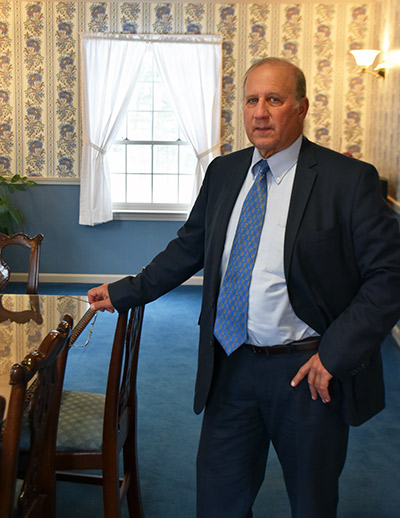 By now, Mark Sisti could have been a retired ironworker, like many of his peers from the old neighborhood.
Instead, the path he followed out of his working-class hometown of Buffalo, N.Y., led him to become one of New Hampshire's most prominent criminal defense attorneys. It was a path laid out before him at an early age — part genetics, part good role models.
"Neither one of my parents graduated from high school. My father was a mechanic and educated himself in civil and mechanical engineering, and, as his life went on, he obtained jobs in those fields working for Fortune 500 companies. My mom was a legal secretary, and worked at a Harley-Davidson motorcycle shop during the 1940s and '50s, so college was one of those things that was way out there for me," says Sisti.
Even so, Sisti recalls when, early on, the thought that legal work might suit him first crept into his mind.
"Being a lawyer never really struck me as a possibility until I noticed folks in the neighborhood going to a guy on the West Side of Buffalo who took care of business for most of the people there — mostly Italian-Americans, and a lot of them didn't speak English. He was the equivalent of a public defender, legal aid and private practitioner all rolled into one," says Sisti. "Seeing how important he was to folks in that neighborhood, especially the immigrant population, that's when the ember in me started to rise up into a flame. After that, I worked hard to get through high school and get to college, so I could be that guy."
Sisti also mentions his maternal grandmother, an early influencer, who spoke English better than most of her friends, and well enough to help them figure out things, like contracts or leases.
"She had no formal training, but whenever anyone in the neighborhood had documents they needed to sign, they'd bring them to her house and she'd do her best to explain them, or even go to City Hall with them to help them straighten things out," says Sisti. "I was able to observe a lot of that. There was this sense in my life that a lot of folks were getting the short end of the stick, and that it had a lot to do with socioeconomics. I believe that's eventually what drove me into the public sector."
After high school, Sisti became an ironworker in Buffalo, a union member welding the bones of skyscrapers hundreds of feet up in the air, just like his uncles.
"Back then, they didn't have safety harnesses. That only came into practice after I was out of the profession. We actually were circus performers, basically," he says, laughing. "Obviously, I was very young at that point in time, so you don't really have that much of a fear factor, and there was a tremendous economic benefit in what I was doing."
Stimulating work
Although his work environment would change, jobs Sisti went on to take after leaving the union also had high stakes, including a stint as a mental health worker in the maximum security ward of the NH State Hospital, and then as a defense attorney. Since 1982, he has defended more than 100 clients accused of murder in New Hampshire, many of them high-profile cases.
"I think that in many ways the risk factor has always been there, not only working steel, but I also learned a lot in the mental health field as well. You're walking a tightrope every night. You never know what you're walking into. But I feel a lot more comfortable in the courtroom than I did hundreds of feet up in the sky, because you can't really get killed in the courtroom."
But ironworkers never think about the risks while they're working. Those thoughts don't come until your feet touch the ground at the end of the day, says Sisti. Likewise, the risks in the courtroom must always stay in the back of his mind, so he can focus on his performance.
That performance has been honed over the decades, through hundreds of jury trials — most famously as the attorney who in 1991 represented Pamela Smart. Asked for his best advice for lawyers who are new to trial work, Sisti is quick to recommend regularly watching other lawyers in the courtroom.
"The best education I ever got was when I got out of law school at 1 or 2 in the afternoon and I'd go over to the court and watch lawyers try cases," he says. "I'd see what worked and what didn't, and I found what was comfortable to me."
With more than 37 years as a criminal defense attorney under his belt — from 1980 to 1988 at the NH Public Defender's office, where he served as deputy director for his last two years, and then in private practice, first with Paul Twomey and now on his own — Sisti still finds the work stimulating. But the life of a criminal defense attorney is not for everyone, he acknowledges.
"My self-therapy is long-distance running, and farming," says Sisti, a self-taught purveyor of pigs, beef, turkey, chickens and produce on his farm, Pigs Fly, in Gilmanton.
"I call it Pigs Fly because it's about doing the impossible," Sisti said. "As a defense attorney, you have to be an eternal optimist. I know a lot of lawyers who do what I do burn out. It's an awesome responsibility to be responsible for a citizen's liberty. We take some devastating hits in this career, watching someone go to jail for the rest of their life," Sisti says. "It's like when I talk to friends who are doctors who have lost people on the operating table. I can't relate to that, just as they can't relate to seeing people led off to live in cages for the rest of their lives."
On the farm
Sisti is also a motorhead and, when time allows, he restores motorcycles. He's got plenty of room on the farm to take things apart and put them back together.
Over the years, the farm has been fertile ground for all sorts of learning experiences for the whole family, which now includes three grandkids in addition to his six children.
"I do keep farmer's hours. I have to get up early to feed everybody, but I love it. When you're shoveling out a stall, you're not stressing about a case. When you're concentrating on taking care of baby chickens or turkeys, your mind focuses a little more, so it generally relaxes you," he says.
One of his children followed his footsteps. Emma Sisti works for the NH Public Defender's office in Concord, as does her husband, Jeremy Clemans.
Another of his daughters, Grace, recently moved to Laconia, where she works at a smoke shop, after working in marijuana retail shops in Colorado. Another daughter, Anna, works in banking and finance in Plant City, Fla., and a fourth daughter, Corinne, is a psychologist in Pennsylvania. His son Salvatore is a Berklee-educated musician living in the Boston area, and his other son, Vincenzo, is in marketing in Miami.
With his children grown and out on their own, Sisti and his wife Jane maintain the farm where they live with their two dogs — Stella, a Labrador Retriever, and Augustus, a Welsh Corgi. At 62, Sisti says retirement is not on his radar.
"You know, my father retired early and he also died very young. We have a home in Florida, on the Gulf Coast north of Tampa, but I don't think about retiring there. I love New Hampshire, especially the summers. It's beautiful here. I spend just enough time in the south to recharge my batteries, but I don't see giving up the New Hampshire life anytime soon."
This article originally appeared in NH Bar News, the official publication of the NH Bar Association.