Former retail mecca hopes for a rebirth in Keene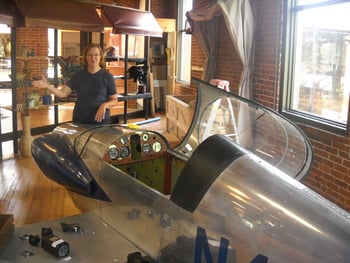 A coffee stand surrounded by empty counters. Stores that used to sell everything from underwear to pets, sitting empty and dark. A very occasional handful of people strolling by, taking in the sad spectacle of what the Colony Mill Marketplace on West Street had become.
At least, that was the scene before Sunday, Aug. 26. On that day, the old mill building teemed with young families. They waited in lines, they visited shops, they came in droves.
For the past five years, the once-bustling hub of shopping and entertainment in the Monadnock Region, The Colony Mill Marketplace, has experienced a mass exodus of nearly a dozen businesses. But with the opening of The Cheshire Children's Museum at the mall, the whole operation is seeing new life, including its landlords who've seen an uptick in interest in the place.
"I think the existing tenants are extremely pleased with the addition of the children's museum," said Robert Hayes, a vice president with Keypoint Partners, the Massachusetts firm in charge of leasing space at the mill and finding a buyer for it. "The prospects we've been talking to have been very pleased with, and we've also had new inquiries because the children's museum has come."
It's been a long road getting here.
The Colony Mill building itself is historic. The massive brick structure with its giant old smokestack rising high into the sky has been art of the Keene landscape since its first iteration – as a saw and gristmill — was built by Elisha Briggs in 1775, according to the Historical Society of Cheshire County.
Machinery for milling wool was added in 1806. Fire twice destroyed the mill, once in 1825 and then again in 1838, after which the mill was rebuilt with brick and two outbuildings containing a sawmill and gristmill were added.
By 1855, the mill was producing 700,000 yards of twilled flannel per year, according to the Historical Society. By 1900, now incorporated as Faulkner and Colony Manufacturing, the sawmill closed and a three-story addition was added to the building, with another two stories added 25 years later.
The mill was able to reach a peak employment of 500 workers by 1942, but by 1953 it was in receivership. A year later, Barker Realty Company bought the property and water rights.
'A lovely spot'
For 30 years the mill sat empty, until 1983, when developer Emile Legere bought the mill with the notion of turning it into a mini-mall.
"It was just a lovely spot," said Susan Newcomer of the Greater Keene Chamber of Commerce. "It was really a go-to spot. There were lots of shops, It was very crowded. There were people from away, from other places, coming there to shop. I will tell you on rainy days, it was the place to go. It was just a great place to be."
The mill featured women's clothing stores, sporting goods shops, a food court with a wide range of offerings, jewelry stores and a large anchor bookstore. The outbuildings were at times restaurants and a stand-alone candy store.
"In the Colony Mill's early heyday, there was nothing like it north of Boston," said Dean Eaton, owner of Your Kitchen Store, a longtime former tenant of Colony Mill that has since moved out. "As time went on, those things began to be less unique and more ubiquitous, but it still did very well."
Legere owned it for a long time before it was sold at least twice, eventually landing in the hands of the Massachusetts-based Mayo Group in 2008.
That was the real turning point, said Eaton.
"They did not manage it — they expected it to run on its own," Eaton said of the Mayo Group. "They were not friendly in any way with the tenants. They were not supportive in any way — they simply owned it. That was really what created the exodus."
A call for comment from the Mayo Group was not returned.
The Mayo Group, founded in 1998 by John McGrail, is a real estate development agency with a portfolio of residential and commercial properties, including locations in Massachusetts, New Hampshire and Louisiana.
The company has been the subject of complaints involving underpayment of workers on construction projects, and in 2011, McGrail pleaded guilty in Massachusetts to charges of illegally dumping asbestos and employment fraud, but he denied purposefully committing the crimes, according to news reports in Massachusetts. He was fined $200,000 and given three years' probation, according to the reports.
Both the Colony Mill and the Center at Keene, a strip mall just up the street that's also owned by Mayo, were put into receivership. The court appointed Keypoint Partners as receiver.
"Our charge was to stabilize the property, to try to lease up the property with some additional tenants and to eventually sell the property trying to maximize the return value to the lender (Wells Fargo)," said Hayes of Keypoint.
Stability at the mill
It's been an uphill battle for a number of reasons. First, he said, only certain businesses do well in a mini-mall setting, though he did not want to specify the kinds of businesses that includes.
But the economy in general has been the biggest obstacle. As the economy improves, said Hayes, so should leasing activity.
A third impediment, according to Hayes, is that people are still under the impression the Mayo Group owns the building.
"I think that has been a little bit of an impediment because in a very technical sense, the Mayo Group still owns the property," Hayes said. "But it's in receivership. So the Mayo Group will never again be involved in any more decisions regarding the property. But I think prospective tenants are, again, waiting for it to be out of receivership to have a greater level of confidence."
Nevertheless, Hayes said he believes stability has been brought to the Colony Mill, with existing tenants signing multi-year lease agreements to stay.
Further, with the addition of the Children's Museum, Hayes said he has seen some renewed interest from prospective tenants.
"The traffic alone is beneficial," Hayes said. "And it's the type of traffic I think existing tenants and prospective tenants will find even more exciting because it's young families that tend to spend money on clothing and books and school supplies and all kinds of different thing. I think it's only a positive step for The Colony Mill."
Don Luckham, owner of The Toadstool Bookshop – one of the mill's original tenants and still the Colony Mill's retail anchor – was cautious but hopeful about the addition of the museum and its potential impact.
"Although it's a little soon to tell what the impact of the Children's Museum will be, there has been nothing but excitement about it since it has opened," said Luckham. "We've seen lots of kids with parents or caregivers come into the bookshop before or after a visit to the Museum. People of all ages are talking about it. The Children's Museum and The Toadstool are complementary businesses, and I think the mill will benefit from the Children's Museum's ability to bring in children and adults."
Deb Ganley, executive director of the Children's Museum, also said she's hopeful that it will be a part of the mill's next renaissance.
"I try to look at things as opportunities," Ganley said. "And I saw a space that needed somebody to come in. What I hope will happen is that we will be part of making this building come alive again."
While he couldn't discuss the details, Hayes said he is in talks with a group looking to buy the mill and the Center at Keene. Though there have been rumors afoot that the mill may be turned into condos or even classrooms for nearby Antioch University New England, he said he's fairly confident this particular group would keep the mill as retail space.
As for the museum, there were lines out the door on opening day.
"I think it's thrilling that the Children's Museum chose to be there," Newcomer said. "It's great for the Colony Mill — it's going to bring people into the Colony Mill, and one might hope that it would revitalize some little portions of the Colony Mill because the traffic will be much better."
Added Newcomer: "I heard that they were so crowded on opening day that they had to hold people outside the door of the Children's Museum. They were nearing fire code. Gee, what a terrible problem to have."