For Closure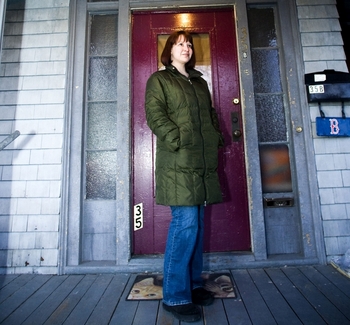 NASHUA – April Guilmet was sitting at home one day about a month ago when her father called to suggest she look at the newspaper.
Inside the pages, Guilmet found a public auction notice for the Nashua apartment building where she has lived for three years. The three-unit property was facing foreclosure, just as the one next door had months earlier.
"I've been watching the foreclosure auctions, but I didn't expect to come across the house I was living in," said Guilmet, 34, a writer for The Londonderry Times weekly newspaper, said.
In Nashua, the spike in foreclosures is hurting renters, too. Landlords are losing their investment properties at an accelerated pace, leaving blindsided tenants in a precarious and confusing situation.
Most tenants continue to pay their rent, not knowing the landlord has stopped paying the mortgage. After the bank auction, they may be given 30 days to find a new place, and may or may not get their security deposits back.
In most cases, renters never get any advance warning about the auction. They stumble upon a notice in the paper or simply find out when the auctioneer shows up outside. Property managers rarely get a formal notification, either.
"The bank never calls us," said Judy Nesset, owner of Bishop Real Estate Management, the second-largest property management company in Nashua. "You know there's a problem if the owner's creditors start calling you."
According to city records, the number of multifamily foreclosures in Nashua doubled in 2008 and increased at significant rates the previous two years. Fifty rental properties were sold while in foreclosure in 2008, compared with 28 in 2007, nine in 2006 and just one in 2005.
Guilmet's apartment building at 35 Orange St. in the city's north end was originally scheduled for auction this past Wednesday. But the auction was postponed at the last minute until April 24.
The property is owned by Vatche Manoukian, a well-known local developer and landlord who is facing foreclosures of at least three other properties. Manoukian, who has declined to comment on the foreclosures, also owes the city more than $200,000 in back property taxes for more than 50 properties.
Hard Times: Reasons & remedies
So for now, it's a waiting game for Guilmet, her fiance and the tenants of the two downstairs apartments. They aren't sure if they should be looking for other apartments or if the buyer will let them stay. Occasionally, when a bank buys its own property back at auction because the other bids aren't high enough, it negotiates a deal to allow the tenants to stay while the property is on the market. Other times, the bank pays tenants to leave.
Matt Tuohy, 35, a technical specialist who lives in one of the downstairs apartments, isn't waiting around to find out.
"Half my stuff is already packed," he said Monday evening, sitting on neighbor Michael MacDonald's kitchen counter.
MacDonald and Guilmet were at the kitchen table, surrounded by stacks of papers from MacDonald's Internet research into foreclosure laws.
Banks responsible for upkeep
Beyond the tenants' woes, a rash of multifamily foreclosures in any city has a negative impact on the quality of life. It degrades property values, contributes to a shortage in affordable housing and leaves city officials with a host of health and social problems.
Nelson Ortega, the city's code enforcement officer, has a watch list of foreclosed properties. When complaints come into his office, his staff keeps an eye on the properties to make sure they continue to meet city health and safety codes. Twenty-seven foreclosed properties are on his list now, five of them multifamily buildings, and the list is growing weekly.
Ortega said foreclosed properties are often left in poor condition, prompting complaints from neighbors about overgrown grass, abandoned pets or vehicles on the lawn. "Squatters" may take refuge in the abandoned buildings.
All the while, Ortega said, it's tough to reach the banks that are now legally responsible for keeping the foreclosed properties up to code. Some are located across the country and are too overwhelmed with foreclosures elsewhere to attend to a property in New Hampshire, where foreclosure is a much smaller issue than in other states.
CITY FORECLOSURES
Despite that, banks are legally required to appoint a local property manager for foreclosed properties.
Nessett said the banks' habit of kicking out tenants after a multifamily foreclosure makes their properties harder to sell. Investors prefer to buy a building that's occupied and can produce income from day one, she said.
Often, banks fail to winterize properties, leading to problems such as burst pipes and further deflating the value. When they do finally find a buyer, it can take many months for that person to repair the property and get it ready for new renters, Nessett said.
Tom Galligani, Nashua's economic development director, knows all too well what can happen when a city is inundated with multifamily foreclosures. He has worked in the economic development offices in Lowell and Lawrence, Mass. – cities that each spent more than a decade recovering from the foreclosure crisis of the early 1990s.
The city of Lowell created a task force to deal with all the vacant foreclosed buildings. Lawrence briefly became the "arson capital of the world" after about 200 vacant buildings were set on fire in an 18-month period, and was still recovering during Galligani's stint there from 2002-04.
Nashua's spike in multifamily foreclosures pales in comparison to the crises in those cities, but Galligani acknowledges that any increase in building vacancies is harmful to a city.
"There's nothing worse than a vacant building from a city perspective," he said. "Nothing good comes from a vacant building."
However, most of the foreclosed rental properties in Nashua don't stay vacant for long, Galligani said.
As it was in Lawrence and Lowell, Nashua's foreclosed rental properties are concentrated in the poorest inner-city neighborhoods, particularly the Tree Streets and French Hill.
DID YOU KNOW?
Friendlier laws
For the tenants at 35 Orange St., there's anxiety in not knowing what will happen next. MacDonald, 39, a branch manager for an HVAC company, was looking forward to the auction just to get some answers.
"I was hoping to find out Wednesday," he said. "Now we have to wait another month."
MacDonald has been researching foreclosure and eviction laws, but he hasn't found many definitive answers to some important questions. Namely: Will they be evicted?
New Hampshire foreclosure laws are much friendlier to tenants than those in some states. In Nevada, for example, where foreclosure has truly reached crisis level, tenants are given three days to get out.
Here, although there is no law requiring banks or landlords to notify tenants of an auction, the law treats banks just like a new landlord. They must give tenants 30 days' notice of eviction after an auction, and then, if the tenants refuse to leave, must go through the legal eviction process in court.
The eviction process can be lengthy, and banks have to prove there's a good reason for doing it.
Tenants "are entitled to stay until such time as a court orders them to leave," said attorney Elliot Berry, housing specialist and managing attorney of the New Hampshire Legal Assistance Nashua office. "The bank has to establish that there is just cause to evict them. Just because they foreclose doesn't mean it's just cause to evict them."
Berry said just cause could be, for example, that a bank needs the building empty to do renovations. However, a bank shouldn't be able to kick out one group of tenants just to put the property on the market, he said.
"Why they should be able to close it up and then open it up for other tenants is beyond me," Berry said.
Scott DeSantis, an associate real-estate broker in Nashua, is one of about a dozen local real-estate agents who frequently list and sell foreclosed properties for major banks and financial institutions. He said only in the last 30 days have major lenders such as Fannie Mae and Freddie Mac expressed an interest in keeping tenants in the foreclosed rental properties, "from all the flack they're getting from kicking these people out."
According to DeSantis, who works for Re/Max, real-estate agents who list foreclosed properties end up acting like property managers, too – they're charged with tasks such as securing the property, offering tenants "cash for keys" and arranging for the property to be fixed up for resale.
They're reimbursed for these expenses, but don't profit from them, he said.
DeSantis said about half the time, banks offer tenants money to leave. The rest of the time, they start eviction proceedings. There's never an explanation for why they decide to go one way or the other, he said.
"Banks are 5-0/50 on evicting or cash for keys," he said. "It's random. They don't give us a reason."
DeSantis expects to see an increase in rental property foreclosures this year. Taxes and utility costs are increasing in the city, while rent prices have remained fairly stable.
So far this year, city assessing records show only three multifamily properties have sold while in foreclosure. But that's likely because of the foreclosure moratoriums large lenders have enacted in recent months, which are set to expire soon.