Focus on innovation is at the heart of Milford technology firm's success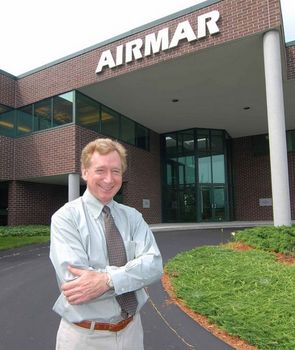 Stephen Boucher, chairman and chief executive of Airmar Technology Corp., has always believed a successful company must be guided by a single overriding principle. For Airmar, that principle is customer satisfaction, something Boucher says is attainable only through fairness – to his customers and his employees.
Boucher's commitment to fairness has steered Airmar since its inception 25 years ago, when he introduced his first transom mount transducer to marine equipment manufacturers, giving recreational and commercial fisherman and marine personnel visual access to the underwater world.
Now with more than 30 patents secured, Airmar produces literally thousands of products – many highly customized – for use in both marine- and land-based applications, including fish finders, depth sounders and weather stations.
Airmar's transducers, sensors and other instrumentation components are found worldwide in equipment manufactured by such well-recognized companies as Raymarine and Furuno.
Nearly 50 percent of Airmar's products are now shipped overseas.
"We're innovating all the time and pride ourselves in meeting the emerging market needs," said Boucher, an avid sailor, adventure traveler and former engineer with Raytheon Marine.
An ISO 9001 company since 2000, Airmar has built a worldwide reputation for its commitment to providing customers with innovative products and individualized service.
This same commitment is mirrored in its dedication to its employees and the local community and has earned Airmar Technology recognition by Citizens Bank and New Hampshire Business Review as this month's Not Your Typical Business award recipient.
"Airmar is the leader in the marine transducer industry in the markets they serve providing strategic products and solutions for its customers," said Jeff Hickock, vice president, commercial banking for Citizens Bank. "The growth of the company through innovative high-tech products has been possible through its dedicated employees. The company has given back to the local community with financial support to various organizations and has encouraged employees to volunteer."
'A good environment'
Located in a 78,000-square-foot facility on Meadowbrook Drive in Milford, Airmar Technology employs 200 people.
The cutting-edge facility includes three acoustic test tanks, and the state-of-the-art testing equipment needed to fulfill customers' needs in a cost effective manner.
According to Debra Ditzel, Airmar production manager and product liaison manager, between 350,000 and 500,000 components are shipped from Airmar to original equipment manufacturers each week.
This year alone, Airmar Technology will do about $28 million in sales. Of that, 14 percent will go back into research and development in an effort to maintain the company's innovative edge.
And roughly 22 percent of the annual profit goes back to employees, according to Boucher.
"I think it's only fair," Boucher said. "To a lot of our people this is like a second home. You try to make it a good environment."
According to Ditzel, allowing employees to share in the company's profits is only one of the reasons she and others enjoy working at Airmar. The company offers a competitive salary and benefits package, which includes a 401(k) plan, tuition reimbursement and flexible work schedules, and promotes a health-conscious atmosphere, with ergonomic exercise periods daily and subsidized health club memberships.
The company also supports an atmosphere conducive to teamwork and personal growth.
"Steve gives his employees the opportunity to grow and urges them to express their concerns and share their ideas," said Ditzel an 18-year veteran of Airmar who was allowed to create her own position as product liaison manager after sharing her ideas for improved communication between Airmar and its customers.
"I saw a need to bridge the gap between design and production and Steve saw my ability to promote growth."
Ditzel was recently recognized with an "Airmar Achievement Award," another example of Airmar's commitment to its employees.
A strong supporter of the community of Milford, Airmar is committed to adding to the quality of life in the small town.
A multi-year donation to the Souhegan Valley Boys and Girls Club helps support upgrades and renovations at the Milford facility. Airmar came to the aid of the club again earlier this year after spring rains caused excessive flood damage.
The Rotary Club of Milford, the Milford Fire Department and local Boy Scout troops are other organizations that have benefited from support from Airmar.
On a personal level, members of Airmar's senior management team have worked closely with the Souhegan School Board, and the Amherst Ways and Means Committee.
"We try to make a difference," Boucher said. "And it just makes you feel good when you help people that need it."
The Citizens Bank Not Your Typical Business Award is presented in partnership with New Hampshire Business Review. Businesses are selected each month based on the company's commitment to community, colleagues and customers. Visit Citizens Bank online at www.citizensbank.com.