Flotsam & Jetsam: Out and About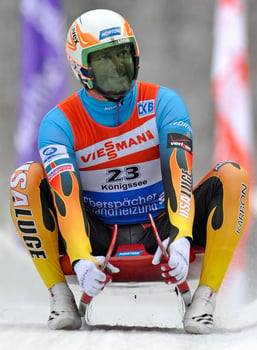 Usually if you're doing the overnight newscast, even on a network like ABC, you wonder if anyone's paying attention. But Dan Kloeffler — of ABC's "World News Now" early-morning broadcast — found out that there were people out there watching.Kloeffler — who got his start at the former WNDS Channel 50 in Derry — decided on air at about in the wee hours of Oct. 17 to come out as gay. And he owes it all to Zachary Quinto, who played Spock in the recent "Star Trek" film.The 35-year-old Dan Kloeffler's admission came after he read an item about Quinto's decision earlier in the week to come out himself.Kloeffler later described the scene: "Because WNN is a show where you can offer some personality, I had a little fun with the story saying that I would drop my rule against dating actors."Not surprisingly, Kloeffler got some notice of his "announcement," and he took the time to send a message, writing:"For the same reason that Zach decided to come out, I too, no longer wanted to hide this part of my life," wrote Kloeffler. "There have been too many tragic endings and too many cases of bullying because of intolerance … as a journalist, I don't want to be the story, but as a gay man I don't want to stand silent if I can offer some inspiration or encouragement to kids that might be struggling with who they are."Baring her teeth Michele Bachmann, the Republican presidential hopeful who tries hard to stay away from New Hampshire, graced the Granite State with her presence earlier this month — apparently so she wouldn't have to take part in the Oct. 11 debate at Dartmouth via Skype.But she also took some time actually meeting New Hampshire voters, and she offered a glimpse at what we've been missing all these months.A story in the Concord Monitor just about sums up Bachmann's from-the-hip style — a style that her supporters apparently consider honest, open and even thoughtful. But it's also a style that must drive her staff nuts — hence the revolving door out of the Michele for Prez campaign.The Monitor story relates a question from Greg Goldberg, a Bradford resident who told the Minnesota congresswoman he can't afford to get his teeth — which apparently looked like a mess — fixed. No health insurance."My teeth are going insane," he told Bachmann. "Why wouldn't it be better to go on a single-payer (health care) system," like Vermont and Montana are seeking to do?"Right — you want socialized medicine, that's what you want," Bachmann told the 33-year-old Goldberg, who with his parents lives off about $20,000 a year they make from their family-owned furniture shop."Wouldn't that be better than nothing?" asked the 33-year-old Goldberg. "I have no teeth right now."Replied the congresswoman: "I want you to have the best dental health care you can have. … And that's why I don't want you to have socialized medicine. That would be the worst possible system you could have," Bachmann said. "The free market provides you with the best system, and we have charitable organizations and there's universities who are willing to take people who are indigent. … But don't destroy the finest health care system in the world to have socialized medicine because we have people who are indigent in the society."Imagine that — face to face with a presidential candidate who a) belittles your obviously desperate situation and b) provides you with a solution that, at least in Goldberg's case, was the equivalent of a box of saltwater taffy. Looks good, but the guess here is that he wouldn't be able enjoy one.Numbers gameFrom humorist Andy Borowitz:"Texas Governor Rick Perry announced what he called his '1-1-1' plan: Every American gets 1 percent tax, 1 mandatory vaccination and 1 execution."F&J TOTE BOARDFred Karger:The yet-to-be-heard-from Republican presidential candidate threatens to lead a boycott of Florida orange juice if officials refuse to move its Jan. 31 primary back to March.Wayne MacDonald:The recently installed chairman of the state GOP puts himself at odds with Secretary of State Bill Gardner and several people in his own party by saying the Nevada caucus shouldn't be considered a "similar election" to the New Hampshire primary — and hence shouldn't affect when the New Hampshire vote is held.Arthur Brennan:The retired Superior Court judge and one-time legal counsel to then-Gov. Judd Gregg is arrested — as was his wife two days later — with other anti-war protesters who disrupted a hearing of the House Armed Services Committee in D.C.
Tory Mazzola:The regional press secretary with the National Republican Congressional Committee is named the new executive director of the state Republican Party.Matt Houde:The Democratic senator from Plainfield takes a job a job at Dartmouth-Hitchcock Medical Center in a newly created position focusing on strategic communications.Al Baldasaro:The Republican rep from Derry rebuffs calls for his resignation as chair of the House Veterans Affairs Committee after a high-profile rant about being "disgusted" when an openly gay soldier asked a question regarding "don't ask, don't tell" over a video hookup during a presidential primary debate in Florida.It's been making the rounds… • So now that he's sounding a note of appeasement on the Nevada caucus-New Hampshire primary scuffle, does that mean newly installed state GOP Chair Wayne McDonald's days are numbered?
• There's not truth to the rumor that, with labor talks going so badly at the Union Leader, publisher Joe McQuaid is going to make his editorial staff pay for online access to the UL website. • Did former state GOP chair Wayne Semprini actually think that Rudy Giuliani was really going to run for president again? • Now that we've entered Month 5 of House Speaker Bill O'Brien's hostage-taking of the right-to-work bill, is anyone fed up yet?