Flotsam & Jetsam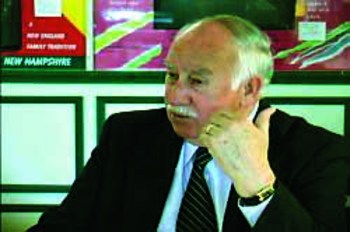 Not-so-great expectations
When President Bush came to town a couple of weeks ago, besides telling a rather circumspect Business & Industry Association crowd about the overall health of the U.S economy, he was eager to tell them about a new Web service his administration is offering.
Called expectmore.org, the Web site provides useful info on how well, or poorly, government agencies are performing.
Lo and behold, among the agencies in the "not performing" category is the State Department's Office of Public Policy – headed by Bush closer-than-close aide Karen Hughes — whose job is essentially to act as the nation's PR agency, particularly in the Muslim world.
So how's it been going? According to expectmore.org, results of the office's initiatives have "not been demonstrated" and "there is no broad overarching US Government public diplomacy strategy. Because of this lack of a plan, programs such as this one may not be the most effective both in the long and short term."
Rath rap-up
Last issue, the dutiful folks at Flotsam pointed out that GOP jack-of-all-trades Tom Rath was painting an even rosier picture of the state Republican Party's current rather woeful state of affairs.
Rath insisted that, despite having no gubernatorial candidate and, despite an unaccustomed dismal financial picture at the state party and a budding civil war over the next party chair, things were not so bad. Why? For one, he said, "we have 260 out of 400 in the House."
As F&J pointed last issue, that wasn't exactly accurate. The margin – still sizable, mind you – is more like 248 out of 400 House members. But still a rather large – 8-1/2 percent – mistake.
It turns out that an observant F&J reader wanted to point out yet another sign that Rath may have been gilding the lily.
"The Democrats control the Merrimack delegation, notwithstanding his claim to the contrary, having taken control in 2004," wrote our correspondent. "Tom lives in Concord, it is a bit surprising he missed the transition."
We couldn't have said it better ourselves.
Wieczorek: No-fault 'no'
Considering the seemingly universal warm welcome once and future Department of Resources and Economic Development Commissioner George Bald received after being nominated to replace current DRED chief Sean O'Kane, you'd think his confirmation vote by Executive Council would be a mere formality.
In a way it was – Bald's nomination was all but greeted with flowers by those in attendance. But it wasn't a complete lovefest, not with Councilor Ray Wieczorek in the room.
Wieczorek was the sole vote against Bald's reconfirmation – for reasons he apparently wanted to keep to himself, considering he uttered nary a word before saying "nay" to Bald.
It's been making the rounds…
• So what exactly is the reason that registration of the Benson '06 Web site, set to expire in October 2005, was renewed?
• For some reason — namely getting the short end of the Medicaid reimbursement stick for years — the assurance that they will receive "appropriate" compensation if medicines are seized during a public health emergency doesn't give many state pharmacists anything approaching a warm and fuzzy feeling.
• Which Sununu sibling is being looked to as a dark horse candidate for state GOP chair?
• Considering the state of chaos in which the House wrapped up its pre-recess session, some folks in the General Court are pleading with Doug Scamman to dump the Mr. Nice Guy shtick.
• At least a few GOP mucky-mucks are urging Jim Coburn, the one declared gubernatorial candidate, to think twice about running. The growing consensus: He's just not ready for prime time.
F&J TOTE BOARD
| | |
| --- | --- |
| JIM TOBIN: | If the Republican National Committee hasn't been coughing up money for the phone-jamming mastermind's defense — $2.5 million at last count – then who the heck is? |
| JIM CRAIG: | Seemingly minutes after the newly announced Democratic 1st C.D. candidate throws his hat in the ring, the Manchester City Dems announce that their annual St. Patrick's Day breakfast will be held in honor of his father – with special guest New Mexico Gov., and potential presidential candidate, Bill Richardson. Is that a non-endorsement endorsement? |
| STEVE MARCHAND: | The new Portsmouth mayor has more than a few Dem higher-ups dreaming up his future political career path. |
| LOTTERY COMMISSION: | They take a step closer toward getting their $30 scratch ticket, but at the same burn a couple of bridges – named Gatsas and Clegg — in the process. |
| DON HILL: | The administrative services commissioner wins the Questionable Taste Award after "joking" with a reporter about his upcoming trip to Aruba — the same destination as Senate President Ted Gatsas: "If you hear that Teddy and I have been taken hostage and sold into sexual slavery, remember to write a good story about us." |
| N.H. CONGRESSIONAL DELEGATION: | In a study of 2005 voting records, the National Journal puts Messrs. Gregg, Sununu, Bass and Bradley among those at the "ideological center" of the Senate and House. |