Flotsam & Jetsam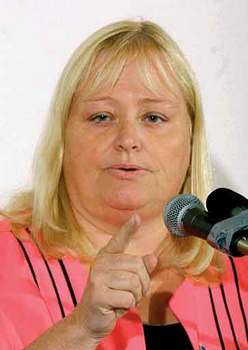 Afraid of Fran?
There's a bit of irony in the argument being whispered by state Republican Party muckity-mucks about state Rep. Fran Wendelboe's attempt to be the next chair of the party.
The whispering goes that, as chair, Wendelboe would be too divisive because one of her favorite targets for her criticism has long been Health and Human Services Commissioner John Stephen, a fellow Republican.
So if criticizing Stephen makes you a non-starter for GOP chair, then another candidate – Wayne MacDonald, the current vice chair – should be a shoe-in.
After all, MacDonald, a state employee, is a fraud investigator at HHS, so it's a pretty safe bet that he won't be grousing about Stephen's job performance anytime soon.
Opposition research
One more arrow in the quiver for folks who've been calling for an upgrade of the Legislature's independent research staff emerges from the Voter Fraud Crackdown Wing of the House Republican caucus.
The Wing, led by Rep. William O'Brien, has been sponsoring a package of legislation calling for "reform" of the state's voter laws, including cracking down on student voter eligibility and residence and ID requirements. Their agenda has so far met the expected response from a GOP-dominated Legislature, but the session still has a long way to go.
Anyway, it turns out that it's possible – just possible – that the entire election-crackdown movement may be flying by the seat of their collective pants – at least based on the research conducted in drawing up their legislation.
Actually, when it comes to voter fraud, a report will soon be emerging from Secretary of State Billy Gardner's office saying that the death of honest elections in New Hampshire is greatly exaggerated. Almost nonexistent, in fact.
According to the report, as pointed out by the U-L's Tom Fahey, despite checking out tips around the state, the only case of actual voter fraud involved a 17-year-old Londonderry teen who used his father's name to obtain a ballot. A Republican ballot, by the way.
Actually, the problem isn't that the report found no actual voter fraud in New Hampshire. It's really the response of Voter Fraud Wing Commander O'Brien, who told Fahey that he didn't know the secretary of state's fraud report was coming. Not the kind of answer you want to hear from a guy who sits on the House Election Law Committee.
Which brings us back to the point about research: Maybe the Wing could have held off on writing up the anti-fraud legislation until after Gardner's report – to see exactly what actual problems needed to be corrected. But then perhaps all the campaign literature is already printed up, and we know how tight campaign finances are nowadays.
Party politics
It surely must have just been a mere oversight when Tom Rath, the state Republican Party's Everyman, earlier this month rattled off to New Hampshire Public Radio reporter Josh Rogers a list of state offices the GOP holds – all as a sign that the party remains fit as a fiddle.
"We have four out of the five executive councilors. We have 16 out of the 24 members of the state Senate. We have 260 out of 400 in the house. We have all four congressional members. We control all the county delegations." That list, he said, is "a fair way to measure it."
Fair, perhaps. Accurate, not so much.
While not too long ago Republicans held 260 of the 400 House seats, we're saying it ain't so right now Tom. In reality, Democrats hold 152 seats – still a meager minority, but not quite as meager as 140. And they've won seven of the last eight special elections for House seats, including most recently one in Fremont and Epping.
Pun intended?
At the recent State House Small Business Day, bringing the governor, Senate president and House speaker together with businesspeople, Carol Huber, president of the Newfound Area Chamber of Commerce, wanted Messrs. Lynch, Gatsas and Scamman to know where she stood on the issue of a proposed smoking ban in restaurants.
"I'm 100 percent against it," opined Huber. "Restaurant owners are adults. Nonsmokers are free to stay away from places that allow it. If this bill passes you might as well remove 'Live free or die' from license plates."
And it WILL remain if it doesn't pass.
F&J TOTE BOARD
| | |
| --- | --- |
| BEARNIE STREETER: | The Nashua mayor gets in trouble with the law again, this time because he dumped bags filled with leaves in a city trash bin behind City Hall, in violation of state law on trash disposal. |
| STEPHEN STEPANIK: | The Republican state rep from Amherst must have disappeared into the Potential Party Chair Protection Program after making it known that he was interested in becoming the next state party chair. |
| NEW HAMPSHIRE HOUSE: | Just in case you wanted to know, it took the honorable men and women of the General Court almost an hour's worth of bickering to limit debate to 40 minutes on the boat speed limit bill. |
| JAMES TOBIN: | The price tag for his defense – perhaps as high as $2.5 million – is about as out of control as the national debt. |
| DONNA BRAZILE: | The Democratic National Committee member and former Gore campaign higher-up better hope her gambit to kill the New Hampshire primary pays off — just imagine hiring someone to manage your presidential campaign who's persona non grata in New Hampshire. |
| MITT ROMNEY: | The not-exactly-overweight Massachusetts governor and presidential wannabe tells Kevin Landrigan of the Telegraph that he checks his weight twice a day. A little obsessive-compulsiveness there? |
Making the rounds…
• There's no truth to the rumor that Sen. Bob Clegg is sponsoring legislation that would remove the letters "B" "I" and "A" from the alphabet.
• What gives? Last month it was Sen. John Sununu who was ignored by the state's media after his climate change research trip to Antarctica. This month it's former Gov. Jeanne Shaheen, who was among the observers at the Palestinian elections. Of course, she at least rated a piece in the Concord Monitor.
• State Dems will get a chance this year to prove that they can walk and chew gum at the same time if they can grab some more legislative seats and hold on to the first-in-the-nation primary.
• Sen. Chuck Morse for governor? At this point, it may be as good as it gets for state Republicans.
• With one declared opponent, and at least two other potential opponents, Charlie Bass' GOP primary may actually turn out to be clear sailing.