Flotsam & Jetsam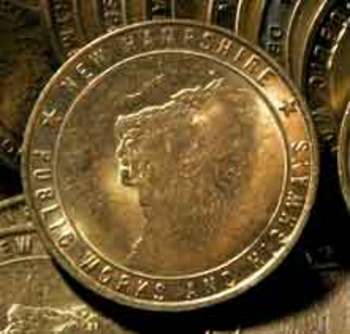 Wanna bet that plenty of people in the Legislature paid close attention to the recent news from Maine that 475 slot machines at the racino in Bangor took in more than $60 million over their first 57 days of operation?
Follow the money
For people who think the knee-jerk criticism in some quarters of New Hampshire's self-destructively delusional Democratic Party is often blown out of proportion, we present to you the latest bit of evidence proving otherwise.
Amid what may prove to be the biggest political corruption scandal in a century, New Hampshire Dem chair Kathy Sullivan actually attempted recently to uncouple some Jack Abramoff/Indian tribe donations to Democratic politicians, notably Senate Minority Leader Harry Reid of Nevada and Congressman Patrick Kennedy of Rhode Island.
She really did say, "Democrats aren't involved" in the burgeoning Abramoff scandal and "Native American tribes have a long history of donating to Democratic Party candidates."
An yes, earlier, in taking to task U.S. Sens. Judd Gregg and John Sununu for not being quicker on the trigger in returning Abramoff-tainted money — and for state Republicans to do what Reid and Kennedy did in not returning it — she actually said, "Are Judd Gregg, John Sununu and the state Republican Party really the last politicians in the country to develop a conscience?"
Guess it all depends what you have to develop a conscience about.
Nailing it in
Sometimes it seems the Free State Project exists merely to bring a regular supply of fodder for us folks at Flotsam & Jetsam.
Why else would these allegedly reasonable people spend an untold number of their waking hours worrying about such things as licensing barbers and manicurists?
Whatever the explanation, some Free Staters have been trying to eliminate the state's laws regulating the people who cut hair and nails for a living. And while they did manage to corral Paul Hopfgarten, a Republican state rep from Derry, to sponsor their bill, they have shown – yet again – that they have shown as much political acumen as a member of the New York Yankees politicking for all-star votes in Fenway Park.
Actually, to say the effort fizzled out like a Fourth of July dud would be doing an injustice to damp fireworks.
It turns out that the biggest opposition to the manicure free-or- diehards was the barber and cosmetology industry itself, which turned up in large numbers at a legislative hearing to pounce on the bill.
Whether or not you think the rules requiring education and licensing are needed or not, it was clear that the Free Staters once again miscalculated – something they seem prone to, considering that only about 100 of the original estimate of 20,000 of their fellows have decided to pick up and move to New Hampshire to make the state the " beacon for liberty" it's crying out to be.
In fact, there was so much opposition to the measure that it became clear after only a few minutes that the bill was destined for the nail-clipping waste bin.
While it was up to Free Stater Dave Ridley to press the issue before lawmakers, there was nary a peep out of the man who started it all last May when he defiantly manicured without a license on the State House grounds.
Not that civilly disobedient manicurist Mike Fisher wasn't at the hearing. As Colin Manning of Foster's Daily Democrat pointed out, when he was asked questions Fisher held up a sign that read, "I am in a fast of silence."
Fisher did not display any other signs to explain why he was keeping mum, reported Manning.
Token of their aversion
Considering that members of the Executive Council have appeared cool to the idea of giving people actual money in return for their unused highway tokens, how about letting people pay their property taxes with them?
That way the state could do what it usually does with such knotty issues: just dump the problem on the cities and towns.
It's been making the rounds…
• Who could be behind the rumor that, when push comes to shove, Jeb Bradley won't be seeking re-election in the 1st C.D.?
• While members of Joe Lieberman's presidential campaign who descended on New Hampshire recently for what they described as a reunion, wasn't it more like returning to the scene of the crime?
• For those keeping score, let it be known that on Jan. 4 New York Gov. George Pataki gave a speech in Iowa, where he endorsed expanded use of ethanol.
• Considering the fiscal mess they're in, if New Hampshire Republicans were forced to return $20,000 in Abramoff-related money from Indian tribes, they'd be doing the political equivalent of washing dishes to pay the rent.
• Can anyone explain why Sen. John Sununu got the cold shoulder from the state's media after his trip to Antarctica to get an update on climate change research?
F&J TOTE BOARD
GEORGE PATAKI:
The New York governor hires New Hampshire-based PR firm Meridian Communications, proving once and for all that his delusions of grandeur about running for president in '08 really are delusions.
STEVE FOSS:
If even some of creditors' charges that he and his family used the bankrupt Foss Manufacturing as their personal "piggybank," then the company's former CEO apparently was taking careful notes while serving on the board of directors at Tyco International during the heady Kozlowski days.
BOB CLEGG:
The state senator-turned-energy expert calls for finishing construction of the mothballed second nuke plant at Seabrook, which means he must think New Hampshire ratepayers aren't paying enough for electricity.
PATRICIA COFFEY:
The Rockingham County Superior Court judge apparently could use a cuppa coffee.
JOHN LYNCH:
In meeting with laid-off Groveton Paper Board workers, the governor hands out his home phone number in case they needed to reach him with questions directly – something it is fair to say his immediate predecessor would never do.
MEDICARE PART D:
Forget lobbyist scandals, the fatally screwed-up prescription drug coverage for seniors is what keeps more than a few New Hampshire Republicans awake at night.