Flotsam & Jetsam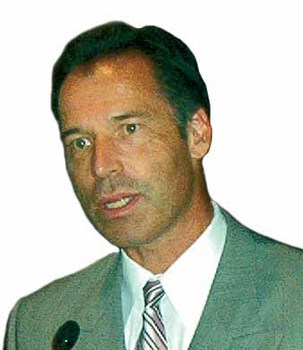 Jan. 7: Senate Republicans vote to change the locks on colleague Tom Eaton's office until he coughs up $16,000.
Jan. 20: Former President Bill Clinton visits New Hampshire to voice support for the state's first-in-the-nation primary.
Feb. 19: Rumors of Tom Rath's demise flood the State House after a New York Times article about the New Hampshire primary doesn't contain a quote from the Concord attorney.
Feb. 20: Disquieting rumors about Tom Rath are put to rest after a Washington Post article on the primary is made up entirely of quotes from the Concord attorney.
March 7: Voters in Killington, Vt., elect Craig Benson to a seat on their board of selectmen.
March 10: The state Department of Transportation declares a budget crisis after it is overwhelmed by thousands of motorists redeeming unused highway tokens.
March 20: Hillary Clinton tours Lowell, Mass., on a fact-finding mission to see how mills can be redeveloped.
April 1: Choosing an unfortunate date to do so, former Manchester Mayor Bob Baines announces his candidacy for the 1st Congressional District, but no one takes him seriously.
April 15: Tennessee Sen. and potential president candidate Bill Frist lands at Manchester to tour the state but no one shows up to meet him.
April 25: Former President Bill Clinton stops in New Hampshire to voice support for the first-in-the-nation primary.
May 6: Senate President Ted Gatsas unveils a new plan to solve the state's education-funding crisis: Wager the state's entire Rainy Day Fund on the Kentucky Derby Day Pick 6.
May 13: Massachusetts Sen. John Kerry stops at his alma mater, St. Paul's School in Concord, where he delivers a detailed speech on the value of public education.
May 26: State installs rubber bumpers between lanes to combat motorists' continued inability to learn the difference between E-ZPass lanes and non-E-ZPass lanes.
June 5: Hillary Clinton visits Portland, Maine, on a fact-finding mission to talk with lobstermen about their gripes over federal fishing rules.
June 20: Desperate to find a self-funding candidate for governor, New Hampshire Republicans plead with Killington Selectman Craig Benson to run.
June 22: Craig Benson says he'll agree to run against John Lynch in November, but only if he's named chairman and executive director of the state GOP as well.
July 18: Former Virginia Gov. Mark Warner, on his 29th visit to New Hampshire in six months, says he's still not sure whether he's a candidate for president.
July 10: After winning the largest Powerball jackpot in history, U.S. Sen. Judd Gregg insists it's only the second time he's ever played the lottery.
Aug. 30: Former President Bill Clinton stops in New Hampshire to voice support for the state's first-in-the-nation primary.
Sept. 12: Hillary Clinton visits St. Johnsbury, Vt., on a fact-finding mission about climate change.
Oct. 15: Before being told he's not allowed to run for a third term, President Bush makes public plans to visit New Hampshire.
Nov. 7: Ray Burton – running unopposed — outpolls Charlie Bass 2-1 in Executive Council District 1.
Nov. 7: Hillary Clinton re-elected overwhelmingly in New York Senate race.
Nov. 8: Hillary Clinton and her husband, the former president, make stops in Portsmouth, Nashua, Manchester and Concord, N.H., to voice support for the state's first-in-the-nation primary.
Dec. 31: Secretary of State Bill Gardner schedules the New Hampshire primary for Labor Day 2008.
It's been making the rounds…
• No matter what they tell you, there's trouble brewing in Ruth Griffin's Seacoast Exec Council paradise.
• Memo to Mitt Romney: There may be a growing number of people who think you should have run for governor of Michigan too.
• HHS Commissioner John Stephen has let staffers know that he doesn't intend to go anywhere and has ruled out running for the corner office.
• Which office – the state Democrats or Republicans — do you think has a pool going on how long Phone Jammin' Jim Tobin's sentence will be?
• There's no truth to the rumor that the State Employees Association had a say in naming Justice Joseph Nadeau's replacement on the state Supreme Court.
F&J Tote Board
STEVE CURRY:
The former state corrections commissioner lets loose on Executive Councilor Ruth Griffin for pulling the rug out from under him over support for the work he was doing. "I thought she was a more straight-up person than that," said the ex-commish.
JOHN E. SUNUNU:
The senator makes more friends than enemies with his USA Patriot Act stand.
PETER SPAULDING:
In a Captain Renault "Casablanca" moment, the executive councilor says he's shocked – shocked – that lobbyists can so easily grease the skids for their clients in Concord.
CHARLIE BASS:
The 2nd District Congressman calls on a higher power in deciding to run again: "God willing," he said, "I intend to be a candidate for re-election next year."
N.H. HIGHWAY TOKENS:
Gone the way of the Old Man of the Mountain.
N.H. COMMISSION ON THE STATUS OF MEN:
Panel sounds like a bunch of sissy-boys whining about lack of funding — even though lack of funding was the only way lawmakers would have voted to establish the commission in the first place.