Five projects honored with Plan NH awards
Historic preservation projects recognized for 'long-term social, community impacts'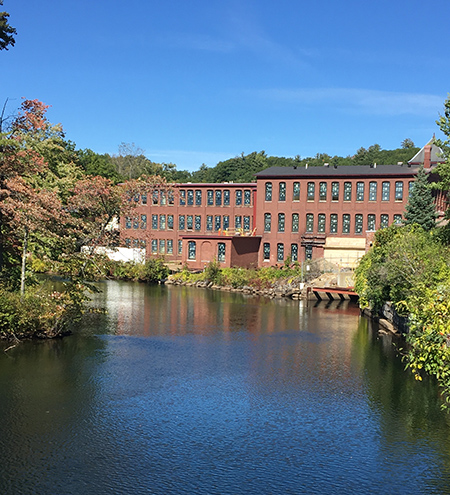 Five New Hampshire projects were recognized June 28 at the annual Plan NH Merit Awards ceremony, held at the Capital Commons building in Concord.
The projects were selected from a field of nominations by a jury of professionals in the planning, design and development industries.
The awards program recognizes building projects that embody smart growth principles, social responsibility or outstanding cooperation or collaboration.
"It is coincidental that each of the winners this year is an historic preservation project," said Robin LeBlanc, Plan NH's executive director. "Each underscores the impact that a building project can have on its community. Moreover, they each clearly show that when decisions are made around building something – or, in these cases, rehabilitating –
it is not just about the economic bottom line, but the social and environmental too. Financial investments are really about long-term social and community impacts –
which we want to be positive."
The winners were:
• Franklin Light & Power Mill, CATCH Neighborhood Housing, owner. Built in 1895, the old mill complex is on the National Park Service's Register of Historic Places, and has been transformed into 45 affordable one- and two-bedroom apartments in downtown Franklin. "This was an amazing transformation of a decayed shell into a crown jewel, and is a catalyst for the revitalization of downtown Franklin," said one juror.
• Lakes Region Mental Health Center, Laconia, is the new home of what had formerly been Genesis Behavioral Health locations. The landmark building in the downtown was gutted and re-designed to separate program groups – adult services, child and family services, administration, pharmacy and PCP doctor – while still enabling them to work together and efficiently.
• Frank Jones Brew Yard's Brew House & 1884 House in Portsmouth, were redeveloped by Chinburg Properties These 54 residences in the Brew House and the almost-complete 1884 House, which will have 14 residential units and 8 commercial spaces. "This is a great example of historic preservation while thinking of the future," said one juror.
• Village Common Covered Bridge, Wentworth, involved the installation of a covered bridge in Bedford at the site of a pedestrian steel truss bridge that had been deemed unsafe. The Wentworth team leveraged NHDOT funds along with money from the Friends of Wentworth Parks and Recreation.
Jury comments: "This is a great story of historic preservation to maintain foot and bicycle access," said one juror.
• The Florence Rideout Elementary School addition and renovations in Wilton involved rehabbing the 1895 building into a new and improved school while maintaining historic elements and structures. "This has meant a lot to the community. The rebuilding process itself appears to have brought people together, and the school remains a center for community activities," said one juror.