Firms to spend millions on PFOA water buildouts
DES to hold meetings on Saint-Gobain, TCI-funded projects in Amherst, Bedford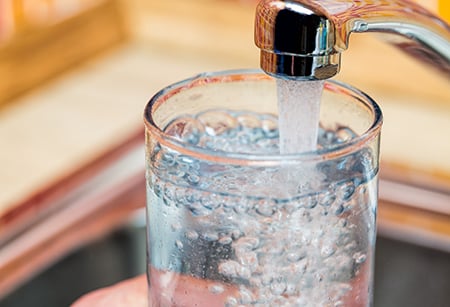 The NH Department of Environmental Services will be holding two public meetings over the next week about separate agreements with Textile Coated International and Saint-Gobain Performance Plastics to fund design work on potential public water line extensions to residences in Amherst and Bedford.
The Amherst public meeting will take place at 7 p.m. Tuesday, May 2, at Souhegan High School. The Bedford public meeting will take place at 6:30 p.m. Tuesday, May 9, at Peter Woodbury Elementary School.
Since the DES discovered high levels of perfluorinated chemicals in the manufacturers' wells and tested nearby residences last spring, the state agency has been in talks with Saint-Gobain, which has a plant in Merrimack, and TCI, which has a plant in Amherst, to remedy the damages.
While samples were being collected, Saint-Gobain and TCI provided bottles of water to potentially affected residences, but early on DES brought Pennichuck Corp., an investor-owned water utility in southern New Hampshire, to the table to discuss design work.
Homeowners with levels of perfluorinated chemicals higher than 70 parts per trillion for perfluorooctanoic acid (PFOA) or 70 ppt for perfluorooctane sulfonate (PFOS) are being offered connection to the public water supply, at the polluters' expense.
About a year ago, Saint-Gobain contacted Pennichuck to conduct engineering design work to connect over 400 homeowners to the Litchfield water supply at Saint-Gobain's cost, said Larry Goodhue, Pennichuck CEO.
After the designs and estimates, Pennichuck started the work last fall.
"That buildout is significant in Litchfield. We've installed over 45,000 feet of water main and have 11,000 feet to go [about 10 miles in total]. We're well along in that process. We connected 73 homes before we had to shut down construction last year and we should have everything completed in late June, early July for Litchfield," said Goodhue.
Pennichuck was also hired to perform design work, but has not yet officially been hired as contractor for the proposed buildouts in Bedford and Amherst that will be discussed during the public meetings.
In Bedford, the buildout would include about 61 properties, three of which are vacant lots. Saint-Gobain would be covering the costs.
In Amherst, TCI would cover the costs to extend public water to 110 properties, according to DES.
Last fall, 15 Merrimack homes and 26 Manchester homes were connected to the municipal water lines of the Merrimack Village District and Manchester Water Works, respectively, according to NHDES. Although PFOA levels were below the state's regulatory standard in the private wells at most of the Manchester homes, Saint-Gobain agreed to fund the connection of all 26 residences to the municipal water system at DES's request.
Homeowners can refuse to connect to the public water, said Goodhue. "That's between them and Saint-Gobain and DES if they refuse to connect to public water."
But they would be pretty compelled to connect because otherwise the polluted water condition will be on their deed. Those who do connect to the public water line must either decommission their wells or their wells can be reconnected for limited outside usage, said Goodhue.
When asked about the cost of the public water extensions covered by TCI and Saint-Gobain, Goodhue wouldn't provide a specific number, but said it was in the millions of dollars.