Exports from the Granite State hit a four-year high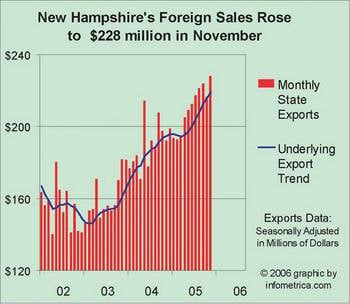 According to the findings of a recent survey conducted by the Geneva-based World Economic Forum, the United States ranked second to Finland in global competitiveness in 2005.
In last year's rankings of the international organization — which has been measuring countywide competitiveness for more than 100 economies for well over two decades — China and India, mentioned in the media as the cheap-labor mega-exporting global engines, ranked 49th and 50th, respectively.
More important, the United States once again topped World Economic Forum's 2005 list in the area of business competitiveness measured by sophistication of company operations and strategy — the key driver of international competitive advantage. According to the report, the United States' distinct business ranking is the result of "its continuing technological supremacy and a pipeline of innovation second to none in the world."
U.S. companies spend heavily on research and development and are aggressive in adopting new technologies, which translates to low-cost "new-generation" products. In the first eight months of 2005, the United States was the second largest exporter of goods in the world, with foreign sales of $592 billion.
Germany was the world's leading exporter, selling abroad $647 billion worth of goods; China ranked third, exporting $476 billion of merchandise, followed by Japan, with foreign sales of $387 billion. The four-country combined value of exports accounts for one-third of all exports in the world.
In the last 50 years, the importance of foreign markets for U.S. companies has increased substantially and faster than the growth of the domestic economy. U.S. GDP rose from $380 billion in 1954 to $11,734 billion in 2004 — a 30-fold jump in 50 years.
During the same period, U.S. exports of goods to the world's markets soared from $13 billion in 1954 to $818 billion in 2004 — an astonishing 63-fold surge in five decades.
The share of exports to overall economic activity, also called openness of U.S. companies to the rest of the world's markets, has consequently doubled from 3.4 percent 50 years ago to 7 percent in 2004.
Has international openness spread across the nation's companies evenly? While gross state product is available with a one-to-two-year delay, an alternative yardstick of a state's economic size is personal income. In the third quarter of 2005, production activities in New Hampshire generated $51 billion of income to state residents. Simply put, according to the most recent available numbers New Hampshire is a $51 billion market.
During the same time, foreign income from exports of goods made in the Granite State reached an annual rate of $2.6 billion, also adjusted for seasonal variation.
As a result, the share of foreign sales to overall economic activity hit 5.2 percent for New Hampshire's companies in the third quarter of 2005. Among the 50 states, New Hampshire ranked 38th in international openness.
By the same token, 5.2 percent of company sales, which have substantial effects on profitability, jobs, taxes and overall economic development, are exposed to international economic conditions.
According to the newest international trade statistics, exports of goods from New Hampshire's companies, on a seasonally adjusted basis, leaped $11.5 million, or 5.3 percent, in November to $228.2 million, after a monthly drop of 3.2 percent in October. It was the highest level in foreign sales since April 2001, and the third highest mark on record.
Granite State exporters shipped abroad in November of 2005 $36 million, or 18.7 percent, more goods than in November of 2004.
Foreign shipments from New Hampshire's factories significantly improved in November by 5.1 percent from the previous month to $196.2 million, adjusted for seasonal variation. Looking at the annual trend of exports, sales abroad from New Hampshire manufacturers in November of 2005 were $42.1 million, or 27.3 percent, higher than in November of 2004.
Exports of non-manufactured goods went up 6.7 percent in November to $31.9 million, also adjusted for seasonal variation.
Evangelos Simos, chief economist of the consulting and research firm Infometrica Inc., is editor of international affairs for the Journal of Business Forecasting and professor and department chair at the University of New Hampshire. He may be reached at eosimos@infometrica.com. Distributed by Infometrica Inc.