Entrepreneur puts thrift store to nonprofit's advantage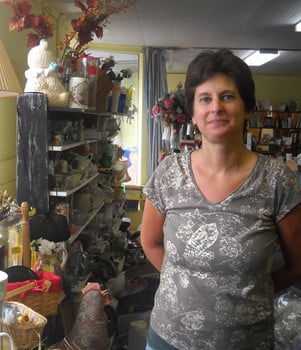 When Cori Sarsfield entered into business with Southwestern Community Services, a social services agency based in Keene, she warned it would be at least a few years before she could actually give them any money.
After all, it takes a while for any business to get off the ground, let alone be profitable. Not to mention the model they were using is unusual: A thrift store run by a nonprofit that actually makes money.
Yet, in July, she was able to present the agency with a check for $10,000, said Keith Thibault, chief development officer for Southwestern Community Services. "That was astounding — absolutely astounding — to do that in her first year of business.
"We thought it'd be at least a couple of years, if ever, really," said Thibault.
Faced with no job, few prospects on the horizon and a husband recently laid off, this 15-year schoolteacher made a job by opening More Than a Thrift Store in Keene a little over a year ago.
"I couldn't find a job. After about two to three weeks, I realized I wasn't going to get a job and that's when I started to take an alternative path. I created a job for myself," said Sarsfield.
Sarsfield taught upper elementary school in Winchester, Westmoreland and Rindge for 12 years before deciding she wanted to venture out and try something new.
"I always had the urge to go overseas and teach," she said. "And so it just came a time in my life that it was time. I graduated from Antioch and just knew now was the time to do this."
She landed a job at an American school in Venezuela, where she taught for two years before realizing that overseas teachers don't tend to stay in one place for too long. With all of her colleagues leaving, Sarsfield decided to go for a job in Kuwait.
However, she was there for two months when she realized it was not the right fit for her. So she returned to Keene in the fall of 2010.
"Of course, the school year had already started, but I thought, 'That's OK. I'll move on.' I had my master's in organization and management from Antioch, and I thought, 'I'm a good worker and have lots of skills and lots of talents — no problem, I'll just switch careers," said Sarsfield.
"So I came back all gung-ho and optimistic and sent out a couple of resumes. Pretty much the response was, 'Thanks, but you have no experience in this line of business.' And I thought, 'Of course not — I'm changing careers.'"
Starting up
Though she had a small nest egg from her work overseas, it wasn't enough to last very long. And because she had worked overseas, she wasn't eligible for unemployment. To make matters worse, her husband had lost his job when the Hinsdale Greyhound Park closed.
"So I had to think differently," she said. "I had to come up with another plan. As Oprah always says, 'Do what you love. Go with your passion.' So I started thinking, 'What do I love?' I love yard sales, I love repurposing things, and I love making things."
She also knew there were limitations — financial, in particular — to what she could set out to do.
"So I thought, 'Boy, wouldn't I love to have a thrift shop.' But you know, in Keene, New Hampshire, you can't make a go of a thrift shop. Number one, you have to pay someone to run the store while you're out buying your inventory, so you're paying for your workers and you're paying for your inventory."
But nonprofits didn't necessarily have to run that way. And though she wasn't a nonprofit, she got the idea to team up with one. It would help the charity, but also keep her costs down, she reasoned. She wouldn't have to pay employees – through the nonprofit, she could get volunteers. And she wouldn't have to buy inventory — she could accept donations.
Other than rent and utilities, Sarsfield figured, her only costs would be paying her own salary.
"It started to feel reasonable, this idea," she said. "I found a format for a business plan and got some software where you punch in some financials and it does projections for you. So I did that, and I got a little presentation together."
Thibault of Southwestern said Sarsfield explained in that meeting that there was a need for a thrift store in the area. Further, the projections showed she could make the roughly $200 to $300 per day she'd need to stay afloat, with net proceeds going to Southwestern.
"I know a lot of nonprofits run thrift stores," Thibault said. "So I had heard about that. But this was a little bit different. Certainly it was intriguing."
Within a week, Thibault called her back and told her they were in business.
"From that point, it's pretty much the same as starting any other business," Sarsfield said. "That's the bottom line — you have to run it as a business. We have to make money — we are like any other business in that regard. But at the end of the fiscal year, we do give our net proceeds to Southwestern Community Services."
Thibault said she's also helped out with clothing for the local homeless population and back-to-school coats for the area Head Start program. Southwestern also benefits, Thibault said, because often the agency will get offers of donations of furniture or other large items, but with no storage they haven't been able to accept the donations. Now, thanks to Sarsfield's store, they can.
A great location
And then, there's the $10,000 she presented to the agency in July.
"There were some cynical people here who said, 'Come on, it will never work,'" Thibault said. "But she's a tireless worker, and she's made extremely good use of volunteers. Lots of people have shown up at her door to offer help — even some people who may have some issues of their own, and she's so welcoming."
Another key to her success, Thibault said, is the store's location on Marlboro Road. There's a school around the corner, a bank down the street and Keene State College student housing nestled around her.
Also crucial to the store's success, Sarsfield said, is that the merchandise turns over quickly because she prices it to sell.
"It's tough times for a lot of people," she said. "And even if it's not a tough time, people who like thrift stores don't want to go in and pay top dollar for anything. That defeats the whole purpose of a thrift store. So keeping our prices low is vital to our success, because people who need lower prices, we're here for them. People who enjoy a bargain or treasure hunt, we're here for them too."