Employers urged to tap older workforce for needs
Summit points to a 'lost opportunity' to fill jobs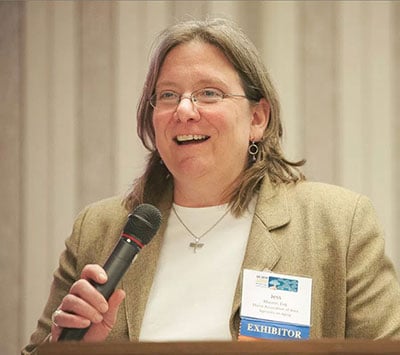 Jess Maurer had an abundance of bad news/good news proclamations for the 180 participants at last month's summit on northern New England's aging workforce.
The bad news? The shrinking part of the population is in the age group employers typically consider when looking for eligible workers. The good news? The older population, in what has traditionally been considered retirement age, represents a largely untapped labor pool.
The key to the problem, Maurer said, is that "we haven't had many babies born since the 1980s," while at the same time "we are living longer than ever before." The result is that the region has "this expanding population and a shrinking population."
"We have more jobs than we have workers, and we need a strategy to ensure that our economy remains strong," Maurer told the gathering at the Grappone Conference Center in Concord.
The summit featured speakers from Maine, New Hampshire and Vermont and was sponsored by the Tri-State Learning Collaborative on Aging.
The three states have similar demographics, as measured by age, births, deaths and migration, said Maurer, program director for the collaborative and executive director of the Maine Association of Area Agencies on Aging. While noting the problems related to a shrinking pool of available labor in the three states, speaker after speaker at the conference emphasized that investments made in hiring or retaining "graying" workers can actually improve a company's bottom line — a theme reflected in the title of the summit, "Gray is the New Green."
Ignoring that opportunity could lead to serious economic decline, warned John Dorrer, a labor economist and researcher from Maine.
"To the extent jobs can't be filled, that means our economy goes in reverse," said Dorrer, noting that each vacancy in a company's workforce means lost productivity and lost economic growth. New Hampshire, at 2.6 percent, has the lowest unemployment rate in the region, followed by Vermont's 3.1 and Maine's 3.8 percent. While the high rates of employment are good for workers now, they could spell trouble in the long run, Dorrer said, as businesses face the difficulties of finding available workers.
"Most parts of the country have higher birth rates and more in-migration," Dorrer said. Companies might "take a look at the demographics and decide this might not be a place to expand or relocate. A lot of companies with good-paying jobs are deciding to relocate elsewhere."
Experience adds value
While labor force participation by older workers has been increasing over the past seven years in all of the New England states, Dorrer said, there is still a vast pool of retirees who could be filling job vacancies.
"We've got to change the mental model people have in their heads, both employers and employees," he said, to avoid a bleak economic future. "It would be a disgrace to leave behind a contracting economy and lost opportunity," he said.
"Everybody agrees that older workers are part of the solution," said Maurer, a solution that many companies already have in their workforce. "What they have right now are older workers, and they're letting them go. They should be saying, 'No, don't go!'" Companies should consider encouraging employees who want to retire from full-time work to stay on as part-time employees or to remain engaged with the company as consultants, Maurer said. "We have a whole bunch of older folks who are healthy and smart. We've invested millions of dollars in them during the years and we're letting them walk away."
Neither employers or their workers should underestimate the extent to which years of experience add to the value of an employee, said Wendy Estabrook, human resources director for L.L. Bean in Freeport, Maine.
When her company recently installed a new electronic system, an older worker who is thinking of retiring soon was the only one who knew how to "debug" it, she said. "We're going to hate to see him go."
L.L. Bean employs about 5,500 workers year-round and looks to add 4,500 seasonal workers each year to handle the demand from holiday shoppers. Last year, the company came up short of that goal for the first time, said Estabrook.
An aging workforce raises the need for an increasing number of workers to take time off to care for elderly parents, she said, noting the company has 100 or more people taking leave every year to care take care of parents and plans to expand parental leave opportunities in 2018. Last year's shortfall of about 300 seasonal hires resulted in company executives packing merchandise to fill shoppers' orders.
"Most people who have retired from their jobs have no idea that they're needed somewhere," said Estabrook, offering the L.L. Bean warehouse as an example. "If you can walk and breathe, you can go to the warehouse and pack boxes," she said.
'Connecting the dots'
While age-based discrimination in employment is illegal, participants at the conference agreed about the difficulty in proving discrimination and enforcing the prohibition.
"Ageism is still the last acceptable 'ism," said Estabrook.
Todd Fahey, state director of AARP-NH, stressed the need to "change the culture" through voluntary efforts.
AARP has been promoting an "employer pledge," which a company signs as a commitment to a "level playing field" for job applicants and to the recruitment of "diverse age groups and to consider all applicants on an equal basis …'" While the pledge is not legally binding, it does raise awareness among employers of the desirability of employing older workers in an age-diverse workforce, Fahey said.
"Wisdom never grows old," said Liz Vogel, president and CEO of Dots Inc. of Burlington, Vt., the summit's keynote speaker.
Noting there are potentially five generations in a company's workforce, from pre-Baby Boomers to Gen Z (those born between 2000 and 2010), Vogel said "connecting the dots" in employment strategies means recognizing and utilizing the potential of each.
"We have a lot more energy than people give us credit for," she said of older workers. "We bring a lot of experience, and we have to give ourselves credit for that." Younger workers can learn from that experience, while older employees might learn new skills from new arrivals in the workplace, through a process called "reverse mentoring," Vogel said.
"We're never going to solve this problem with a solution only for one generation," she said, a thought reaffirmed by Paul Biebel of Biebel Builders in Windsor, Vt. Biebel stressed the importance of internship and apprentice programs to his company that have brought high school students into the building trades, including youngsters who have dropped out of traditional academic programs.
"I think business and education have to stop being separate entities and start working together," said Biebel, adding that the internship program has given young people the chance to "earn their GED while earning money at the same time. How can it get any better than that?"
Biebel also pointed out that two of his employees in their mid-to-late 50s built an electric railroad display for the local general store that generated enough interest and inquiries to bring his company an additional $5 million of business.
When Business and Industry Association of New Hampshire president Jim Roche asked about "regulatory and legal challenges" to keeping older workers in the workforce, Dorrer said the nation is suffering from a "20th century regulatory apparatus for a 21st century economy." Some workers are deterred from continued employment, he said, when income from a job is added to their Social Security payments and puts them in a higher tax bracket.
"I gave a worker a dollar an hour raise and he quit," Biebel said in an interview during a break in the conference. The raise increased the worker's tax liability and "he said he couldn't afford to work for me anymore."
Biebel said his internship and apprenticeship programs have also been hampered by OSHA regulations regarding what power tools youngsters may or may not use. There is also the risk of litigation to consider. "If anything at all happens, you're going to hear from injury lawyers," Biebel said.
Finding ways to cope with a shrinking workforce "is going to be the biggest change in business development over the next 15 years," said Vogel. "Most companies haven't done strategic planning over this. We can't wait any longer."
As for Maurer, she said she has a dream about the kind of headline she hopes to see in 10 years: "How older adults saved northern New England from economic ruin."