Drop in N.H. worker comp payments leads nation
21.7% decline comes as national average payouts increase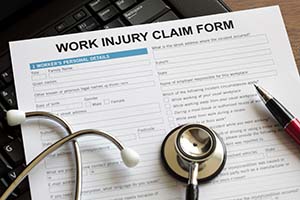 Workers' compensation lost-time payments to New Hampshire employees fell by nearly 22 percent in 2011, the sharpest decline in the nation, according to a report from the National Academy of Social Insurance.
The drop is even more impressive, considering that such costs are rising nationally.
New Hampshire also experienced the third-largest decrease in overall claims – almost 10 percent — the fourth-largest decrease in overall benefits per $100 in covered wages, and the fifth-largest decrease in cost to employers for every $100 in wages.
Deb Stone, the state Insurance Department's point person on workers' compensation, could not say for certain why costs have dropped so dramatically in New Hampshire. She speculated there might be two contributing factors: a decrease in the number of high-risk jobs, like logging and structural steel, and the fact that the state's overall labor pool is small enough that statistics can be more volatile from year to year. For instance, the state experienced a sharp 14.4 percent increase in costs in 2008, though they were relatively stable over the following two years.
Stone said the report did confirm a long-time trend that has been a concern of the department for some time: a growing percentage of the cost of workers compensation is due to medical costs, not lost time at work. While part of a national trend, this is particularly acute in New Hampshire, which has the fifth-highest percentage of claims going to medical costs — 66.4 percent.
This might be due to the high cost of medical care in the state, and the fact that the state's imposes a 60 percent maximum in covering lost wages. Most states pay two-thirds.
The workers' comp picture may change in the future, Stone said. She cited a bill held over from last legislative session to increase the maximum payout, and lawmakers also recently passed a bill encouraging the use of generic drugs, which may shave medical costs.
Nationwide, workers' comp costs have gone up. Medical payments increased 4.5 percent, to $29.9 billion, while cash benefits rose 2.6 percent, to 30.3 billion. Cost to employers rose 7.1 percent, to 77.1 million.
In New Hampshire, overall costs dropped from to $227.5 million, a 9.6 percent drop. Only Nevada and Oregon had sharper decreases (11.3 and 10.1 percent, respectively). Massachusetts' costs fell 5 percent, while Maine and Vermont's costs were about the same as the previous year.
Medical costs in New Hampshire fell 1.9 percent, but the total 21.7 percent drop in cash benefits exceeded runner-up South Dakota, where they fell 19.9 percent.
Stone said that there's s a good chance the downward trend might contribute to workers' comp rates going down in the future.