Downtown Manchester attracts a younger, wealthier crowd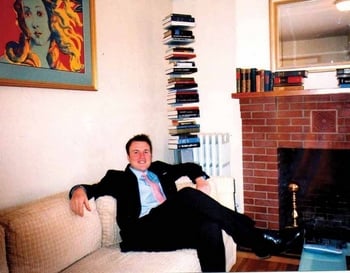 Graham Chynoweth, 27, grew up in Canterbury, N.H., went off to the University of California at Berkley and got his law degree at Duke in North Carolina. Then he moved to downtown Manchester, where he both lives and works.
"I can see my side door from here," Chynoweth says, gazing out the window from his 16th story office at Hampshire Plaza. "I can see my front lawn, see if anyone is trampling on the daisies."
Last year, Chynoweth, an attorney with Sheehan Phinney Bass + Green, purchased a three-room condominium on West Merrimack Street in a block of buildings that once housed workers at the textile mills during the heyday of Amoskeag Industries.
"I hope I didn't buy at the absolute peak of the housing market," he says, though he gives no evidence of buyer's remorse at having put down $167,000 worth of roots in the largest city of his native state. Being away for a few years helped him appreciate the attractions of New Hampshire.
"You have to see a little of the world before you decide where you want to be," he says. "I decided New Hampshire is where it's at."
The summer before last he took an internship with a law firm in Boston and another with Sheehan Phinney.
In Boston, he found, you can "get there from here," but it takes a while. "I was staying with relatives in Wayland, which is about 12 miles from Boston," he says, "But it took about an hour to go those 12 miles." Now he walks to work in about five minutes, or a little more, he says, "depending on whether the wind is at my back or in my face."
But work is not the only thing he finds convenient from his home in the city's historic Millyard.
"The reason I picked Manchester is that you have the Verizon (Wireless Arena), you have the (Fisher Cats) ballpark, you have historic buildings that are funky and cool. You can walk to work and you can walk home from the bars on a Friday and Saturday. Everything is so convenient that you can have a wonderful life with lots of interesting things to do, all within five blocks of your home."
Attracting young people
"When I first came here, I didn't even know downtown Manchester existed," says Elise Ryan, a Boston native who is now special projects assistant for Intown Manchester. During her junior year as an economics and business major at Saint Anselm College, Ryan got a part-time job at Margarita's on Elm Street.
"It was like I discovered this whole new world that I didn't know was there," she says.
Now the 2005 Saint Anselm graduate lives in Colonial Village on North River Road, a short drive or a half-hour walk from her downtown office. Recreational and entertainment venues in the center of the city appeal to her, including hockey games at the Verizon, baseball at Fisher Cats Stadium and dining at the Shaskeen, the new Irish pub on Elm Street. The downtown she didn't know existed now feels a lot like home.
"I don't think I'll go back to Boston," she says, "I'm comfortable here."
Stephanie Lewry, executive director of Intown Manchester, finds many young people are attracted to the energy and excitement of the city's revitalized business district.
"I think it's one of the few places in the whole state for young people," she says. The convenience of downtown living also appeals to some "empty-nesters," who no longer need the large homes they bought years ago.
Attorney Brad Cook has seen neighbors in the city's fashionable North End make the transition and has thought about it himself.
"Every once in a while, I get tired of mowing the lawn and I say, 'I'd like to move into one of those condos,'" Cook says. "That's when my wife tells me, A, 'You'll have to do that with your next wife,' and B, 'You won't be able to afford it.' So I'm not going anywhere."
Jack Shea, a lawyer with a solo practice downtown, settled that issue long ago.
"I told my wife when we were engaged I wasn't going to spend every Saturday morning for the rest of my life mowing a lawn," says Shea, who has lived with his wife in an Amoskeag Terrace condominium since 1978. His "commute" to work is a walk of five-minutes or less.
"For most of my career I've lived within walking distance of work," he says. "My wife walked to work at the Currier (Gallery of Art), my son used to walk to school at St. Joseph Junior High, and I walk here."
Economic resurgence
In Manchester today, much of the emphasis is on upscale living, from the new townhouse condominiums selling at nearly $500,000 per unit at Riverwalk Place, just south of the Fisher Cats ballpark, to the luxury apartments at the Residences at Manchester Place, at the corner of Bridge and Elm, a few blocks north of City Hall. Monthly rents there range from $1,000 and $1,100 for one-bedroom apartments to $2,700 and $2,800 for three-bedroom "penthouses" in the seven-story structure.
The building, a $40 million project that includes a city-owned $5 million garage, opened for occupancy at the end of last year. Some observers have already begun to express skepticism about the demand for high-priced luxury living, even at such a prime location.
But Boston developer Brian Dacey, a partner with Salem's Christian Silvestri in the venture, says leasing is going pretty much according to schedule, with just over 20 percent of the 204 units leased — and not all of those renters have moved in yet.
"You just don't open a building like this to full occupancy," says Dacey. "The leasing time is basically a 12-month period."
Besides, he says, some of the apartments are dark because people go out at night. "We've also got a number of people for whom this is a second home, people working in Manchester during the week and then are somewhere else for a long weekend."
The inventory also includes a few units that corporations have leased to house workers that they bring in from other locations as needed, Dacey says. The Boston developer expresses confidence that the demand will be strong for the first luxury apartment development in downtown Manchester since Wall Street Towers went up in the mid-1980s.
"It's a nationwide phenomenon," Dacey says of the movement back to the inner cities. "Manchester itself has had a real economic resurgence that's brought people back to Manchester and brought about a real interest in Manchester nationally. People want to live downtown. They want the convenience of living downtown."