Developers can benefit from sustainable design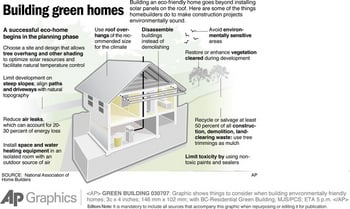 There has been a lot of talk lately about sustainability and the responsibility of businesses to act in environmentally responsible ways. The development community, in particular, has been the focus of those who want to see New Hampshire become "greener."
But some owners have balked at introducing sustainable design elements into their new buildings or to add them as part of retrofits because of the perceived cost. But by focusing on the initial capital costs of sustainable design, owners and developers are taking a short-sighted approach.
The most effective sustainable design strategies take advantage of both energy-saving design approaches and technologies and efficient operating systems. These strategies can pay for themselves over relatively short periods. In fact, sustainable design isn't just an example of good citizenship. It's also good business. Sustainability lets you take a long-term view of the operational costs for a building and site.
The most obvious way to develop greener buildings is to introduce energy-efficient technologies into design. This doesn't necessarily mean installing solar panels onto the roof or face of a building. Among the numerous strategies that can make a building more energy efficient is creating designs that permit the introduction of high levels of natural light into work and living spaces.
By using large, well-insulated windows to flood building interiors with natural light, less energy is required to power light fixtures. Consequently, a more pleasant work or living environment is created, and that space is less expensive to keep properly illuminated.
Similarly, HVAC systems that maximize the amount of fresh air that is introduced to work and living spaces minimize the amount of mechanically produced heat and air conditioning required, saving thousands of dollars a year in heating and cooling costs.
Green roofs also are rapidly gaining widespread acceptance because they have the ability to reduce building heating and cooling costs. They also are integral parts of a building's stormwater management plan by storing water on site, and serving as aesthetic elements by becoming rooftop gardens.
Other sustainable design elements include:
• Rain harvesting for maintaining the landscape elements and "gray water" systems to reduce the amount of water required for the building's sanitary systems. Rain harvesting also can aid in stormwater management by temporarily holding runoff for later reuse on site.
• Artificial wetlands can be created adjacent to parking lots and building complexes to provide additional stormwater filtration.
• Using recycled concrete, steel and other materials can often be used effectively, and relatively inexpensively. (Recycled materials aren't always the cheaper option, so it is important for owners and developers to do their homework before making these choices.) Concrete or brick that is removed from buildings can be recycled into creating campus or complex roadways and walkways.
There are many more approaches to sustainable design, such as building close to public transportation or providing bike lockers and shower facilities in office environments to encourage people to commute by bicycle. There's really no magic to all this — it's just Environmentalism 101.
Sustainability also can be achieved by taking a strategic approach to materials management. Most owners never think about their materials management systems as opportunities to promote sustainability, but with forethought and creativity these systems can reduce energy use and carbon emissions, reduce traffic congestion and streamline operational flows, while saving the owner money.
Materials management is the planning and design for access roads, loading docks, distribution paths and storage areas located on an institutional campus, office or housing complex. When these systems are planned in a systematic and strategic fashion, they lead to substantial efficiencies and cost savings.
For instance, by coordinating and planning the placement of access roads, loading docks and vertical transportation, owners can cut their hauling and fuel costs, as well as emissions. They also can eliminate redundancy and increase the effectiveness of their management systems, thereby reducing the number of service vehicles and the congestion that they bring.
Most institutions and owners of building complexes experience major long-term cost savings by consolidating their materials managements systems. In fact, creative materials management may qualify for LEED innovation in design credits.
By implementing these approaches to design and operations, building owners can become good environmental stewards and also reap the benefit of long-term operations and maintenance costs. They also can create more attractive spaces for users, renters and buyers. It truly is a case in which owners and developers can do well by doing good.
Robert Prud'homme manages S E A Consultants Inc., a Concord-based engineering, planning and architectural firm. He can be reached at robert.prud'homme@ seacon.com.