Despite turmoil, Burton maintains a persistent political pace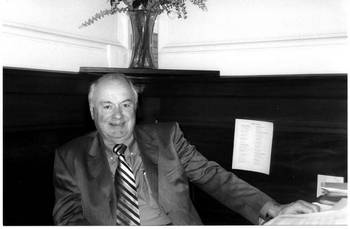 There once was a man, a Democrat, who defeated Ray Burton in a race for Executive Council in District 1. That was long ago and the man has long since died. But Burton, the North Country Republican, is like the Energizer bunny. He keeps on going and going and going and …
"These are the types of things I handled just this week," says Burton, 66, now in his 27th year on the Executive Council. "A person who was injured in Iraq is now trying to find resources to continue (in) a paramedics course down here at Elliot Hospital. He lives in the northern part of the state."
In the northern and much of the western part of the state, Councilor Burton is your basic "go-to" guy.
"Rich McLeod," he continues, "former parks director, wants us to get together to talk about the committee that was set up to study the state parks." The president of Androscoggin Hospital in Berlin called, as did someone Burton identified only as "a gentleman from Florida." (They are all "gentlemen" or "ladies," of course.) "A gentleman called me from his lumber lot in Pittsburg. He is worried about the safety and the security of the Murphy Dam and the dams behind it on the three Connecticut Lakes up there."
Yes, Ray knows his way around the waters and the wild of the North Country. He also knows his way through the thickets of state government in Concord.
"You send that right to the Environmental Services Department and the man who looks after the dams in the state," he says. "Jim Gallagher has been a great resource for people on issues relative to the level of the lakes. And on it goes …"
"And on it goes" is a phrase Burton uses repeatedly during an interview in the Executive Council office, just on the other side of the Executive Council chamber from the governor's office on the second floor of the State House in Concord. It is significant that the office is neither above nor below that of the governor. Burton, who is an adjunct faculty member at Springfield College in St. Johnsbury, Vt., clearly enjoys teaching and is always ready to give a civics lesson to an errant reporter.
Just ask him how many governors he has served under in his 14 terms on the council.
"Not 'under' — 'with'!" he says, quickly correcting the description of the relationship. "The Executive Council serves not under, but with the governor. And you write that, Jack!"
He is smiling as he says it, but he is emphatic, nonetheless. The dean of the council is jealous of his prerogatives and his responsibilities as a constitutional officer of the state of New Hampshire. The Executive Council, often called the Governor and Council, or the Governor's Council for short, is as much a part of the executive branch as the governor himself. But the answer to the question, artlessly posed, begins with the fact that Mr. Burton served as the New Hampshire Senate's sergeant-at-arms during the administration of Gov. Walter Peterson. He was first elected to the Executive Council in 1976, while Meldrim Thomson was winning his third term as governor. Two years later, something happened in the North Country of New Hampshire that had not happened before and has not happened since: Ray Burton lost an election. So, by the way, did Mel Thomson, losing the governor's office to Littleton's Hugh Gallen.
Burton's conqueror was a North Country businessman named Paul Mayette. It was a rough year for incumbents and a good year for upsets in New Hampshire and elsewhere, from Proposition 13 country in California, east to the Granite State. U.S. Sen. Tom McIntyre was ousted by a previously unknown airline pilot named Gordon Humphrey. And in the southern tier of the state, District 5 Executive Councilor Bernie Streeter was defeated in a Republican primary by a young 30-something fellow with a famous last name and an ambitious political agenda. A fellow named Judd something.
Weathering a storm
So it was "bye-bye, Burton." But not for long. He would retain his independence, which would serve him well in the North Country, even if the denizens there will sometimes punish an elected official for having too much of it.
"People still pride themselves, and even more so these days, on saying they vote the person. Carroll County is changing, more moderate Democrat than it has been in years, though we have some very strong Republicans, including (state Sen.) Joe Kenney, who is serving six months in Iraq. Berlin and Androscoggin Valley is a very strong Democratic area. And I've always maintained good relations with all the unions."
A test of how strong those relations with his constituents are should come next year, when Executive Council District 1 voters weigh in on an issue that has had politicians outside Burton's district questioning whether he remains as invincible as ever.
Burton, who has served as executive councilor with eight governors, is at the center of a political firestorm – at least it's a firestorm outside his district – after the revelation that he had a convicted child molester working as a political aide and he let that aide go through the district on the councilor's behalf.
The aide, Mark Seidensticker, who worked on Burton campaigns for more than a decade, was arrested in August in Concord. Authorities accused him of having offered beer and cigarettes to a boy, 14, while driving a car with a trunk stocked with blankets, duct tape, rope and a lubricant.
When asked about Seidensticker, who last month was sentenced to a year in jail after being found guilty of offering alcohol and tobacco to a minor, Burton gave the answer he has given to anyone who has asked him since the story emerged: "Well, I knew there was something in (his) background. I'm sorry it all happened. I apologized for it to the people of my district and that is all I'm going to say."
Burton also had said the aide was under his supervision all the while and "there never was a problem. Beyond that, I have nothing more to say."
Everybody loves Raymond?
Despite the publicity, he still goes about his district, making the rounds as usual. In one day, he attends a chamber of commerce awards breakfast in Newport, then goes off to a transportation seminar before moving on to office hours at City Hall in Claremont, followed by a visit to the senior center in that western New Hampshire city. Then it is on to David's House in Hanover, where Dartmouth-Hitchcock maintains a home for families of seriously ill children.
In Claremont, Burton has heard from a woman in a wheelchair about a problem that needs the attention of the state's Department of Health and Human Services. It quickly becomes a note on one of the councilor's many 3-by-5 index cards.
"I will e-mail this to Commissioner (John) Stephen between 6 and 7 tomorrow morning," says Burton, scanning the cards as his car goes barreling down the highway. "And he will respond by — "
Well, let the commissioner tell you how quickly he responds. You may notice his eyes widen, as though in astonishment at the question.
"Oh, immediately!" Stephen says. It's not that the woman's request is itself without merit. It's just that the piles of paper on a commissioner's desk can rise very high. An executive councilor brings to the table that mustard seed of faith that moves mountains of paper.
"That's what an executive councilor does," Burton says. "The executive councilor moves these issues to the top of the commissioner's desk."
Transportation Commissioner Carol Murray is used to finding messages from Burton at the top of her desk and all over her e-mail.
"I like to joke," she says, "that if I go home for the weekend and leave my computer off, when I turn my computer on on Monday morning, I find two dozen e-mails from Ray Burton."
Berlin Mayor Bob Danderson, a Republican, said he resents the state's all-Republican congressional delegation's call for Burton to resign after the revelations about his aide. He understands why the Democrats, led by Gov. John Lynch, would call for the councilor's political scalp. But Republicans are a different matter.
"Those who are your friends should stay your friends," he says.
So opposition to Ray Burton seems to increase in direct correlation with one's distance from that vast rural area, encompassing more than half the state and part or all of five counties, that make up Executive Council District 1.
There Democrats, as well as Republicans, still appreciate his work on behalf of his constituents. In the North Country, it seems, everybody loves Raymond.
The "dean" of the Executive Council laughs at that phrasing.
"Well," he says, "we're going to have a little poll on that topic in September and, hopefully, in November of 2006."