Dentists use Toothprints as means of identification for kids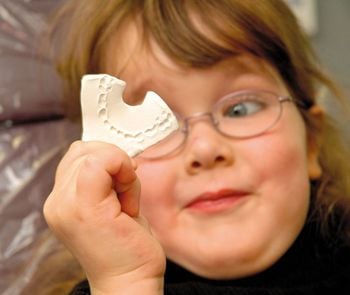 On Thursday, during a routine visit to Dr. Aaron Watman, 11-year-old Dylan Quinn chose his favorite toothpaste flavor, picked a toothbrush from an assortment of colors, and made an impression on an arch-shaped plastic wafer that recorded his tooth characteristics in a manner similar to fingerprinting.
Watman and his colleague, pediatric dentist Nilfa Encarnacion, have been taking Toothprints, a patented bite impression, at their Lowell, Mass., office for the past six months, and last week began offering the same free service in their Nashua practice at 155 Kinsley St.
The bite impressions, developed by a dentist to protect his own children, provide concrete identification in the event that a child is lost, abducted – or worse.
Previously, dental X-rays provided this information. But decreasing incidence of decay means children get fewer fillings and as a result X-rays aren't as effective as a means of identification. Furthermore, dentists often fill children's teeth with composite or light-colored fillings, which do not show up as clearly on X-rays.
The impression is taken in under a minute. The child bites into a softened, plastic wafer placed in the mouth to record individual tooth characteristics, including tooth position and the relationship of upper jaw to lower jaw.
The impression also captures the child's saliva, which could be used, if necessary, for DNA analysis and scent dog tracking.plastic bags marked with the child's name and the date, and distributed to parents who are told to file the record with other important papers and to keep the bags closed at all times.
While parents understand the serious nature of the identification process, young children are not burdened with harsh realities.
"We tell the kids, 'We're going to take a little impression so Mom and Dad can remember what an adorable smile you have,' " said Susan Barros, a hygienist in the practice.
For parents, the service is both sobering and appreciated.
"As a parent, you're aware of all these things, keenly aware," said Nashua resident Tim Mondale, who was visiting the dental office Thursday with his 5-year-old daughter, Marielle. "My first feeling was mild terror . . . but beyond that (I was thinking) it's a real good idea as a marker."
For Marielle, on the other hand, it was the squishy purple hand toy she received after her cleaning and toothprint that left the bigger impression. Asked about her experience, she bounced off the bench she was sharing with her father in a play area and reached into a toy box for something more interesting than conversation.
"It's a sobering thought," the little girl's father said while watching his daughter play. "You prepare yourself the best you can and hope and trust you will never need it."
Watman said members of the practice decided to do the toothprinting in the office after offering the service at several community fairs. The dental professionals do not charge their patients for making the impressions and say parents appreciate both the convenience and the caring message the service communicates.
"They're thrilled," said Barros, the hygienist. "We're not just dentists looking at teeth. We care about the well-being of the whole child."
Watman said he and his colleagues take the first bite impressions when a child is 3 and has a full set of baby teeth. Impressions are retaken at 7 or 8, after the upper and lower front teeth and the first permanent molars have come in, and again at 13, after the all the permanent teeth have come in.
"It's nice that they're offering it as a free service," said Elizabeth Quinn, mother of 11-year-old Dylan. "It's something a lot of parents are interested in having for their children and it's convenient having it done during a routine visit."