C&S Wholesale Grocers thrives on teamwork, generosity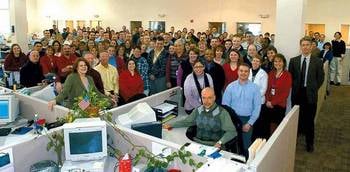 A single room at the Keene headquarters of C&S Wholesale Grocers offers insight into the impressive success of a company that began 88 years ago in a small Worcester, Mass., warehouse and has since grown into the second-largest wholesale grocery business in the nation.
In "The Stadium," a sea of heads – 270 of them – fills 18,300 square feet of space. Each rises above the four-foot walls of its cubicle. The Stadium walls are bright white, the windows oversized and clean. The room is flooded with natural light. The noise level is surprisingly low.
"This room was designed with our employees in mind," said Karen Adelman, communications manager for C&S Wholesale Grocers. "The cubicles have been kept low for interaction. No one feels isolated here. People can really work together. And all this light just makes this a great place to be."
In this room, merchandising agreements are made, transport is arranged and IT solutions are sought by individuals committed to working as a team for the good of the company.
The teamwork alive in The Stadium is a direct descendant of that of founders Israel Cohen and Abraham Siegel in 1918. It is the philosophy, nurtured today by Rick Cohen, grandson of Israel Cohen — that has carried C&S Wholesale Grocers from the Worcester warehouse to every corner of the country, including Hawaii.
It's also behind the company's evolution into the wholesale giant it is today, with 50 facilities in 15 states and more than 20,000 employees. And it's one of the reasons C&S Wholesale Grocers is being recognized by Citizens Bank as this month's Not Your Typical Business award recipient.
"Besides being a successful company, C&S Wholesale Grocers recognizes that communities are essential to all of us," said Vern Studer, senior vice president of commercial banking for Citizens Bank. "They work hard to help create vibrant communities."
'A generous company'
While C&S Wholesale Grocers' sales are expected to top $18 billion this year, the company measures success by more than its bottom line. For many, the real worth of the company is seen in the enthusiasm of its employees, the satisfaction of its customers and the appreciation of all the communities C&S call home.
Self-managed teams, career-pathing and Cohen's accessibility add to the feeling of camaraderie throughout C&S Wholesale Grocers.
"It is great having the opportunity to work with the best team in the industry," said Carl Wistreich, who began working for C&S Wholesale Grocers seven years ago as vice president of legal and became senior vice president in 2002. "It's a team that is given real responsibility on an everyday basis and empowered to come up with innovative solutions."
While many companies boast "team values" in-house, C&S Wholesale Grocers extends the view beyond its own doors to the doors of their customers.
"We all work together – our employees and our customers," Adelman said. "Without the customer, there is no C&S. That's on everyone's radar screen at all times."
It's a philosophy that has earned the respect and allegiance of Jack Donelan, owner of six Donelan's Markets throughout Middlesex County in Massachusetts.
"C&S has been a good fit for Donelan's. It's allowed management to focus on the business aspects of running a supermarket while servicing us with all we need," he said.
A company dedicated to providing the best service possible to its 4,000 customers, C&S Wholesale Grocers still finds time and energy to support the communities in which it's located.
"It's just part of the culture here," Adelman said, listing the United Way and hunger eradication programs as top priorities of the firm. "To be known as a generous company is such a wonderful thing for all of us."
The culture introduced by Lester Cohen and maintained by his son Rick is a strong motivating and supporting factor behind the level of volunteerism thriving among company employees.
Nationally, C&S supports 80 United Way chapters through employee donations and matching corporate gifts. America's Second Harvest, the nation's food bank network, also is a major recipient of C&S's generosity, as are numerous individual hunger campaigns throughout New Hampshire and across the country.
Programs like "Dollars for Doers" matches volunteer hours with corporate donations to the employees' cause of choice. "Team Up and Make Strides" offers financial incentives for the formation and participation of C&S teams in annual walk/run-athons as well.
The new state-of-the-art science center at Keene State College serves as testimony to C&S's generosity at home.
Worldwide, C&S has been a familiar face in recent disaster relief efforts surrounding the 2004 Indian Ocean tsunami, Hurricanes Katrina and Rita and the New Hampshire floods.
"C&S is a major change agent nationwide," said Gina Goff, director of corporate giving. "We're a model for other companies. It goes to show, we can all be a change agent no matter how big or small."
The Citizens Bank Not Your Typical Business Award is presented in partnership with New Hampshire Business Review. Businesses are selected each month based on the company's commitment to community, colleagues and customers. Visit Citizens Bank online at www.citizensbank.com.