Counseling program prevents 750 NH home foreclosures
Funding runs out this year for HomeHelpNH effort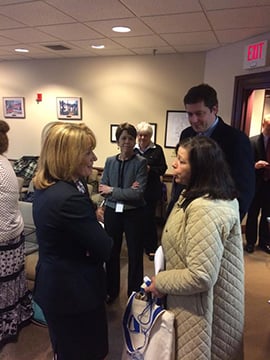 HomeHelpNH, the state's homeowner counseling initiative funded with $3.5 million from the National Mortgage Settlement, has helped nearly 750 households avoid foreclosure over the last two years.
That's according to Gov. Maggie Hassan, who announced the numbers on Tuesday at an event at the Bedford-based New Hampshire Housing Finance Authority.
Since its inception, HomeHelpNH has provided free counseling services to more than 1,800 Granite State homeowners, and 2-1-1 NH, the program's intake provider, has handled more than 2,800 calls from homeowners who were at risk of foreclosure, the governor said.
While some households who have sought HomeHelpNH's services remain in counseling, since foreclosure situations can be complex, 95 percent have been able to avoid foreclosure through mortgage modifications, bringing their mortgage current, sale of the property, or other means.
HomeHelpNH was designed as a three-year program, with 2015 the final year of funding for the program. Given the program's success over its first two years and that more than 2,000 Granite State homeowners lost their homes in 2014, alternate sources of funding are being sought, according to program officials.
"While foreclosure numbers are trending down, many Granite State homeowners are still struggling," Hassan said. Maintaining this vital program will continue to help middle-class families achieve the best possible outcome given their housing and financial situations. By remaining committed to providing our citizens with the tools and resources they need, we can continue to strengthen the health of our housing market, communities and economy."