Coos County sees Balsams' potential as a game changer
Coos County sees Balsams as a potential game changer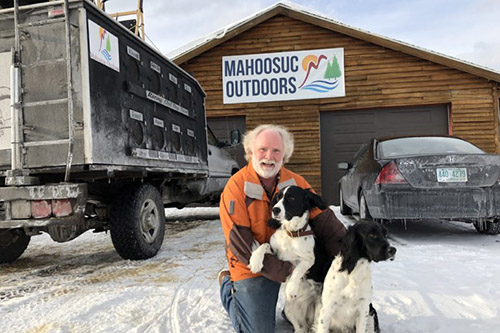 The passage of the "Balsams bill" and Gov. Chris Sununu's promised signature have renewed hope for many North Country people, although some remain critical and others say much more must be done before redevelopment of the grand resort is even close to a done deal.
House Bill 540, enabling legislation that will allow the creation of a TIF in unincorporated places such as Dixville, means the possibility of turning around the troubled local economy, according to Berlin Mayor Paul Grenier.
Grenier said he is ready to roll up his sleeves to work with Balsams developer Les Otten to help move the redevelopment project forward.
Grenier said redeveloping the Balsams, which has been closed since 2011, can be the driver of the region's economy and will be one of the biggest projects in the state.
"This is an exciting time to be an elected official from Coos County," said Grenier, who is also one of three Coos County Commissioners. The commission will be charged with creating the framework for a special tax district and a bond. "I fully expect we are going to have long, long discussions" on creating a tax increment financing district which would enable a $28 million bond. It would have to be approved by a majority of the commissioners and supported by the Coos County delegation.
Grenier hopes a redeveloped Balsams will stimulate job growth and help to retain a generation of young residents who are often forced to look elsewhere for a career.
Commissioner Rick Samson has already expressed concern about the creation of a tax increment financing, or TIF, district, and the diversion of those funds to pay down the bond.
Colebrook resident Pam Frizzell also did not support the bill.
"Coos County taxpayers, while not responsible for the loan in the event of a default, the taxpayers will not receive any of the increased property taxes on the Balsams property," Frizzell said in an email. "In lieu of tax payments, Otten will use those funds to repay the loan. Good deal for the Balsams. Would be like me taking out a mortgage from the bank to build a home; but, instead of paying my property taxes to the town, I'll just take that money and pay down my mortgage at the bank," Frizzell said.
Increase in tourism
Otten has said that he would work with the county to make payments in lieu of taxes. Otten said he welcomes the next phase, which will be sitting down with the commissioners.
He told lawmakers that the development would contribute about $2.5 million annually to the state's 9 percent rooms and meals tax and that the project would employ about 600 during construction and then about 400 full-time jobs under the $173 million plan.
Otten also told senators that the project is essentially permit-ready. His ultimate goal and best-case scenario is to be "skiing at the Balsams in December 2020," Otten said.
Corrine Rober likes the sound of that.
Rober operates Bear Rock Adventures in Pittsburg, which provides snowmobile and ATV rentals and other services.
When reached after the vote, Rober said, "The Balsams resurrection is a game changer for our community and local businesses. This will bring a much-needed increase in tourism adding both amenities and recognition that will improve land values, increase visitor stay and offer a new level of inspiration and opportunity to the community."
Bear Rock Adventures will develop new adventures for this market, Rober said, catering to an increased demand for top-notch service and attention. "We are thrilled to have such promise brought to the Great North Woods," Rober said.
Supporters argue that there is a public benefit to the project that offsets the 20-year tax break, and that is why tax increment financing districts are allowed.
The Balsams can also take advantage of a new federal Opportunity Zone program, which allows investors to defer taxes to invest in qualified projects.
Grenier has another hat that he wears in addition to being mayor and Coos County Commissioner as chair of the Berlin Regional Airport.
The 5,200-foot runway, 31 miles from the Balsams is maintained by the FAA and the city of Berlin, but located in Milan, with the state's fourth-longest runway, said Grenier. It has no commercial air service.
If the Balsams reopens, Grenier sees the chance of increasing jobs at the airport and erasing a city subsidy between $5,000 and $35,000 annually.
"It would become totally self-dependent with more traffic," and there's plenty of room for car rental and a few new hangers.
'Real opportunity'
A visit one cold February day found Demers all alone at the airport after plowing its extensive runway. Across Route 16 from the airport in Milan, Mark Peabody operates Mahoosuc Outdoors.
In winter, he offers dog sledding tours, and in the summer, it's white-water rafting, canoeing, and kayaking on the Androscoggin River.
When the lights go on along the 5,200-foot runway at night, and a flight lands, Peabody sometimes sees visitors to his inn and livery service here to hunt upland birds and fly fish.
He envisions a day when Berlin Regional sees flights dropping off visitors to the Balsams who also come to use his services for a day or two.
Otten said people like Peabody will see a new group of travelers with an open Balsams.
"That group are individuals who are looking for three- to five- to seven- to 10-day vacations – not an overnight group of people that are just coming for the night or for the day," Otten said. "Which is perfect for the Balsams because it is hotel-based living and long resort stays."
Grenier said, together with two major projects in the works – North Country Growers has plans to create 80 new jobs and another that would mean 30 new jobs in Berlin – now is a time of real optimism after years of economic bad news for the region.
"This provides real opportunity," he said. What is going to be key is to be able to "keep a generation here," but he noted, "We're not out of the woods yet."
This article has been published jointly by NH Business Review and IndepthNH.org, New Hampshire's nonprofit news website published online by the NH Center for Public Interest.