Competition grows as grocery chains, new entries battle for N.H.'s food dollars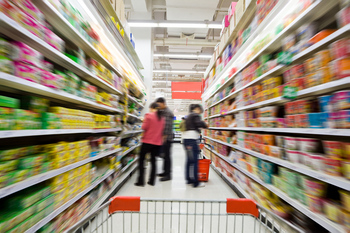 Regardless of whether their shopping list includes microwaveable burritos or organic stone-ground wheat crackers, consumers in New Hampshire now have more choices than perhaps ever before of where to buy their groceries.
Traditional supermarkets like Stop & Shop, Shaw's, Hannaford and the Market Basket chain are increasingly facing stiff competition from club stores, drug stores, convenience stores, department stores and food co-operatives and farmers markets.
"There are more venues selling food than ever before, and that's a fact," said Mike Berger, senior editor at The Griffin Report of Food Marketing, a Duxbury, Mass.-based grocery trade publication. And it's in no way a trend limited just to New Hampshire, he said. It's happening all over.
"You've got pharmacies staying up 24 hours – they're enlarging their food sections. The big box (stores), Wal-Mart, Sam's Club – there's a lot more venues for people to shop," he said.
In the past year alone, several national and international food sellers have entered the New Hampshire market for the first time, including Aldi, Trader Joe's and Fresh Market.
Meanwhile, Target has been expanding its grocery offerings — something that Wal-Mart began doing several years ago — while Dollar General and Price Chopper have added multiple New Hampshire stores in the past few years.
"What we're seeing is people becoming smarter shoppers, and we're still seeing growth," said David Livingston, a supermarket analyst at DJL Research in Milwaukee, Wis.
"Wal-Mart is coming out with new formats and smaller stores, people are starting to figure out that Target sells groceries at competitive prices, and we're also seeing a growth in the higher-end market with Trader Joe's and Whole Foods and Fresh Market."
Competitive landscape
Because of that growth, "we're seeing a disappearance and shrinkage of middle-of-the-road grocers," said Livingston, pointing as an example to the troubles that Shaw's is facing.
In November, Shaw's announced it was laying off 700 employee across New England. Its parent company, Supervalu, has reportedly considered selling off the brand.
The competitive landscape is particularly pronounced in New England, where occupancy costs are higher than other parts of the country, meaning stores need higher sales per square foot than they may elsewhere, said Livingston.
In fact, competition has become so heated that traditional supermarkets have lost more than 10 percent of their market share in the last decade alone.
According to UBS, supermarkets had a 66 percent market share in 2000, which fell to 51 percent in 2011.
While New Hampshire has seen its fair share of new food retailers in the past several years, none has expanded as rapidly into the state as Market Basket, the privately held grocery chain based in Tewksbury, Mass.
Its growth in the Granite State in recent years has been nothing short of aggressive.
In fact, with the addition of Manchester and Londonderry stores, Market Basket added more square-footage than any other retailer in all of southern New Hampshire between June 2011 and April 2012, according to a real estate report by KeyPoint Partners of Burlington, Mass.
Market Basket is just "not afraid of anybody," said Berger of The Griffin Report. "If they decide it's a good place, they will go in there, and they don't care who's there."
The Market Basket chain was founded in 1954 when two brothers, Telemachus and George Demoulas, purchased their parents' neighborhood grocery store. By the 60s, they had expanded the brand into a chain with more than two-dozen stores, but in the '90s, the company was beset by a protracted and well-documented family legal fued over control of the chain.
Today, though, Market Basket has grown to 68 stores in Massachusetts and New Hampshire and is soon to open its first in Maine.
'Price-point opportunities'
Market Basket has long had a New Hampshire presence – its older stores used to be under the DeMoulas name – but since the recession, it's been on a building spree across the Granite State, where it now has 28 locations.
Since 2010, the company has opened or expanded six stores in New Hampshire, in Epping, Swanzey, Salem, Londonderry, Hooksett and Manchester.
A Bedford store is slated for a 2013 opening and an 80,000-square-foot grocery store proposed in North Conway has been rumored to be a Market Basket.
"I think they see opportunities here. I guess I'd call it price-point opportunities," said Dan Scanlon, a real estate adviser with Grubb & Ellis and a columnist for NHBR. "They're building beautiful stores too – they're not like the old stores. They're very, very nice stores with different departments, and I think they've picked some excellent locations."
Scanlon credited the company especially for locating in downtown Manchester. The Queen City had long faced a chicken-and-egg scenario – it wanted a downtown grocery store to attract more people to the city core, but the grocery stores were holding out for a certain number of downtown residents.
"Market Basket finally decided to take the plunge, and it appears to be successful," said Scanlon. In general, he said, the company tends to buy its own real estate.
A Market Basket spokesman did not respond to interview requests, but Berger has a theory about the timing of the company's expansion push.
"They got their own distribution center, and once they have that, then they can buy in bulk from the manufacturers and do their own distribution, so it cuts their costs," he said.
Plus, he said, the company's workers aren't unionized. Those two factors mean it can offer lower prices than its competitors, he said.
The three major costs a store can have are rent, labor and debt, said Livingston. So "if you can open a store and not have any debt, no union labor and no rent, you have a significant advantage over your competition," he said. "That seems to be a trend in the most successful supermarkets in the country."
In a 2012 Consumer Reports survey of readers, Market Basket was ranked the seventh-best supermarket in the country, winning highest points for its affordable prices.
A 2010 report by Kantar Retail of Cambridge, Mass., said of the competing Wal-Mart Supercenter and Market Basket in Epping found that Wal-Mart "was the less expensive option overall," but that Market Basket beat its competitor on select items and assortment.
The recession made people smarter, savvier consumers – and that's unlikely to change, even as the economy improves, said Berger.
"Everyone is looking for price and value, and even when we come out of this, I think it's going to continue," he said.
According to Scanlon, Market Basket has benefited from the shift in consumer habits by coming to be recognized as a value brand. Its cachet is such that people are willing to travel distances just to go to the stores.
"They've developed a very, very strong following in the towns they are already in in the southern part of the state," he said.
That strong following has inspired a website – mydemoulas.net – run by a fan of the chain and not someone affiliated with the company, as well as a less-flattering send-up called "People of Market Basket," a Facebook group-turned-website that posts user-submitted photos of shoppers that were taken in the stores.
Any issues of bad press aside, Scanlon said he fully expects Market Basket will continue to expand further into New Hampshire.
"They're nimble, their price points draw lots of customers. I don't think they're afraid of anybody."