Climate adjustment
The perilous relationship between the state's ski industry and the changing environment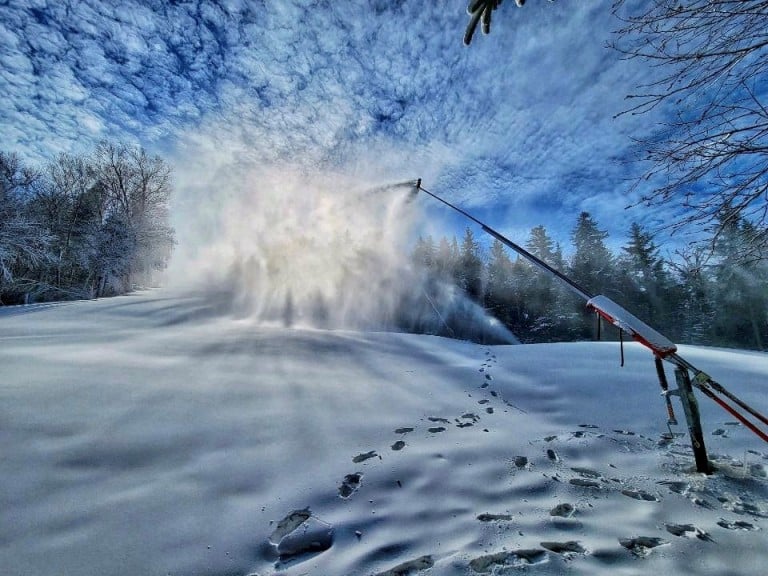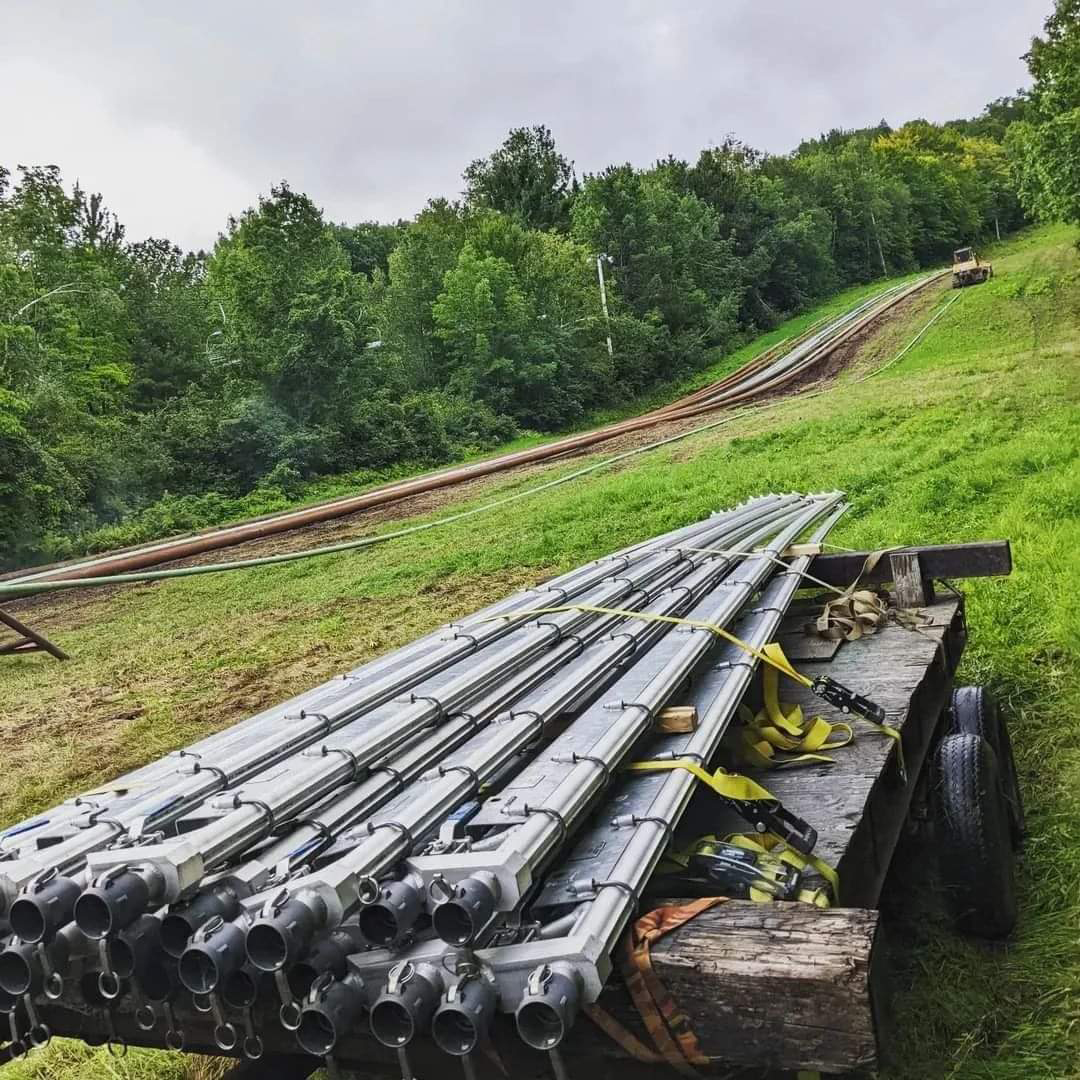 Pipes for new and improved snowmaking are prepped at Gunstock Ski Area. Advances in snowmaking are seen as a critical tool for Gunstock and other ski areas to answer the challenge of climate change.
Climate change and the New Hampshire ski industry are in a perilous relationship. If things get worse in terms of how the climate affects the winters here, the worse things could get for the state's ski resorts, according to a new climate assessment study out of the University of New Hampshire.
"As both minimum and maximum winter temperatures increase, outstanding questions include how much of this precipitation will fall as snow versus rain, and at what point in the future will most winter precipitation become predominantly rain? This will have a serious impact on the New Hampshire ski industry and other winter season recreational industries," says the New Hampshire Climate Assessment 2021, a University of New Hampshire report released in June.
And while several ski areas in the region have adopted sustainability programs to reduce their own carbon footprint and their own effects on climate change, the head of the Ski NH trade group says it will take more than just the efforts of the ski areas alone.
"They can certainly make their own improvements on efficiency, lower their own carbon footprints through a number of different ways. But when it comes to the big picture, it's not just the ski industry," said Jessyca Keeler, president of Ski NH.
She added, though, that "we do recognize climate change is the number one threat to the ski industry long term, and it's something that we're seeing a lot more rallying around — how we can advocate for better policies, with our legislators, whether it's with transportation, whether it's with clean energy, and those sorts of things."
UNH's climate report takes a broad, somewhat grim, look at how a warmer, wetter overall climate in the state could impact ecological systems and infrastructure.
It predicts more extreme weather events in the way of precipitation, challenging infrastructure with high-volume water events such as flash floods or rising tides overwhelming outdated sewer and drainage systems.
Longer periods of drought, it says, "along with variability in precipitation could result in an earlier start date to the fire season and significant increases in the length of high-risk episodes." Added to that "is an increasing risk for moderate air pollution from an increasing wildfire problem in the West."
When it comes to winters in the Granite State, the assessment cited data that the New Hampshire ski industry "is an economic powerhouse" for the northern and western counties in the state. From May 2017 through April 2018, the New Hampshire ski industry attracted nearly 3 million visitors to ski areas and generated over $500 million in economic output, according to the report.
A comprehensive study conducted for Ski NH covering the years 2014 to 2018 summarized that "the importance of the contribution that the ski industry makes to the state's economy cannot be emphasized enough. Its contribution is particularly important for the northern and western regions of the state. The number of jobs created by skier spending at and away from the ski areas ranks the industry as the fifth largest in the northern and western counties during the past four years, regardless of the weather."
It noted that in 2017-18, 2.8 million people visited the state's ski areas, spending $384.2 million at and away from ski areas in New Hampshire for tickets, lodging, restaurant meals, groceries, transportation and other services. The total economic impact, it said, was estimated to be 7,485 jobs, $200.3 million in labor income and $507.8 million in economic output during the 2017-18 season.
That report also cited the symbiotic relationship ski areas have with weather. It says, "Weather plays a critical role in determining a good or bad year for the ski industry. A snowy winter means more skiers to the ski areas, while a rainy summer brings fewer visitors."
Sustainability efforts
Here are some of the UNH climate assessment's predictions for winter by the end of the century:
• The coldest days and nights will be between 12 and 22 degrees warmer.

• Snowfall will decrease by 20 to 50 percent.

• The number of thaw days (those above 28 degrees) will increase by 20 to 35 days.
Given that the average snow cover for 100 days is currently six inches, the report says, "the snow-cover season is projected to shorten to less than two months."
According to Ski NH's Keeler, off-season investments and upgraded snowmaking technologies will be key. "With shrinking winters due to a warming climate, these off-season activities as well as improvements and investments in snowmaking technologies will take on greater significance, not only to the ski area businesses but to the often rural and remote communities in which they operate as well," she says as part of the climate report.
The Ski NH website has an entire section devoted to the sustainability efforts of some of its member areas.
"Members agree that a clean and healthy environment is an intrinsic and important element of the natural ecosystems in which our ski areas operate, and that it is our job to be stewards of the environments in which we make our livelihoods and which we call home," says the section's preamble.
Several ski areas cited on the sustainability page have committed themselves to reducing carbon emissions to net zero.
As described by Cranmore Mountain Resort in North Conway: "Cranmore Mountain Resort's management and employees are committed to being a leader of sustainability in the industry, instilling a culture of environmental sustainability in all aspects of our operation, to build a sustainable resort for years to come."
Technology in two areas will help ski resorts deal with climate change, according to Keeler. One is advancing technology for making snow. The other is the growing adoption and wider use of electric vehicles.
Snowmaking is a science that is getting more and more refined. Keeler cited advances where snowmaking operations can be programmed to automatically start shooting snow from the guns right when the temperature and humidity are optimum, rather than waiting for crews to manually do the setup.
She also sees the more widespread adoption of electric vehicles by the public as a way for the community in general to help ski areas.
She cited transportation as "the number one source of emissions in our state" and the biggest source of emissions for a ski area. "If we can also help minimize that and lower the carbon footprint in New Hampshire in general, I see that as a real positive for us on many levels," she said.
Threatened ski areas
One of the climate assessment authors is Elizabeth Burakowski, a climate scientist and research assistant professor at the University of New Hampshire. She participated in a virtual forum on the effects climate change might have on the ski industry in February 2021 called "Shredding Lightly In the Age of Climate Change."
A skier herself, Burakowski said she's especially concerned for the southernmost ski areas in the state, which will see the effects of climate change first.
"If we don't act as a global community to reduce emissions of greenhouse gasses, a lower elevation, more southerly resorts like Pats Peak will have a much shorter window to make snow by the 2070s, and possibly no window at all for some winters," said Burakowski at the time. The reason that is heartbreaking to her is because she skied at Pats Peak in Henniker with her middle school ski club. "I love Pats Peak, and want to do anything we can to ensure my kids and their kids can ski there, too," she added.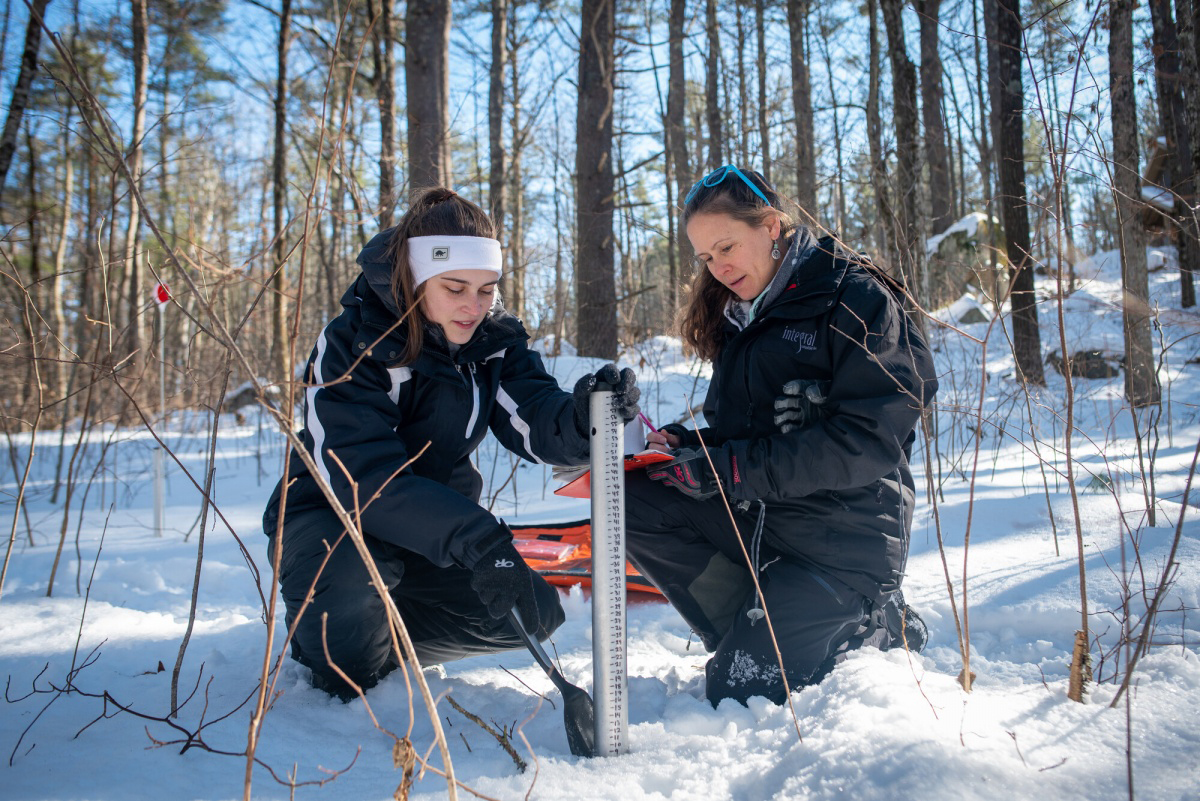 Shara Ross, field scientist and product developer at Rx Green Solutions, is a UNH graduate that now works at the testing facility, located within a dispensary, in Colorado. (Courtesy photos)
Burakowski laid out a timeline showing that the changes in climate, winter conditions in particular, began in the 1970s with a significant uptick in carbon dioxide emissions.
In subsequent years, according to Burakowski, winterlike months have become shorter, with the earlier arrival of spring-like weather.
"We're losing cold, so there are fewer days that are below freezing," said Burakowski. "We're seeing less frequent extreme and cold outbreaks — think of temperatures that are well below zero degrees Fahrenheit. Those are becoming rare."
"We're also losing snow," she added. "There are fewer days with snow cover in the Northeast and New England. We see about three weeks less of winter snow in the northeastern United States than they did 100 years ago. It's almost a whole month."
Burakowski cited Mark Twain's view of climate and weather: "Climate is what we expect," he said, "weather is what we get." It's meant to distinguish that climate is not the same as weather.
For Burakowski, her view isn't so much the weather we see day to day, which can be very much typical of winter. Hers is a long-range look at climate.
"We can see what's happening with climate from historical perspectives, and then we can also take a look at what's happening in the future," she said. "These are what we call climate projections. It's not a crystal ball. It's not a weather forecast. It's an assumption of what can happen in the future, based on the laws of physics, and based on what human behavior does."
With the approach of the 2022-23 season, Keeler has her fingers crossed … or skis crossed, as the case may be.
"Hopefully, Mother Nature will cooperate with us this year, and we'll be able to get open and get that earlyseason snowmaking up and running and build that solid base," she said, noting that the challenge of late has been to get enough snowpack on the trails in order to be 100 percent open by Christmas vacation. "The last couple of years, we've done really well in terms of visitation, but there are times that we've had challenges because of mild weather in the middle of winter season."