Claremont Economic Development Office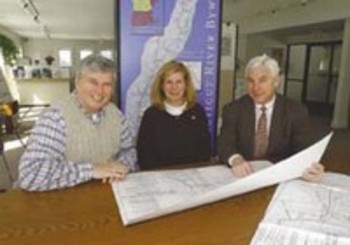 When it comes to New Hampshire's Connecticut River Valley, most people think of the scenic beauty and world-renowned educational opportunities. Perhaps they also should think of it as a great location for business and industry. And no location within the valley is more ideal than Claremont.
Over the past 20 years, Claremont has focused on building and upgrading the infrastructure so necessary for today's businesses, including three-phase power, water and sewer lines.
Claremont also is a wired community, and businesses can employ the services of the community's many providers of broadband telecommunications.
Getting to and from the city has never been easier. Claremont is just minutes away from Interstate 91 and Vermont and is located approximately one hour from Concord, N.H., two hours from Boston and 3-1/2 hours from either New York City or Montreal.
The city also is served by commuter rail with daily Amtrak stops. And Lebanon Regional Airport is less than 20 miles away.
To help facilitate businesses locating to the area, the Claremont Economic Development Office, in partnership with the Claremont Development Authority, has identified several sites ideal for commerce and industry. The city is offering properties that have an infrastructure well suited to business, and they boast dramatic views and have an attractive market value as well.
Claremont was built on a proud manufacturing tradition, and that pride can still be seen in the city's motto: "A Community That Works." The Economic Development Office keeps those traditions of embracing hard work alive today by helping prospective developers through the permit process with a "one-stop shopping" approach driven by a business-friendly attitude.
Claremont's economic development philosophy is to attract business and industry, which will serve as a catalyst for further new growth, development and prosperity in the economy of the Connecticut River Valley. The city also desires to create a maximum number of employment opportunities for the area with sustainable living wage and benefit packages and provide upward mobility for the work force.
For more information, call the Claremont Economic Development Office at 542-7030 or visit www.claremontnh.com.