Biomed firm moves its operations from Calif. to Salem
Gamma Medica employs 24 in N.H., with another half-dozen expected by year's end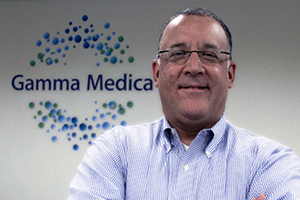 A little more than a year ago, Gamma Medica Ideas – a breast imaging company – was in bankruptcy court in California. Jim Calandra, a New Hampshire consultant, was hired to turn it around.
It turns out that Calandra liked the company so much he brought it back to New Hampshire, where he is now the CEO of 24 employees, going on 30.
The revived company – now known as Gamma Medica Inc. – quietly opened up through the spring and summer. It was on Tuesday that it announced the Oct. 11 official grand opening of the 8,000-square-foot space it is leasing in a Manor Parkway office park in Salem, flush with FDA approval of its technology and some $16 million in financing through Psilos Group Managers LLC, the New York City-based health care equity firm that snapped Gamma Medica up for $3.1 million at the bankruptcy sale in March.
"The technology is fascinating, not just in what it is, but what it does," Calandra said. "It addresses a major unmet need. Now we just have to commercialize it."
He said Gamma Medica is one of the two companies – General Electric is the other – that uses gamma radiation technology to help detect cancer in women with dense breast tissue, tissue that normally masks cancer in a traditional mammography, or even an MRI scan or ultrasound.
Indeed, there has been somewhat of a movement, resulting in the passage of laws in more than a dozen states, requiring doctors to inform women with dense breasts that a negative test mammography does not necessarily mean there is no cancer, said Calandra.
Gamma Medica's technology works on a molecular level, introducing a tracer into the blood that gives off gamma rays. The signals can help pinpoint what is going on around dense tissue for a third of the cost of an MRI scan. And it can detect tumors at 5 millimeters.
The company also has a companion product, the LumaGuide MBI-guided biopsy module.
When it was sold out of bankruptcy, Gamma Medica's equipment was already being used by some 15 medical institutions.
"We have a head start on GE, which is on the same track," said Calandra. "We happen to be a leader at the moment. That won't last for long, but it is good to have a big competitor in a new market. It gives us creditability."
Gamma Medica Ideas didn't have two much credibility on August 12, 2012, when it filed for Chapter 11 reorganization with some $23 million worth of debts, almost half of that unsecured. Calandra, who had been there since 2011, was the main person to shepherd it through the bankruptcy process.
At the time, the company consisted of three major units: a preclinical business that primarily focused on research, a Norway company that dealt with the gamma technology, and its LumaGem Molecular Breast Imaging System business. Each part was sold off.
The Norway management kept its business there, and Northridge Trimodality Imaging – sold off for $2.5 million – remained in the company's former facility in Northridge, Calif., northwest of Los Angeles.
Psilos picked up LumaGem, along with the rest of the company's name and was apparently impressed enough with Calandra to hire him.
Calandra has helped start up other companies before, but it was the first one he actually headed, he said. He brought over one "Northridge refugee" to New Hampshire, he said – a physicist well versed in the technology. The rest of the Granite State workforce was newly hired, and he said he expects a handful of others will join the workforce before the end of the year.
Calandra said locating the company in Salem made sense, and not just because of New Hampshire's low tax structure and his ties to the area.
"There is a strong medical device presence here," he said, "and we are close to Boston, where there is a prevalence of medical device companies along Route 128 and around the Merrimack Valley."