Bill Frain was PSNH
The longtime utility executive set an example that others would be wise to follow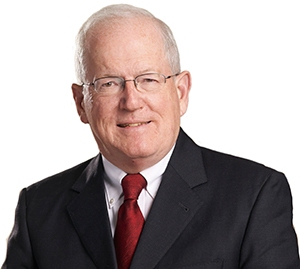 On Jan. 3, William Thomas Frain, 74, died at his retirement home in Brewster, Mass.
Bill Frain was a serious leader who for decades was a smiling and enthusiastic presence in New Hampshire business and civic circles. He was born in Manchester, one of five children. Bill lived in his hometown most of his life, graduating from Bishop Bradley High School (the predecessor to Trinity High School) and attended St. Anselm College, where he majored in business and economics. His education is a reflection of his strong Roman Catholic faith, and he served the church in many capacities and in many places, his entire life.
Upon graduation from St. Anselm, Frain, by his own admission, "pestered" Public Service Company of New Hampshire, the local electric utility, for a job. A non-engineer, Frain was not the natural candidate PSNH sought, especially in those years. Nevertheless, due to his dogged determination, Frain was hired and spent the next 37 years working there, beginning as a staff trainee and retiring in 2000 as president and CEO.
Frain's tenure at PSNH, especially as president, was significant for New Hampshire and for the company. Readers will recall that the Seabrook nuclear power plant project, controversial with environmentalists and a huge undertaking, as the largest nuclear power plant in the world at the time it was conceived, got the company in economic difficulty and bureaucratic snarls.
The project became a political football as well, as it dragged on way beyond its schedule for completion and cost estimates.
The result of the Seabrook debacle was the bankruptcy of PSNH in the 1980s. Upon emerging from bankruptcy, PSNH was not allowed to remain a stand-alone company and was acquired by Northeast Utilities of Connecticut which installed one of its employees as chief operating officer in New Hampshire for a time.
Before and after becoming president, Frain worked hard as a New Hampshire native cheerleader for the company, its employees and their esprit de corps. Working with various not-for-profits, most notably Easter Seals NH, Frain led the PSNH team in the annual telethon as it held breakfasts, contests, chili bakeoffs and other team-building activities that not only set the record for support of the telethon, but also raised the spirits of the employees of the company and made them realize what a good team they were.
PSNH later moved its headquarters to the Manchester Millyard, in a building that was restored and decorated to carefully trace the connection between the company and the history of New Hampshire, especially its place in New Hampshire's industrial development.
PSNH has long been a fixture in New Hampshire. Personally, this writer remembers his mother recounting the fact that upon her graduation from Laconia High School in 1939, she was given a small number of shares of PSNH stock and she was a proud shareholder her entire life, pointing out to her family the value of the company and its connection to her, even when she was not a New Hampshire resident.
PSNH was part of the lives of many until the bankruptcy.
In civic life, Frain not only contributed to his church and college, serving on the board of trustees at Saint A's, but he also devoted energy to human service and educational organizations, business groups, arts and humanities organizations and many more. He was a member of the first class of Leadership New Hampshire in 1992-1993, and remained a supporter and promoter of that valuable program throughout his life.
Upon retiring, Frain and his wife, Myra Barradas Frain, left Manchester to live on Cape Cod, although his love for Manchester never waned and his devotion to his family that remained in Manchester remained strong. On the Cape, he continued his involvement with his parish, his two children and his grandchildren.
Frain's legacy is significant. It is also instructive of the company's place in and relationship to the state and community.
Today, the company, the name of which I can never remember, headed by someone from "away," would do well to follow the example of this New Hampshire native, connected to New Hampshire charities and events and treasuring the company's connection to New Hampshire history through visible exhibits of that connection at its headquarters, for all visitors to see and appreciate.
Perhaps following Bill Frain's example would get it a better reception as it attempts to gain support for major power projects and other needed components of the energy picture in New Hampshire.
The company and the state certainly miss Bill Frain.
Brad Cook, a shareholder in the Manchester law firm of Sheehan Phinney Bass + Green, heads its government relations and estate planning groups.