Bill creating alert system for disabled, seniors gains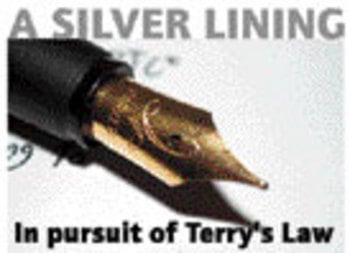 CONCORD – A proposed, statewide alert to search for missing senior citizens or anyone with a developmental impairment sailed through the House of Representatives without dissent Tuesday.
The House approved the amended bill (HB 279) on a voice vote, sending it to the state Senate.
Mary Stipe of Merrimack and Anne Conceison of Amherst were inspired to pursue an alert after their mother's 10-year struggle with Alzheimer's.
Teresa Canty Cahill never wandered away, though her daughters lived in fear that she would.
"This is just great news and we're really looking forward to stating our case for this in the Senate," Conceison said after the vote.
"We've gotten a lot of encouragement from people in the community. I think they realize this makes good common sense and would help keep people safe."
State Rep. Timothy Robertson, D-Keene, said the legislation will simplify and make standard the process of conducting a search for seniors with a mental impairment or anyone with any developmental disability.
BILL AT A GLANCE
The concept is patterned after the Amber Alert, a nationwide broadcast and highway sign posting that the National Center for Missing Children championed to become federal law in 2003.
State Rep. Peter Batula, R-Merrimack, crafted the bill for an alert after the Colorado law that became the first state to adopt one three years ago.
In 2007, Colorado added to the alert anyone with a developmental disability.
Since then, senior alert laws in 12 other states have offered protection to hundreds of thousands with Alzheimer's or dementia who wander off and have no way of knowing how to get back home.
The U.S. House has approved a federal alert legislation for seniors and that bill is pending in the U.S. Senate.
Conceison said she believes the bill has had success by staying simple, leaving it to local and state law enforcement to craft the best way to judge requests to issue an alert.
"I really hope it stays that way. We don't want a whole new bureaucracy created from this. Let our police do their job and help us find people," Conceison said.
A Silver Lining – In pursuit of Terry's Law
The alert only begins once a family member or relative provides local police with information that proves the person qualifies for it.
The bill requires that police find there is a "credible threat" to the safety and health of the person who is missing.
Local police then contact the Department of Safety that is responsible for issuing the alert and notifying appropriate media outlets.
The bill directs the Department of Safety to craft rules on how local police would verify the request and how the state would issue the alert.