BIA of New Hampshire's rebranding target: 'young, emerging leaders'
Statewide business organization reaches out to new generation of executives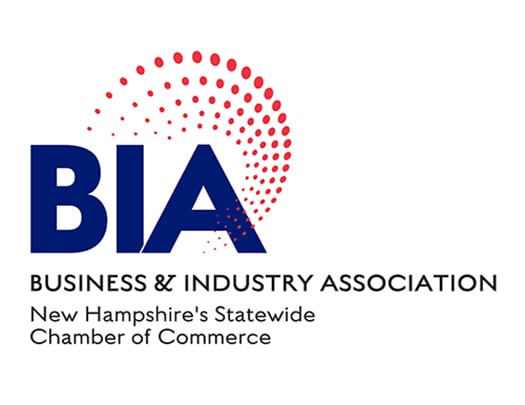 After 15 years of featuring Concord's State House dome in its logo, the Business and Industry Association of New Hampshire has unveiled a rebranding campaign featuring a new logo that officials hope emits the energy and innovation that will take the statewide chamber of commerce into the future.
The aim of the rebrand is to attract professionals, particularly in the 20-to-40-year age bracket who will be the next generation of New Hampshire business leaders.
"The people who join the BIA are the CEOs, CFOs, general managers and owners, and in five, 10 years, many of these small businesses will be run by young emerging leaders," said Jim Roche, president of the BIA. "It's critical to familiarize them with our mission and our work, so as they assume leadership positions they're aware of us and they support us."
To appeal to this cohort, the BIA has adapted its programming accordingly, said Roche.
The organization began collaborating with Sojourn Partners in 2019 to launch its Emerging Leader Training program, which helps young professionals understand their management style and build their strategic thinking. It also is partnering with the New Hampshire Business Committee for the Arts to launch the Artful Networking program and worked with New Hampshire Humanities to incorporate its Humanities@Work programming, both opportunities to appeal to young business leaders interested in arts and culture.
Within its own schedule of approximately 30 conferences and substantive seminars, the BIA will increasingly cover "cybersecurity, biometrics, consumer data," said Roche. "Those issues are emerging more frequently and with more intensity at the State House. We will invest, I believe, pretty heavily in covering these technology and regulatory issues."
Predominately a nonpartisan group that lobbies on behalf of a broad base of businesses on statewide public policy, the BIA is also working with Manchester-based Millennium Agency to boost its social media presence to keep young professionals abreast of the latest developments at the State House.
Young professionals may be further intrigued, said Roche, as the BIA has adopted stances on issues pertaining to New Hampshire's younger workforce.
"A huge part of what we do is advocate on behalf of our members at the State House, and BIA has to be sensitive to the challenges and issues of younger workers, and that extends to things like housing," said Roche.
He pointed to the organization's support of a statewide Housing Appeals Board, which was established in the compromise budget signed into law last year. The board would give developers a faster, less expensive way to appeal local zoning board decisions that block workforce housing, rather than going to court.
And "last legislative session we endorsed the community college system and university system of New Hampshire's funding requests in a full-throttled way," said Roche. "It's important to support their mission and the work they do to pump out young talent to employers throughout the state."
And finding and keeping talent is top of mind for BIA members.
"If you were to ask me, what is the top concern of employers in all corners, every sector, it would be talent recruitment, finding qualified employees," said Roche, who noted New Hampshire has one of the oldest workforces compared to many states and a tight labor market. "Businesses are struggling to find the talent they need to sustain, let alone grow."
BIA membership continues to grow modestly and the organization has a healthy reserve of resources, thanks to the guidance of its board, said Roche. But the organization, which is not known for sitting on its hands, is readily responding to the changing needs of New Hampshire's changing business environment.
"I'm proud of the fact the BIA is 107 years old and we're more relevant today than we have ever been and the challenge is to make sure our relevance extends to young emerging leaders," Roche said.